Reddy Coffey
Point of Fortune
Reddy Coffey details to AISLING CROWE the thrill
of having bred Blue Point and standing Unfortunately
Reddy Coffey details to AISLING CROWE the thrill of having bred Blue Point and standing Unfortunately
---
The ihorse of a lifetime. It's a sobriquet that sometimes is too easily bestowed, but each successful horse is the pinnacle for the people connected with them. For every lifetime there is a horse who deserves that title and for the Coffey and Fitzsimons families, Blue Point is that horse.
Breeding a Group 1 winner is the dream of everyone involved in producing flat horses, breeding a Group 1 winner at Royal Ascot is pushing it to another level, but breeding a horse who wins three times at the world's most famous flat meeting, where royalty's rarified splendour adds an element of unquantifiable glamour, is truly the achievement of a lifetime.
Away from the top hats and designer heels, Blue Point's success brought joy to a family, celebrating the historic victory of the colt they bred with a Saturday afternoon barbeque. "We've knocked some sport out of it" reflects Reddy Coffey. "We went to Royal Ascot for his first King's Stand and I was with friends like Martin Walsh, Andrew Nolan and Michael Shefflin when he won. We had a barbeque at home on the Saturday of Royal Ascot this year and everyone came round to watch it. He was an amazing horse, he was the horse of a lifetime really to do what he did. To even breed one like him in your lifetime is amazing."
This year, the five-year-old son of Shamardal became the first horse to win two Group 1 races at the same Royal Ascot meeting, starting the week with victory in the King's Stand Stakes and ending it triumphantly in the Diamond Jubilee Stakes. That would prove to be the final act of a racing career that included an unbeaten run at five, starting at Meydan in March and adding the Group 1 Al Quoz Sprint to his success in the King's Stand at four.
Blue Point was always a high-class horse, winning the Gimcrack Stakes at two, finishing second to The Last Lion in the Group 1 Middle Park Stakes and third behind Churchill in the Group 1 Dewhurst Stakes. At three he returned with a defeat of Harry Angel in the Group 3 Pavilion Stakes at Ascot before finishing third to Caravaggio in the Group 1 Commonwealth Cup at Royal Ascot and fourth to Harry Angel in the Group 1 Sprint Cup, ahead of a return to Ascot to win the Group 3 Bengough Stakes.
At four he defeated Battaash to make the breakthrough at Group 1 level in the King's Stand and was third to Alpha Delphini in the Group 1 Nunthorpe. All leading to his history-making run at five.
Blue Point's whole existence is down to the combined efforts of the Fitzsimons and Coffey families with Linda, Reddy's wife, and daughter of Claire and Pat Fitzsimons, keen to send Scarlett Rose, the dam of Blue Point, to Shamardal.
"My wife Linda would be huge on pedigrees and what stallions to use on the mares and we all sit down and go through it; she was adamant about using Shamardal"
"My wife Linda would be huge on pedigrees and what stallions to use on the mares and we all sit down and go through it; she was adamant about using Shamardal" Coffey explains.
That decision was based on hard evidence as Scarlett Rose had already bred a Group 2 winner, Formosina, who was successful in the Railway Stakes, to Footstepsinthesand, a son, like Shamardal, of the legendary Iron Horse Giant's Causeway.
"The big attraction was the Giant's Causeway line because the mare bred a good horse by Footstepsinthesand so Shamardal, being another son of Giant's Causeway, was the initial attraction. Also Shamardal is a big, physical horse and the mare needs a stallion like that but the main thing was Giant's Causeway. We've bred three group winners by Giant's Causeway sire lines so we are big fans of him and his son. We usually have a mare to go to Footsteps every year, he is a good sire and has been lucky for us."
As a foal, the future star Blue Point stood out amongst his peers on the farm for his unflappable nature.
"Why I liked him so much was he was very laidback and relaxed, there was never an issue or a problem with him, never got as much as a cut. He was one of those kind of horses."
Excitingly, for the Coffey-Fitzsimons clan, there is hopefully more to come from Blue Point's family. His yearling half-sister by Invincible Spirit, bred on a foal share with the Irish National Stud, will race next year carrying the silks of Claire Fitzsimons after they bought out their partners at Tattersalls Book 1 in October. The filly will eventually form part of the family's broodmare band after her racing career ends.
Beyond that, there is the prospect of Scarlett Rose's 2020 foal by the champion Frankel to come. Again, that decision was one the family made together, with Linda's pedigree knowledge playing a decisive role once more.
The next step is to find mares to send to their Group 1 winner, who has been retired to stand alongside Shamardal at Darley's Kildangan Stud in Kildare. Breeding mares to a stallion born and raised on their farm is another level of thrill for any breeder and the Fitzsimons-Coffey family are no different.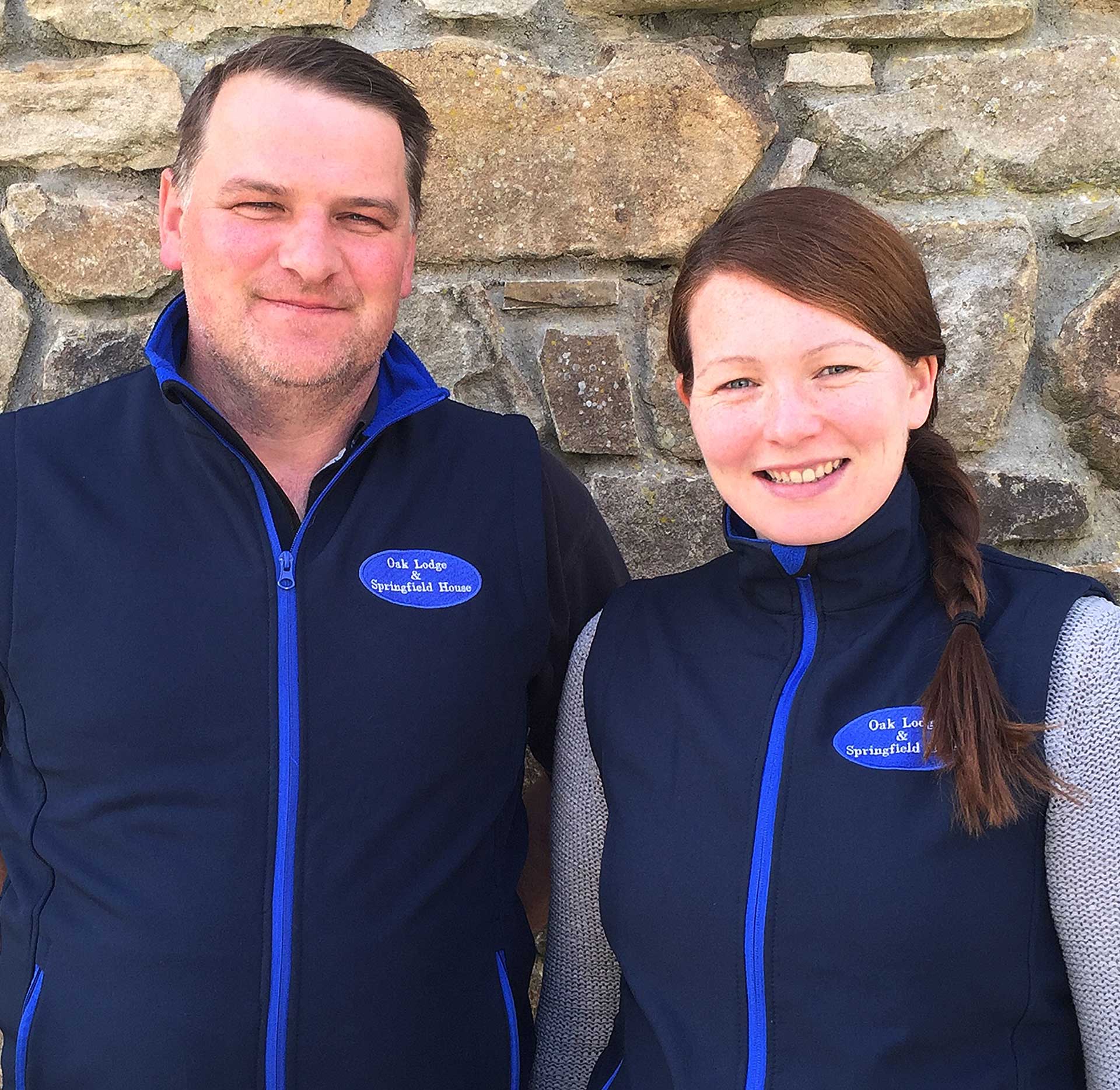 Reddy and Linda Coffey are key players in a thriving operation
"Hopefully we will have one or two mares for him and hopefully we will get into him because he is going to be very busy" Coffey says of Blue Point, whose fee of €40,000 has not deterred enquiries from breeders anxious to have their mares on his list of dates for next spring.
Oak Lodge and Springfield House Farms are split between two counties and two countries. The original Oak Lodge Farm, established by Claire and Pat in 1980 lies, outside Naas in Co Kildare, with Springfield House Stud, home to Linda, Reddy and their two young daughters located in Knock, near Roscrea in north Tipperary. Alan, Linda's brother, established the American division of the farm in Paris, Kentucky, and runs it along with his wife Suzy. Both the Tipperary and Kentucky divisions of the farm are relatively new, dating from 2006.
Springfield House was the birthplace of another outstanding sprinter in Group 1 Prix de l'Abbaye and Group 1 Nunthorpe heroine and 6m-guinea mare Marsha, whose dam Marlinka resides there along with other members of the Elite Racing Club broodmare band.
The farm has gained a new resident this autumn. Unfortunately, successful in the 2017 Group 1 Prix Morny, has been relocated from Cheveley Park Stud to stand at Springfield House for the 2020 breeding season. It is a development that has Coffey impatient for the spring, when he and Linda will also welcome their third child.
"I cannot emphasise how excited I am about him" Coffey remarks, and the truth of that statement is clear from his demeanour. "It is a very exciting time. We have always been on the lookout for the right one and I think we have found the right one in Unfortunately. He is a Group 1 winner by Society Rock and he is a cracking looking horse with a good step to him. He won a Group 1 as a two-year-old and when people come to see him they love him, he is such an athlete, a real good-moving horse with a great temperament and he is 16hh, a fine horse."
Society Rock sadly passed away before his first offspring had a chance to demonstrate their talent on the racetrack. Unfortunately was the best of his first crop, winning the Prix Morny as well as the Group 2 Prix Robert Papin at two, and ending his career with victory in the Group 3 Renaissance Stakes. Purchased by Cheveley Park Stud during his two-year-old career, he stood his first season at the Newmarket farm in 2019.
Coffey explains how the only stallion son of Society Rock, whose death he describes "as a loss, let's call it as it is", came to be in Tipperary.
"Cheveley Park Stud would use a lot of stallions in Ireland and they would board all their mares with us. They come over and we get them in foal and keep them for about two months before sending them back to Newmarket, so we have a long relationship with them. They are great people. We are standing him in partnership with Cheveley Park Stud, who are supporting him strongly. They sent 20 mares to him this year and will send 20 mares to him next year. They are big believers in the horse. We'll send about 10 of our mares to him as well, and if people come to see him they are going to love him. He has let down into a fine horse."
It's not the first time the family has been involved with stallions. Val Royal stood at Oak Lodge, where the family bred his dual Guineas-winning son Cockney Rebel, while Heliostatic, a full brother to Soldier Of Fortune, and now a successful sire in South America, began his stallion career under the Oak Lodge banner. Coffey himself was stallion man in Derrinstown Stud for five years, at the time of Marju, Elnadim and Intikhab.
From breeding a Group 1 winner to standing one, it's a family business for the team at Oak Lodge and Springfield House Stud.
A horse of a lifetime, in the true sense of the word, and the chance of a lifetime coming together in the one year. While the past and present were all about Blue Point, the future is Unfortunately and the promise of breeding another Group 1 winner, another Royal Ascot star, another lifetime's success.