SALES REVIEW
The BEAT goes on
JOHN BERRY notes the enduring resilience of the thoroughbred industry
---
Another year, another year's worth of worries. We keep hearing that things are reaching crisis point in the racing and bloodstock worlds, but this much-feared crisis seems to be like a rainbow, receding at exactly the same rate as we march towards it. Granted, one of the major clouds on the horizon may well yet have a major impact, but so far Brexit has not happened.
It is a lot easier to list the potential drawbacks to Brexit, whichever side of the Irish Sea one might live, than the potential benefits, if such exist. The spring came and went without Brexit; the end of October came and went without either the UK leaving the EU or Boris Johnson dying in a ditch. Brexit may well yet happen at some point in 2020 but we can all cross that bridge if and when we get there.
As regards the other clouds on the game's horizon, none of them are going away, but we're weathering them all so far. It is a fact of life that racing is becoming a less popular sport in most countries. The consequences include declines in its share of betting turnover and in racecourse attendances, and racing's finances are inevitably coming under ever-increasing pressure in every country in Europe. Naturally, the health of the bloodstock market is inextricably linked to the health of racing.
The two-tier market which has been developing for years remains a major source of concern. The upper echelons are still awash with the money as the major international investors fight to outbid each other for the most obvious lots, while demand remains moribund for the horses whose appeal is less easy to identify, notwithstanding that many such horses turn out to have plenty of ability. The statistics from pretty much every type of sale confirm this ongoing situation as no sector of the market in 2019 showed any radical change from previous years.
Many people appeared to worry that the leaking to the Racing Post just ahead of the autumn's principal yearling sales of a BHA report into the integrity, or lack thereof, of the market might affect confidence, but there was no evidence whatsoever of this happening once the sales began. There had been a similar story in the summer when the National Hunt store sales were preceded by the news that Gigginstown was going to cease to buy young prospective jumpers: statistics from both the Derby Sale and Goffs' Land Rover Sale suggested that any anxiety on this score had turned out to be much ado about nothing.
What underpins trade in both Great Britain and Ireland, of course, is that the bloodstock market is a truly international world, with global respect for Irish and British stock remaining sky-high. Tattersalls' principal sales illustrate this best. We have become accustomed to promising young horses being bought to race in America after an impressive maiden victory. What was remarkable about the top end of Tattersalls' October Yearling Sale in 2019 was the fact that 50 of the most expensive yearlings were bought to head to the USA to continue their careers there, their purchasers no doubt emboldened by the success enjoyed by the handful of yearlings bought by Chad Brown in 2017, headed by the 2018 Breeders' Cup Juvenile Fillies Turf heroine Newspaperofrecord.
At the other end of the scale, the final day of Tattersalls' Autumn Horses-in-Training Sale, which would otherwise have been a total write-off, featured remarkably strong trade thanks to the fact that the vast majority of the horses were bought to continue their racing careers overseas.
National Hunt racing does not have this safety net. Only a tiny fraction of the horses bred in Great Britain and Ireland will race anywhere else. While trade remains very solid at both the Derby Sale and Land Rover Sale, the stores offered there represent only a small fraction of the total foal crop. The mere fact that the catalogue for Tattersalls Ireland's November National Hunt Sale contained 1,111 foals with another 555 following in Goffs' December National Hunt Sale shows that supply remains at a level which demand is never going to be able to match.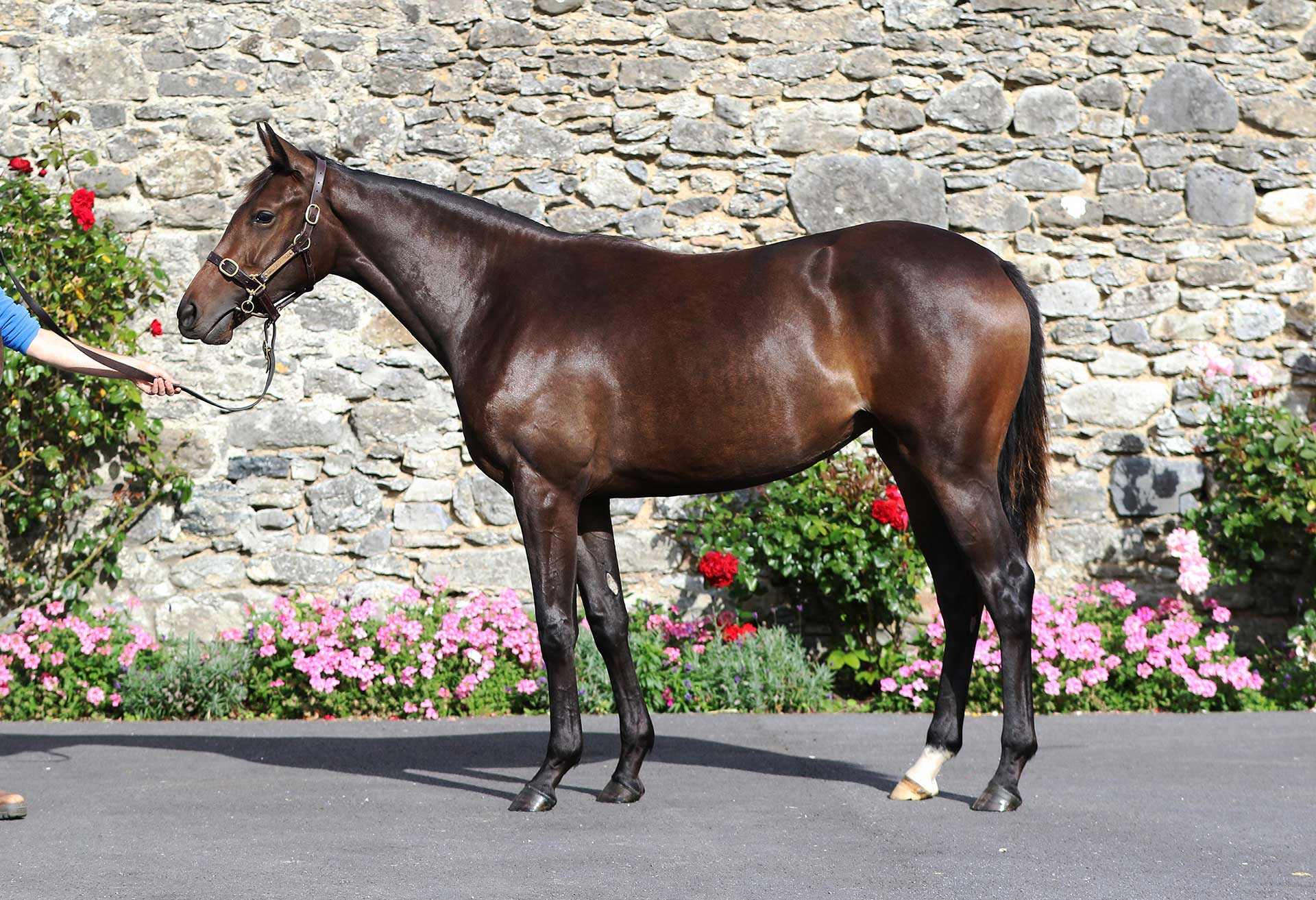 The Vimal and Gillian Khosla-bred, Ballylinch Stud-consigned Galileo filly out of red-hot dam Green Room that sold for €3m to Coolmore and Georg von Opel at the Goffs Orby Sale (PM)
A cap on the size of stallions' books, both flat and national hunt, would clearly have merit from several perspectives. Such a move was mooted by several leading bloodstock figures in Great Britain in the autumn but it is hard to see such a restriction ever becoming reality.
One aspect of the market which remains inexplicable, to this observer at least, is the fact that so many Irish vendors still prefer to sell their choicest lots in Newmarket rather than at Kill or Fairyhouse. To shun the Orby Sale makes no sense. The 2018 Orby Sale had been a record-breaker (notwithstanding that it still posted a median and average less than half of those registered the following week in Book One of Tattersalls' October Yearling Sale). While the 2019 edition could not match those figures - in part because the catalogue was bigger – it still contained four seven-figure lots (double the previous year's total). The same mare, Vimal and Gillian Khosla's Green Room (USA), provided the Orby sale-topper in both years. Single-handedly she provides more than enough evidence of Goffs' ability to get high prices for nice horses.
Green Room's sale-topper in 2019 was a daughter of Galileo who fetched €3m, bought in partnership by Coolmore and Westerberg principal Georg von Opel. The previous year, this filly's full-sister was bought by Phoenix Thoroughbreds for €3.2m. Both fillies, incidentally, were consigned by Ballylinch Stud.
These two sales for Green Room progeny followed fillies by Galileo who cost €680,000 in 2013 (future Group 1 winner Together Forever), Sea The Stars who cost €1.1m in 2014 and Galileo who cost €900,000 in 2016 (subsequent Investec Oaks winner Forever Together). Good business for a mare who had originally been acquired by Kinsale Bloodstock out of the Juddmonte draft at Tattersalls' February Sale in 2005 for 20,000 guineas!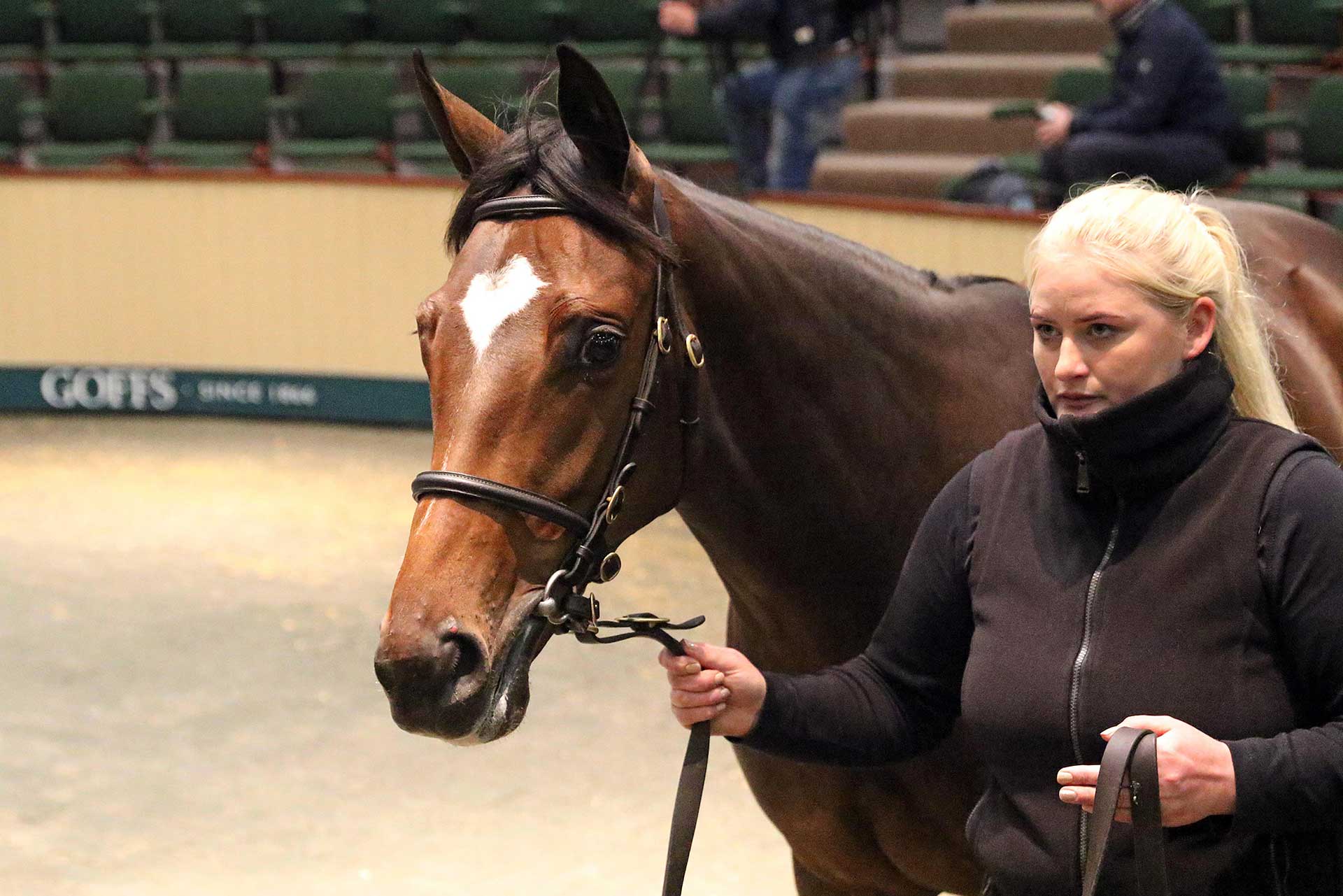 Jamie McCalmont spent €2.2m on Glenvale Stud's Aleagueoftheirown filly by Galileo at Goffs' Orby Sale (PM)