JOHN GOSDEN
On the shoulders of giants
John Gosden speaks fondly to CHRIS COOK of his days as assistant to Vincent O'Brien at Ballydoyle
The manager of Aga Khan Studs in Ireland was understandably happy to have a conversation with LISSA OLIVER about the past year
---
The subject of learning is on John Gosden's mind, specifically how a young man can learn from a long-established, highly successful trainer about the best way to draw talent out of the thoroughbreds in his care. These are transitional times at his Clarehaven Stables on Newmarket's eastern edge, his 25-year-old son Thady becoming ever more involved in the operation with a view to taking over the licence one day, so it seems a good moment to reflect on Gosden's formative experiences several decades ago with Vincent O'Brien at Ballydoyle.
It was a working relationship born of need on both sides. Gosden's previous position ended in November 1976 with the retirement of Sir Noel Murless."He had written to Vincent, saying, 'I've got this young assistant, if you need one'. And so I got invited to an interview. Flew across to Cork and up to Ballydoyle."
Then aged 25, Gosden was already experienced but recalls being "absolutely terrified to be in the presence of the great man". He needn't have been; as interviews go, this one did not prove to be particularly searching.
"I'll never forget what he said. 'I had been planning to cut right back, just train for a few friends of mine like Jack Mulcahy and a few horses I was breeding myself at the Lyonstown Stud next door. But I have this young son-in-law and he's gotten me to buy far too many horses. Consequently, I need an assistant.' "And then there was a pause and he said, 'Would you be available?' To which I said 'Yes, most definitely'. And that was the end of the interview."
That son-in-law was, of course, John Magnier, thanks to whose ambition two of the finest trainers in the history of flat racing were now working together, one as the established master of his craft and the other trying to soak up what lessons he could. Gosden counts his blessings that he was there for the spectacular 1977 that Ballydoyle enjoyed. He had been around good horses before but the concentration of equine talent in that place at that time was extraordinary.
"It was the year of The Minstrel, Artaius, Be My Guest, Try My Best, Alleged, Cloonlara, Godswalk, Marinsky, Valinsky and Transworld. And obviously fillies like Lady Capulet, the dam of El Prado." Those horses won a stack of important and prestigious prizes, including the Derbys in England and Ireland, the Irish 1000 Guineas, the Irish Leger, the King George, the Eclipse, the Sussex, the King's Stand, the Dewhurst and the Arc. O'Brien had horses who were champions or challenging for that status at every distance.
"And", Gosden points out, "he did it with about 70 horses in the yard." A painstaking attention to detail was the quality in O'Brien that most struck his newest employee. There were times when that quality could take some of the fun out of the gig for the younger man and his fellow assistant Brian Molony, who would often be "dying to get down to the Cashel Palace for a pint of Guinness" after evening stables. Before leaving the yard, they had to get their draft of the next day's work list signed off by the trainer.
"We were working out who should lead The Minstrel and there was Tommy Murphy riding this, Vincent Rossiter riding that, TP Burns on that. 'Put him in front, he always wants TP in front, he doesn't overdo it...'
"There was a little window and after we'd put the initial list together, it would go through the window and Vincent would go over it. If we'd got it spot on, it would sit there for an hour with him looking at it. Then it might come back without a change.
"We found that, if we put in a deliberate mistake, the wrong lad down to ride something, it would be back within two minutes, corrected, and then we were off. Otherwise we could be sitting there till nearly eight o'clock at night!"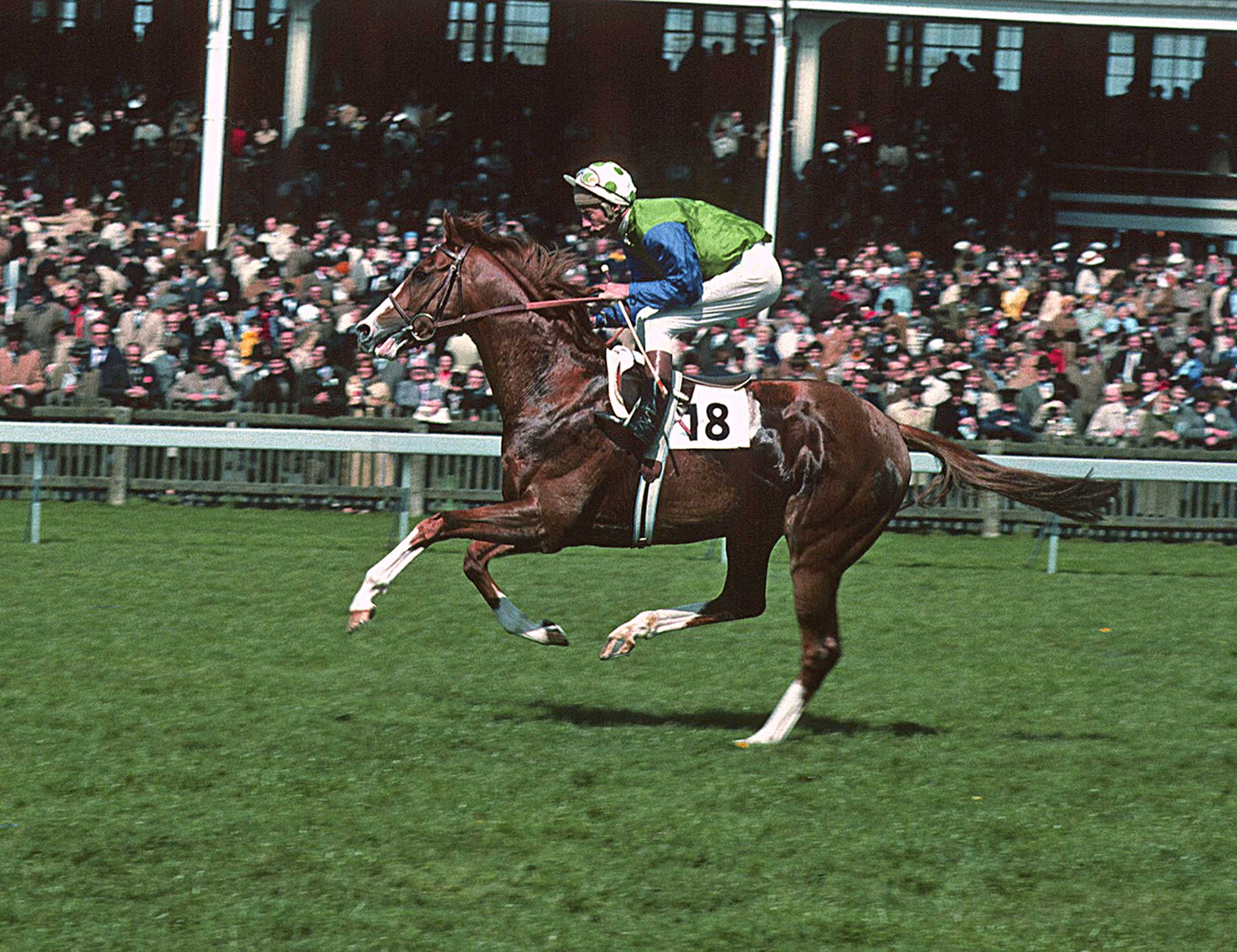 The Minstrel completing the Derby double at the Curragh was just one of numerous highlights from Gosden's Ballydoyle stint in 1977
Gosden's career suggests he made excellent use of those long working days, building up to a restorative pint down the road. "You learn everything from a man like that. The meticulous attention to detail, everything from the gallops, the way the horses were worked... The Minstrel was a sweaty horse, so he kept the weight off his back all the time. He was led round, the rider would jump on, do a canter... Everything was meticulous. And of course you had to watch because he did everything so perfectly. Unless you were careful, you assumed that was normal.
"His horses, when they raced, they never looked light. They had this amazing strength and middle to them, he loved proper muscle and condition on a horse. His horses had to work, but never over long distances, he kept them very fresh in their minds. They had this all-conquering attitude. He seemed to have that remarkable ability to find that explosive speed, even in the good mile-and-a-half horses."
But even as he recalls his good fortune in having access to such a man at the peak of his powers, he is wondering whether he might, counter-intuitively, have been better off elsewhere. "The best way to learn is to watch people's mistakes. He didn't make mistakes."
These days, of course, Vincent's old yard is home to Aidan O'Brien, with whom Gosden regularly clashes in the best races. "They are the toughest of competitors to take on, horses trained to the minute, ridden by top riders", he says of Ballydoyle's perennial success. "They have been for years the toughest people to try to compete with in a race, but you need elite competition."
"There was a little window and after we'd put the initial list together, it would go through the window and Vincent would go over it. If we'd got it spot on, it would sit there for an hour with him looking at it. Then it might come back without a change"
When Cracksman ran in the Irish Derby three years ago, the Newmarket trainer seized his chance to visit his old haunt in County Tipperary. "I hadn't been there for 40 years. The same basic lie of the land, I knew everything, but a huge number of improvements. Thady and I went and had a look. It was great to see it again. It's a great place to train horses but you have to remember, Vincent created that place out of farmland. Took out stone walls. It was built from nothing."
Another thing that was built from nothing was the 2020 flat racing season. From the vantage point of mid-autumn, it may feel like a finished article but just five months before there had been great doubt about when it would start and how much of it would be allowed to take place.
"It's been the strangest year for all of us. We were happily ticking along, putting horses on the plane for the Dubai Sheema Classic and then suddenly that's it, everything shut down and the horses had to come back without racing and we went through the same thing everyone else did.
"In lockdown here, we were very lucky. We had beautiful weather, it was just stunning. It was a dry spring and we could train quite happily. We had no Covid-19 here, everyone stayed healthy. And although it was frustrating not to have racing, it was a very nice time to be with the horses."
When racing in Britain was allowed to resume on June 1, it seems doubtful there was another trainer better prepared for the green light than Gosden. "We did seem to get our springboard right", is how he describes it. "We were ready to roll."
By the time that first month's action was in the form book, Clarehaven had sent out 43 winners. They included six at Royal Ascot, made up of three Group 1s and three Group 2s. The son of Towser Gosden, whose victories as a trainer included three November Handicaps, Gosden Jr certainly knows the joy of confounding the assessor, but recent years have brought a significant increase in quality at his stable and that showed in Royal week.
"But the bite was in the tail", he says, mulling things over just five days after Champions Day. The fine weather and regular winners of early summer gave way eventually to a sodden October and a handful of disappointments at Longchamp and Ascot.
We're very lucky, we're not like an artist, a painter who has to stare at a blank canvas, and we're not like a poet or a writer who stares at a blank piece of paper. We are sent raw material and it's how we craft it
"The best way to learn is to watch people's mistakes. He didn't make mistakes"
She had five years here, she only left the place to go racing. I suppose what we've all found very fulfilling is that she left looking fantastic, feeling fantastic and fully sound
"Arc day was very frustrating. Not only was it bottomless ground but with Aidan having to withdraw his horses (because of the contaminated feed crisis), suddenly the race turned into a velodrome bicycle race, rather than the proper mile and a half race that was essential for Enable and Stradivarius. That's life, they both came back fine.
"Then we had the record deepest ground on the GoingStick for Champions Day. Make no mistake, I'm pleased for my friends who had nice winners on that day but Ascot moved it to the inner track last year and it was fabulous racing, Kew Gardens and Stradivarius crossing the line together, three fillies in a photo finish for the Fillies & Mares that we won with Star Catcher and a great race for the Champion Stakes that Magical won.
"I think it's a bit sad when Magical can't handle the ground because it's so deep and horrible and old Stradivarius got sunk in Swinley Bottom. And then we had Palace Pier, who ripped a shoe off and cut his leg.
"When it gets like that, run on the inner track. It's sand-based, it's not watered and it would have ridden the easy side of good. At Kempton next door, the jumps course was advertised as good, good to firm in places. I'm happy for the winners but if it's going to turn into specialist, deep-ground horses slogging it out and the field strung out like a four-mile chase, I'm sorry, that is not championship flat racing.
"It wasn't wet heavy, it was holding, deep, drying-out heavy, the worst type of ground, I think, just unpleasant. They go in, it's this big hole and they have to pull their leg out. I've never seen mud as high as it was on some of them.
"So I would have to say our whole year's gone terribly well, till we got to the bottomless ground of October and I'm afraid our horses didn't handle it. C'est la vie.
When top-class flat races are once more staged on a dry surface, surely the name of Palace Pier will be back in the headlines. Kingman's best offspring so far, he would have been a Guineas contender in a normal year but, lacking the time for a prep-run, went for the St James's Palace Stakes instead and won it stylishly, following up in the Jacques le Marois.
Things must be going well when even those close to a stable are cheerfully surprised by Group 1 success. That seemed to be the story when Mishriff gave Gosden his first winner in the French Derby. Lord North also ran above his previous form in bagging the Prince of Wales's Stakes.
Stradivarius had his usual brilliant summer, landing the Gold Cup and the Goodwood Cup, while the classy filly Nazeef emerged to take the Falmouth and the Sun Chariot. Even Miss Yoda weighed in with the German Oaks.
But the trainer's highlight, picked above all of these, was Enable winning the King George VI & Queen Elizabeth Stakes for a record third time. She had little to do that day, with just Japan and Sovereign in opposition, but one can hardly blame a good horse for scaring off potential rivals.
She retired as the winner of 11 Group 1s and more than £10m in prizemoney, thanks in large part to her two Arc successes. She did not get the best of the tactics when Waldgeist denied her a third last year and needed the run when beaten by Ghaiyyath in the Eclipse, so there is a case for saying that her final Arc defeat, when sixth to Sottsass, was really the first time she ran below expectations.
When we meet, Gosden reports that the great mare has been packed off to Banstead Manor Stud mere hours earlier. "Frankie put the colours on and sat on her in the yard and he trotted her on the track. We had her led round the yard with everyone in the middle. The sun came out, it was lovely. And then she just popped on the van.
"She had five years here, she only left the place to go racing. I suppose what we've all found very fulfilling is that she left looking fantastic, feeling fantastic and fully sound. She's done so much for racing and winning the third King George would have to be the cherry on the cake.
"It's a wrench, it is, but goodness, she's been here all those years, been fantastic, the most gorgeous filly to train, brave. She's just been a pleasure for us to have here and we're very fortunate Prince Khalid sent her here. It's been a great, great run.
"It was rather sweet because Stradivarius was having a little shout at her out the window as she went round and I said, 'No, I'm afraid her boyfriend will be Kingman, not you.'"
While Enable starts her second career, Palace Pier, Mishriff and Stradivarius are expected to be back racing next summer, trying to help Gosden be champion for the fourth year in a row, a feat last achieved a century ago by Alec Taylor Jr. It is not out of the question that his licence may by then be held jointly with Thady.
"He's been with me for every summer vacation throughout his school and university days and he's been in Ireland with Joseph (O'Brien), he's worked in Australia twice, with David Hayes, he was with Bob Baffert, he saw Justified prepared for the Triple Crown. So, really, he's had good experience and he's a fully-fledged assistant here now.
"He's the perfect age to be getting involved. So it'll be what I call a natural progression." When might we see this natural progression taking place?
"I would have thought fairly imminently, myself", Gosden replies, quickly clarifying that he does not mean to retire any time soon. "Together!" he explains. "Together. And then after that he can boot the old boy out the nest."
Perhaps it is the hope that his son will have a long future in the game that has prompted Gosden to be rather more obviously involved in racing politics than in the past. He has been vocal in pressing for reform of the levy system and his stable was reportedly the venue in August for a meeting of various powerful figures who hoped to achieve that aim.
Such topics can wait for other days. For now, with his son tapping away at a nearby computer, Gosden is discoursing on the trainer's responsibilities. "The long and short of it is, you're working with animals. Your job forever is just to be looking, looking for any slight little change, for the better or the worse. Picking up on things, that is the essential thing, never stop using your eyes, watching this, watching that. You have to be sensitive to the horses.
"I have a fantastic staff here. Vincent had a great staff when I was there, people who knew how he thought. We all work together, we discuss them. I can see him now talking to people like Bill Fogarty and Tommy Burns, work riders, talking, going through everything, discussing every horse.
"That is essential but it's also the most fulfilling aspect of the business because they are to improve, they're young creatures, they're changing all the time. You're training kids and adolescents, you're training the mind as well as the body. That's what I find so captivating about it."We're very lucky, we're not like an artist, a painter who has to stare at a blank canvas, and we're not like a poet or a writer who stares at a blank piece of paper. We are sent raw material and it's how we craft it."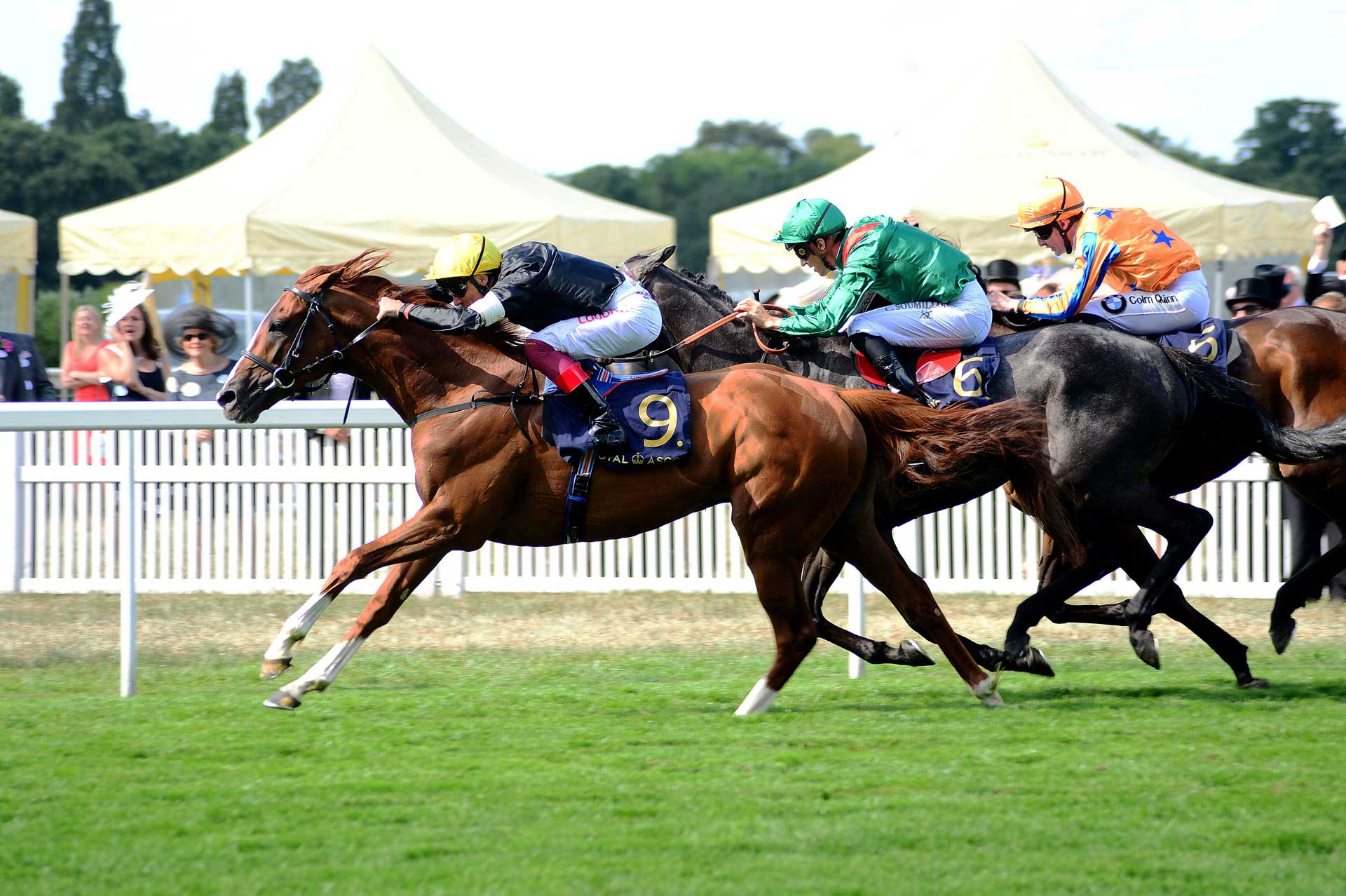 "It was rather sweet because Stradivarius was having a little shout at her out the window as she went round and I said, 'No, I'm afraid her boyfriend will be Kingman, not you'"