Pat Downes
Upbeat Downes
The manager of Aga Khan Studs in Ireland was understandably happy to have a conversation with LISSA OLIVER about the past year
The manager of Aga Khan Studs in Ireland was understandably happy to have a conversation with LISSA OLIVER about the past year
---
When Sottsass won the Prix de l'Arc de Triomphe in October, he was sparking a global Group 1 treble for his already-successful sire Siyouni, capped by St Mark's Basilica in the Dewhurst and Etoile in the EP Taylor Stakes at Woodbine.
Closer to home, the Dermot Weld-trained filly Tarnawa was also doing her bit to ensure a memorable end of season for her owner. Her progression at four has seen her unbeaten in four starts, opening her campaign in the Group 3 Give Thanks here at home before scaling the heights at the top level with the Prix Vermeille, Prix de l'Opera and, of course, the Breeders' Cup Turf.
It's rarely a quiet year for the famous green silks and red epaulettes and they have been carried by more than the usual fair share of top-flight horses, particularly here in Ireland. The Irish operation is based atGilltown Stud and incorporates the adjoining Sallymount Stud as well as Sheshoon and Ballyfair studs. Gilltown is the public stud, home to stallions Sea The Stars and his dual-Derby winning son Harzand. It alsoboasts an impressive pre-training yard and offers quiet respite to the horses in training brought home for a break. Manager Pat Downes and the team therefore have more than a passing interest in the homebredhorsers, as the Dermot Weld-trained Tarnawa exemplifies. She spent much of the year in their care.
"Tarnawa has been a consistent filly. Although not winning as a two-year-old she was placed twice and ran second in a Listed race, so we knew we had a nice filly going into her three-year-old season", Downes says of the imperious chestnut. "She won her maiden and the Group 3 Blue Wind Stakes, but she didn't have a clear run coming down the hill in the Oaks at Epsom. She won her next two, but we felt there was a lot more to come from her, so we decided to keep her in training.
"We had decided after the Fillies' & Mares' at Ascot that we would give her a long break, with a view to a second-half campaign this year. She came home to us here and she stayed withus until the first of June of this year, where she was looked after really well by our team in Gilltown while on her break and in the pre-training yard. She went back to Dermot at Rosewell House looking really well, they did a great job with her.
"Only having her first start of the year in August, she was a fresh filly for her autumn campaign, winning her first start at Cork in the Give Thanks Stakes and then the Vermeille and Opera. We had entered her for both the Filly & Mare, and the Turf at Keeneland, but the Filly & Mare was a shorter race this year and on such a tight track, we were always likely to run in the Turf."
Having such facilities at home is a great advantage and Tarnawa's outstanding season is testament to the care she received both at Rosewell House and Gilltown. But now that she has a string of Group 1s to her name and the coveted Breeders' Cup Turf, will she be returning home as a broodmare?
"Assuming all remains well with her over the coming months, we will run her again next year, with the Arc as her main objective", Downes reveals. "It will be exciting to have her racing again and we will do the same as this year, give her a good break and bring her back fresh for the second half of next season."
Racegoers are becoming increasingly spoilt by the continuation of the careers of stars on the flat, with Enable, Stradivarius, Magical and Battaash among those given the time to cement a special place in our hearts. That we can now look forward to Tarnawa running as a five-year-old is a further welcome fillip for Irish racing, as it is to everyone involved with the Aga Khan Studs.
"Having a filly like Tarnawa is a great boost for all the staff here in what has been such a challenging year. I know how it makes me feel, we are involved with the horses from the very start, when the mare's mating is planned through to the foal arriving, being raised at Sheshoon Stud and then the initial breaking in Turf Lodge to then going into pre-training here and then finally on to a trainer.
"Assuming all remains well with her over the coming months, we will run her again next year, with the Arc as her main objective"
"We run our own internal Ten To Follow competition, which adds a bit of spice to daily conversations during the flat season. This year's winner David Geoghegan, like most of us, had Tarnawa in his selection along with a strong supporting team so he led from the front pretty much from the delayed start to this year's flat season. I like to see all the staff getting involved and being interested in the progress of the racehorses. It makes for some great banter during the flat season."
Of course, it isn't only the horses in training who have enjoyed a good season. The stallions are all doing well, led by Sea The Stars here at home and Siyouni at the heart of the French operation at Haras de Bonneval. Alongside Siyouni stand Dariyan and Zarak, while Gilltown resident Harzand completes the quintet."Siyouni has had a tremendous year. It's great for the horse, for us and for so many breeders. It's good to see him working so nicely with a mix of different sire lines, so we can send him to a variety of mares. He has been a great story from when he retired to Bonneval and was syndicated shortly afterwards.
"Harzand has done exactly what we expected him to do, with successful two-year-olds from his first crop, as has Dariyan. It's an unforgiving part of the business and horses have to hit the ground running, so hopefully both will do well with their first three-year-olds next year.
"We are also looking forward to Zarak's first two-year-olds next season and his yearlings were popular. Dubawi has been doing well with his sons recently, so hopefully Zarak will also get off to a good start."
The stud farms are at the heart of the racing operation and the Aga Khan Studs has some of the world's finest broodmares, the great Zarkava among them. Ideally, around 165 mares would be considered by the Aga Khan to be an optimum number for sustainability but, given the quality of the mares retiring to the paddocks, the perfect figure is inevitably exceeded.
"The broodmare band is the nucleus of the operation. It's at the centre of everything we do, as everything comes from it, the racehorses, the horses we sell every year and of course the broodmares of the future. We are very aware that we need to look after the families in the stud book and while we do have to manage our numbers carefully each year, we try to ensure we do not lose families from the stud book."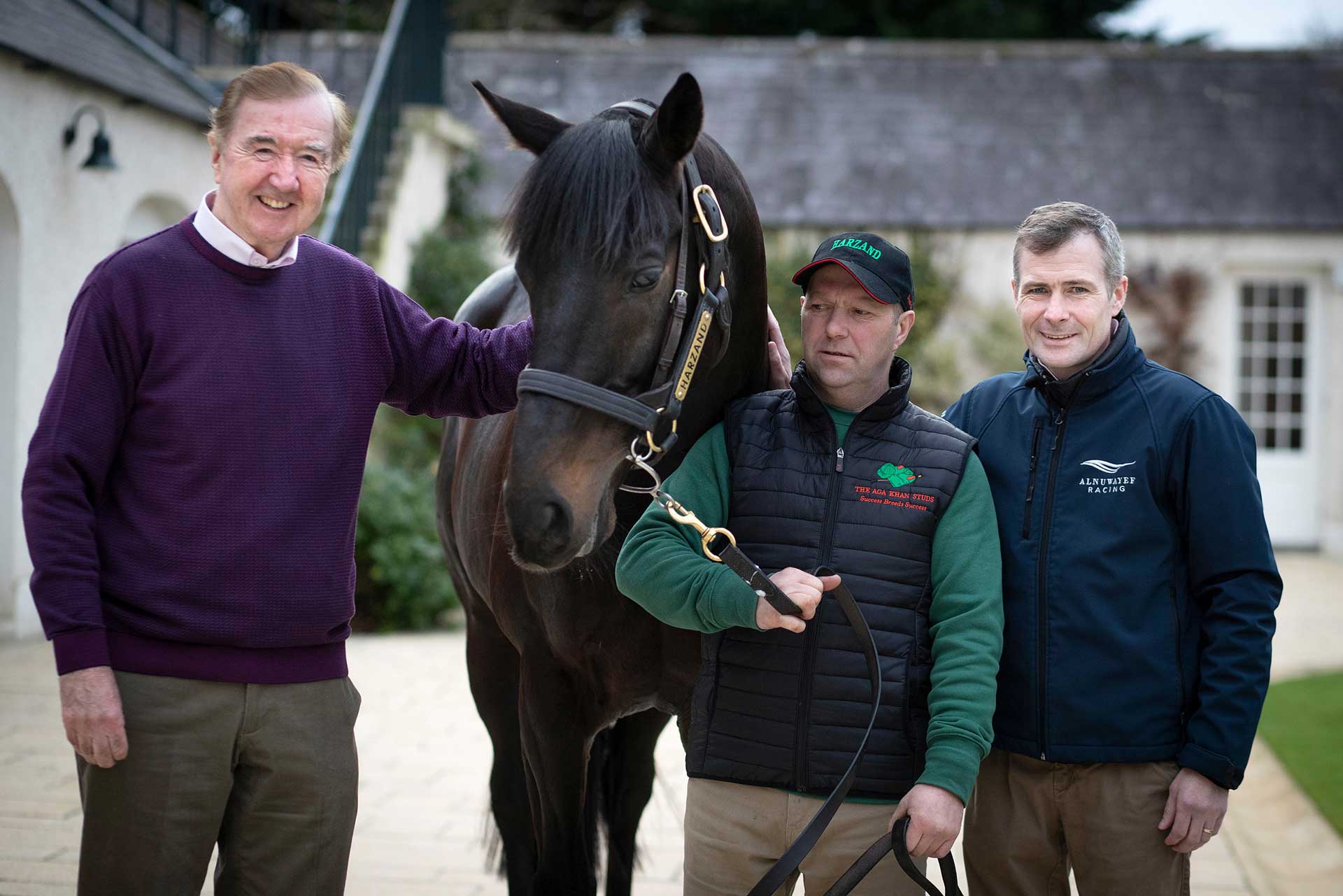 Pat Smullen (right) liked to pay a visit to Harzand, who provided him and trainer Dermot Weld (left) with a Derby double. Hopes are high that the 2016 champion, being watched carefully here by stallion man Ben Meaney, will build on a promising freshman season as a sire (AKS)
Nurturing the great families, many of which trace directly back to the foundation mare Mumtaz Mahal, can be seen almost as a custodian role. With fashions and trends dictating sales ring offerings, the opportunity to produce and give time to horses such as Tarnawa is increasingly the preserve and privilege of the great owner-breeders.
"We are fortunate we don't have to be overly sensitive to the market when selecting the stallions we use each year and it does give us a bit more freedom to use certain horses that commercially might be considered a risk", acknowledges Downes.
"It is a concern that as an industry we are going down quite a narrow path. Speed is great and something we are all looking for in what a stallion can pass on to his progeny, but there are other attributes that are important and as an industry we need to be careful that we could lose the type of horses that can sire the 10, 12 and 14-plus furlong future champions that so many owners and commercial breeders would aspire to produce. It's not easy to find a solution to this but we need to be aware of it. There's always a balance and I feel we have just tilted it slightly too far in one particular direction."
The Aga Khan is known for taking the operation very seriously and his daughter Princess Zahra Aga Khan is equally knowledgeable and passionate about the family's bloodstock. With such a big operation and managers in France and Ireland, how much of a team decision is it when it comes to those all-important mating plans?
"His Highness is as involved in our matings as his time will allow, but he will always be involved in decisions on the more important mares", explains Downes. "Zahra is involved in all the mating decisions. We will do some preparatory work individually and then meet for as many days as is necessary in order to make the final selections of stallions for the mares."
The results are some mouth-watering bluebloods ready to hit the track and Downes provides a sneak preview of who we might look forward to next season. "We have a lovely Siyouni half-sister to Tarnawa, she's a lovely quality filly typical of Siyouni, and her dam Tarana is now in foal to Frankel. We have two promising fillies by Sea The Stars, both trained by Dermot Weld, Shandra and Emaniya, both won their maidens nicely and we are looking forward to seeing them run again next year."
Nurturing the great families is not the sole preserve of the breeding operation. This extends also to the carefully chosen trainers who take responsibility for the horses once they graduate from pre-training. Selecting suitable trainers for the individual horses is another important part of the success story.
"When choosing trainers, we tend to leave certain families and siblings with the trainer, we don't change that a lot. When we introduce a new trainer, which is not something we do very often, it's starting with a clean sheet."
It may not happen often, but it's good to see the successful partnership of Johnny Murtagh and the Aga Khan renewed for next season, having enjoyed together so many big race days when Murtagh was riding.
"We've had a long association with Johnny Murtagh and we've seen how well his career has progressed each year he has been training and especially this season, which has been a breakthrough year for him. His Highness and Johnny have enjoyed some great days in the past and hopefully they can share some more good days in the future."
As talk turns to those heady days of Murtagh in the famous green silks, thoughts also turn to the retirement of John Oxx, who was instrumental in so many of those great victories.
Having talked us through the behind-the-scenes business of producing and racing horses such as Sinndar, Tarnawa, Zarkava, Azamour and, of course, Shergar, it's appropriate that the conversation ends with aftercare. Not every horse bred can be successful and find a place back within the stallion ranks or broodmare band.
"Aftercare is important", Downes concludes. "The ADDP (Au-Dela Des Pistes – Beyond the Tracks) is an industry-led initiative in France for the retraining of racehorses. We send some of our Irish-trained horses into their system, where they are retrained and rehomed, and I feel that is something we need to improve upon in this country." It's a very good point and Pat Downes is in a good position to lead the way.
As far as improvement within the Aga Khan Studs operation is concerned, it will be hard to top the season just ended. But that won't stop the team aiming ever higher and dreaming of better yet to come.