Pat Downes
Family Fortunes
Keeping long-standing lines alive and reviving those that lay dormant is the primary motivation for the Aga Khan Studs, and it's a policy that has delivered spectacular results for a century
Words: Brian Sheerin • Photos: Caroline Norris / Aga Khan Studs
---
The world is getting smaller but the racing world continues to grow exponentially making it a forgivable offence to need reminding as to what exactly next year's crop of first-season sires achieved as racehorses. They may have changed physically, but their race records are set in stone and it helps to take a moment to remind ourselves what might be in store for 2022. It's no surprise that 2000 Guineas winner Saxon Warrior, who covered this crop for a fee of €30,000, is top of the class at this stage by virtue of being the only first-season sire to achieve a six-figure yearling average (51 sold for an average of €140,900). If ever you could say €30,000 is a bargain, his 2019 stud fee is it.
Vadeni did what no French-trained horse had done for 62 years when storming to Coral-Eclipse glory for Jean-Claude Rouget at Sandown in July. The significance of that victory did not end there. In doing so, he also became the first horse to carry the Aga Khan's colours to victory in Britain since Harzand landed the Derby in 2016.
Throw into the mix Shartash winning the Group 2 Railway Stakes, cementing the Aga Khan's burgeoning relationship with Johnny Murtagh in his new role as a trainer and the exceptionally-bred Erevann's rise through the ranks in France, and you would think that this hugely significant year couldn't get any better.
But along came Tahiyra to firmly kick that theory to the curb as, in posting one of the most impressive juvenile displays for some time when winning the Group 1 Moyglare Stud Stakes in sensational style on Irish Champions Weekend, Dermot Weld's filly sparked genuine Classic dreams and heads the ante-post market for the 1000 Guineas.
It's safe to say that Rausing is no trendsetter.
"Logically, all roads will lead to the 1000 Guineas next season. She came back here to Gilltown a few days after the Moyglare and will stay here until around mid-December. Whether she comes to hand in time for Newmarket or whether she's more of an Irish 1000 Guineas filly, we'll just have to wait and see. She certainly seems to have quite an engine."
That those pistons under Tahiyra's bonnet can fire should not come as a surprise. A half-sister to Weld's Breeders' Cup Turf winner Tarnawa, who is now in foal to Frankel, Tahiyra was bred to be a high-class filly and encapsulates everything that the Aga Khan strives to achieve in a self-sustaining breeding-to-race operation.
"Yearlings going to the sales is a bit of a fashion show. But, when you are breeding to race, you have to just accept what you have and if they are sound and have good minds, they get their chance"
"She wouldn't be quite as robust as Tarnawa, who has quite a bit of Shamardal in her and is a big, strong mare," Downes says. "Tahiyra would have a little bit more quality about her. She has that acceleration that Tarnawa didn't have. Dermot's last words to Chris Hayes leaving the parade ring ahead of the Moyglare were, 'When you feel like you want to go, count to five and then go.' Chris had a fair idea what he had underneath him but he was very cool on her. To see the way she reeled in Meditate was enjoyable."
Weld has been on the Aga Khan roster since 2013 and, in that time, has delivered a Derby, Breeders' Cup and multiple Group 1 successes. The legendary Curragh-based trainer was rewarded for his patience with Tarnawa when the filly crowned that memorable four-year-old campaign in the autumn with victory at Keeneland and he has also trusted his instincts with Tahiyra.
"Dermot is a very good trainer. He knew going to Galway that he had a very nice filly. His horses hadn't been in great form all year and that put a little bit of a question mark over how well she would perform. They had been running okay all year without winning but, all credit to Dermot, he didn't panic. What she did this season sums Dermot up. He'll wait and wait until they are right.
"He did the same with Tarnawa. After her three-year-old campaign, she came back here and didn't return to Dermot until June 1 because we all agreed that the races for her were in the second half of the season. Obviously, she had a great autumn campaign as a four-year-old, and a bit of a frustrating autumn campaign as a five-year-old."
Next year's Classic hopes will be pinned on Tahiyra but there is so much more to look forward to. Prix du Jockey Club and Coral-Eclipse winner Vadeni, who ended his campaign with a gallant runner-up effort in the Arc, will stay in training with the aim of going one better at Longchamp while Erevann will be given the opportunity to harden his credentials as a potential stallion.
"With the way that Vadeni won the Prix du Jockey Club, we felt that he was entitled to run in the Coral-Eclipse at Sandown and that was another great day. We want to make stallions and, because these are all homebreds, the conveyor belt can be a little erratic and you don't produce a top-class colt every year. We accept that.
"But, to give Vadeni every chance to enhance his racing profile so that he can become a stallion, we felt the Eclipse was the right place to go. We didn't know if he would stay the Arc distance. I know that Jean-Claude Rouget always felt that he was a mile-and-a-quarter horse but we decided to give him a chance in the Arc and were thrilled with the way he performed. "We will aim for that again next season and there's a lovely programme there for older horses. Hopefully he can get back to Longchamp in as good of form as he was there this year. Churchill was a young stallion we didn't know a lot about and we took a chance on him, with Vadeni being the result of that mating.
"Our matings are done by committee, involving Princess Zahra Aga Khan, Georges Rimaud, Nemone Routh and myself. The four of us do the leg work and, for some of the more important mares and race fillies, we get them rubber-stamped by His Highness."
And that process has been refined to a fine art, something that was beautifully encapsulated in the documentary, A Game Of Chess With Nature, commissioned to celebrate the Aga Khan's centenary year.
The hour-and-a-half long film premiered in Deauville during the summer and covered four generations of the Aga Khan family and their shared love of the thoroughbred.
The film also illustrated how the story began with the Aga Khan III's purchase of a handful of yearlings and how that passion for the breeding and racing that burns bright to this day was nurtured by Prince Aly Khan and now His Highness the Aga Khan, who has been head of the operation for more than 60 years.
"I am in my 24th year and you get a great sense of history working here," Downes says. "From speaking with His Highness, it's all about this," he adds, raising the stud book in the air.
"It's all about keeping the families going. Some families might go dormant and he will try and bring them back. His enthusiasm for it is infectious. We're fortunate that we are not involved in the commercial side of things. We are purely breeding to race and are concentrated on developing families. We feel very fortunate to be involved in the whole journey from deciding a mating to going to the races.
"The original owner-breeders are few and far between these days. The whole story behind His Highness Aga Khan's family history with breeding horses can be summed up from Mumtaz Mahal all the way through to Petite Etoile and then to her daughter Zahra and on to Zarkava and now Zarak standing at stud for us in France. That pedigree started on day one and remains relevant to this day.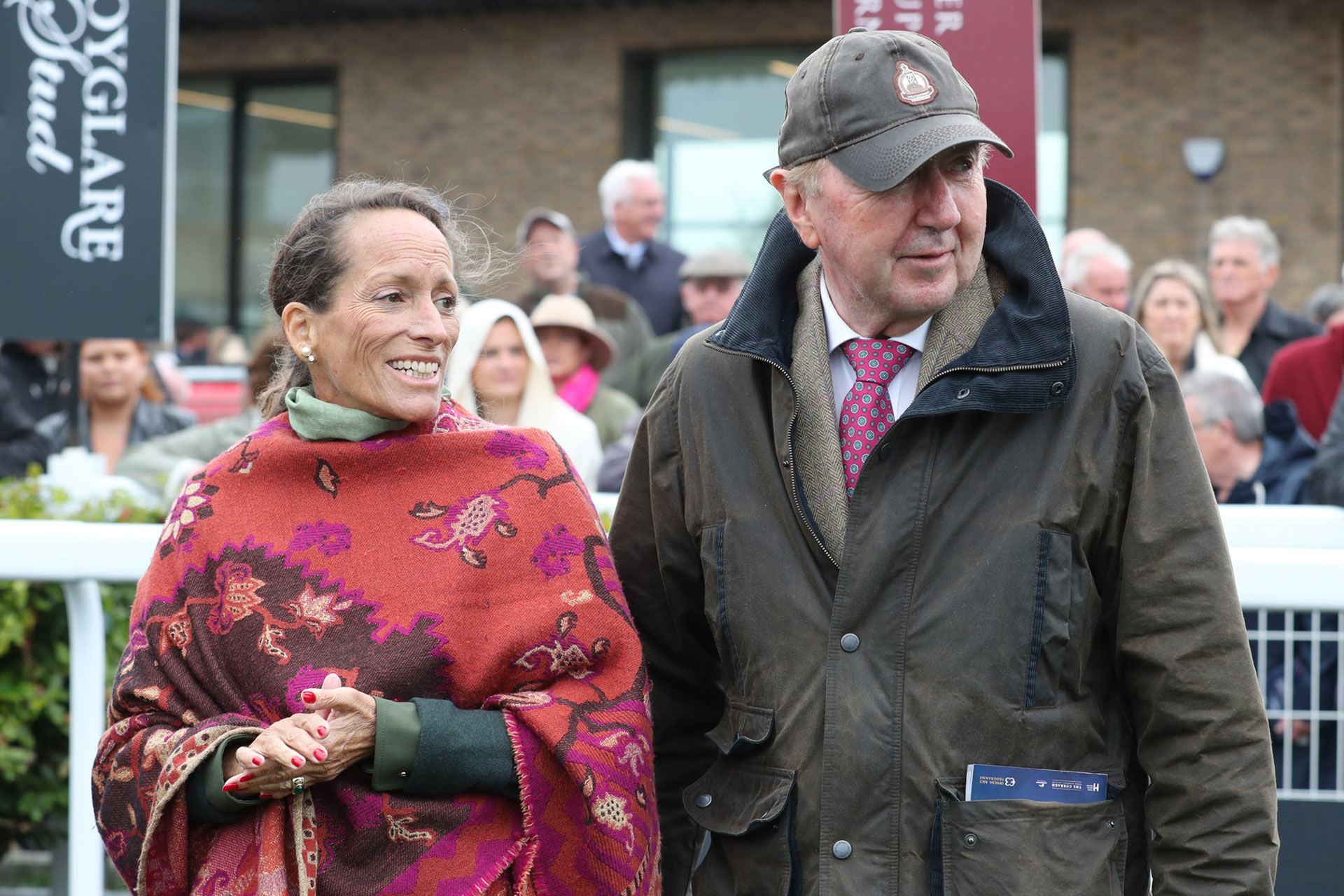 Princess Zahra plays a major role in operations while Dermot Weld's patience has paid dividends since being added to the Aga Khan's training roster in 2013 (CN)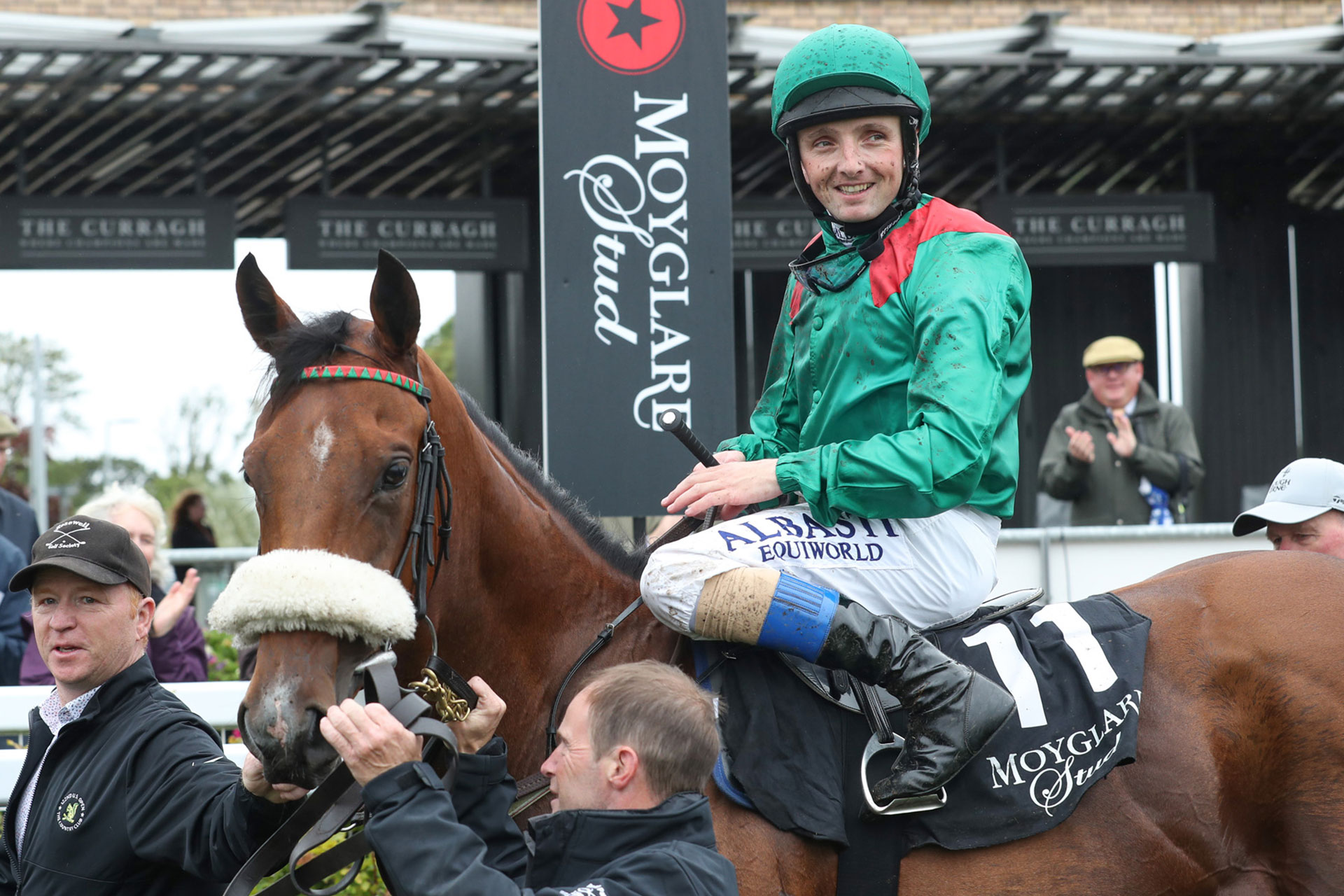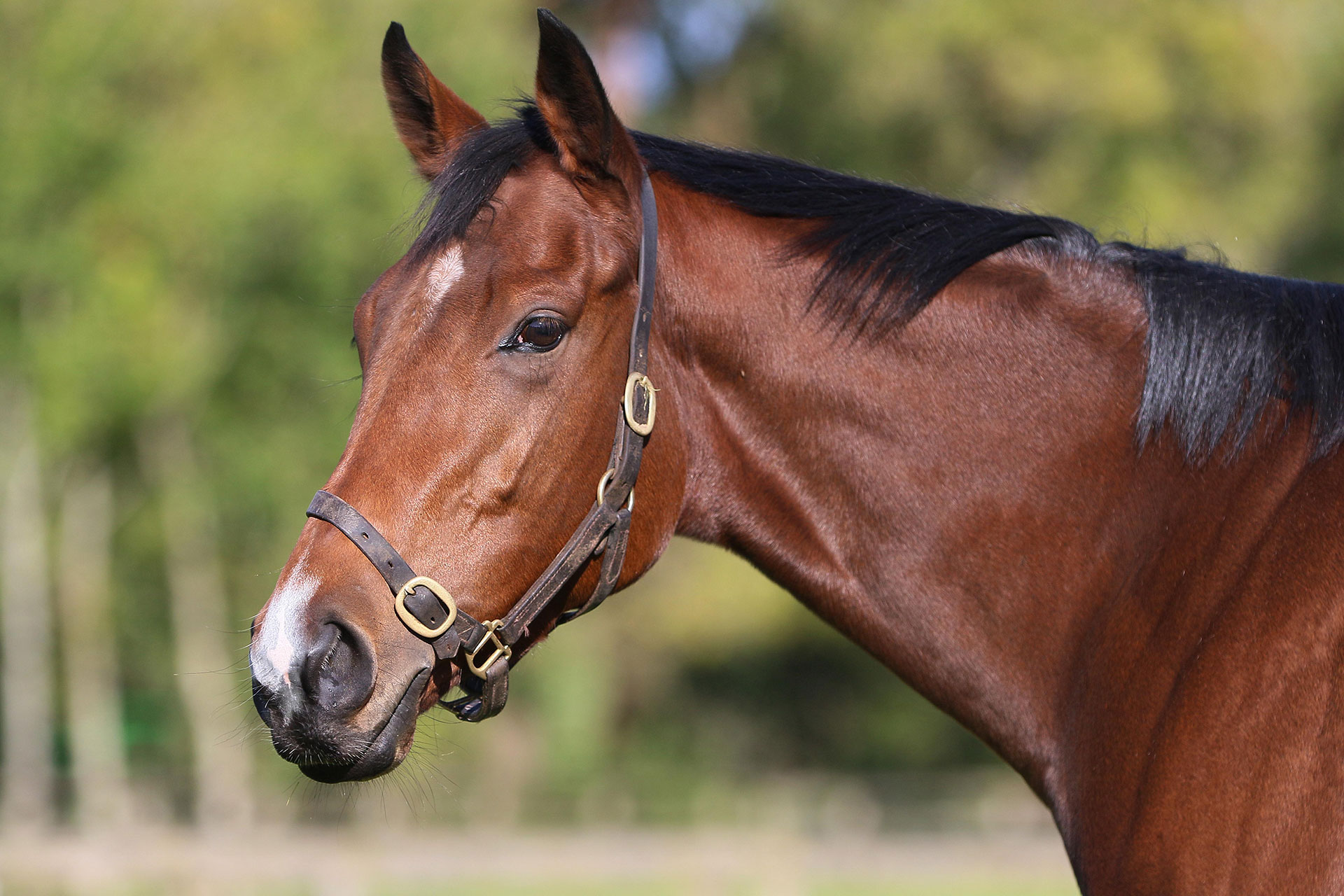 Tahiyra and Chris Hayes after a stunning victory in the Moyglare Stud Stakes (CN) and at Gilltown, where she is on holidays in the off-season (AKS)
"That particular line sums it all up. Those lines are still giving so much to this day. That is a huge thing for us and it is a huge thing for His Highness as well. It's well documented that Petite Etoile was a very shy breeder and only produced one filly. That filly got a special name, Zahra, and she went on to produce daughters who eventually produced Zarkava. It's a wonderful story."
Princess Zahra, who shares her name with that special broodmare, shares her father's love for breeding and racing. Indeed, her green and brown colours relegated the world-renowned Aga Khan silks to the substitutes bench for a brief period in 2007 when her small but select string, headed by Darjina and Mandesha, hogged the limelight.
"Zahra is very involved now and very keen. She really enjoys it and has a couple in training in France. We all know that she had a whirlwind start with Darjina and Mandesha, who flew her colours with great distinction."
Unlike Zahra, the Aga Khan knew little to nothing about horses in his youth and, when Prince Aly Khan passed away suddenly, was faced with a dilemma; discontinue the breeding empire or immerse himself in it. Thankfully, he chose the latter.
"When His Highness took over the operation, he had virtually no exposure to horses other than going racing during his summer holidays from school during his youth. Typical of the man, he took time to think about the future of the operation upon his father's passing and tried to figure out if this was something he could continue and have success with, just like his father and grandfather had. He obviously decided to immerse himself in it, along with everything else he had going on in his life, so he did quite a job, didn't he?"
So, too, has Downes. Under his management, Gilltown Stud has produced three Arc winners, a Derby hero and countless other high-class horses of note. It begs the question, what has been the highlight of those 24 years?
"We can all get a little bit parochial and, while we are one big operation, I am sure Georges Rimaud takes a special interest in the horses who were bred in France, but Zarkava came from here, as did Dalakhani and Sinndar. There's three Arc winners who were born here and that's something that gives me a lot of pleasure.
"I must say, after Zarkava showed herself to be what she was on the racetrack, I can remember going back to my notes and thinking, 'What did I not see with her?' She was small, by Zamindar and out of an unraced Kahyasi mare. She was racy, not the most correct, and beyond that, I couldn't have envisaged that she would have the ability that she did. You just never know.
"When we are out looking at the foals and the yearlings, you might see a horse who has all the right attributes and everything might be in the right place, a very well-conformed animal, but it doesn't guarantee anything.
"Then, you can come across a yearling that you don't particularly like, and they might turn out to be the best ones. Yearlings going to the sales is a bit of a fashion show. But, when you are breeding to race, you have to just accept what you have and if they are sound and have good minds, they get their chance."
The breeding and racing operations of the Aga Khan's Irish and French Studs work in tandem with each other. At Haras de Bonneval, Siyouni has emerged as an elite stallion while Zarak has recorded impressive figures from modest books of mares and is widely regarded as one of the most exciting young stallions in Europe.
Back in Ireland, Murtagh, who rode Sinndar to dual Derby successes at Epsom and The Curragh and to victory in the Arc in 2000 for the Aga Khan, has slotted seamlessly into the fold as a trainer by delivering notable success in his second season on the roster.
"We have a long association with Johnny. We've had some great days and some speed bumps along the way but you have to be impressed by the way that his training career has started." On Siyouni's exploits at stud, Downes adds: "It's a wonderful thing for a big operation to have good stallions. With the way things have evolved, especially with middle-distance horses, it's very difficult for them to make it at stud. They don't get much of a chance. Take a horse like Siyouni, he was not your normal type of horse to stand at an Aga Khan Stud. He was obviously a Group 1-winning two-year-old but he didn't win as a three-year-old. Generally, the Aga Khan stallions down through the years would have been Group 1 winners at three."
The only hitch in an otherwise exceptional season came when Christophe Soumillon, one of the most decorated riders in the world and the long-standing ally of the Aga Khan, lost his retainer when he nudged Rossa Ryan out of the saddle in a race at Saint-Cloud in October.
Ryan emerged from the incident unharmed but the French authorities came down hard on Soumillon for his moment of madness by dishing out a six-month ban. However, Soumillon will remain "in the mix" with the Aga Khan next season even though his contract will not be renewed.
"It was unacceptable and I was surprised with what he did and I think Christophe was probably surprised himself. From the conversations that I have had with him since, he was absolutely accepting that you can't do that. Thankfully, nothing happened Rossa Ryan, that is the most important thing, but a 60-day ban was probably the right reaction from the French stewards. He will not be contracted by us next year but I am sure he will ride some of the horses and will be in the mix. It's obviously up to Jean-Claude, but I am sure he would like to keep Christophe on Vadeni."
Downes knows better than most that even a force as powerful as the Aga Khan Studs cannot count on horses with the ability of Vadeni or Tahiyra in every crop.
"I've always likened this game to being on a Ferris wheel. Everyone gets a bit of time at the top of the wheel and you just have to accept it when you are at the bottom. We know that sometimes we are going to get a crop where we are lacking enough good horses to be competitive at the top level but that is the nature of this business and you have to accept it. You just hope that the barren spells don't last too long and, similarly, you know that the good runs don't last forever."
The Aga Khan racing and breeding operation has enjoyed more than its share of time at the top of that wheel. With Vadeni and Tahiyra to look forward to next year, the good run is sure to continue.