Moyglare Stud
Legacy
In the midst of an increasing emphasis on immediate returns, Moyglare Stud's policy of patience reaped rewards once more on the 60th anniversary of its foundation, while the policy of giving back to Irish racing endures
Words: Lissa Oliver • Photos: Peter Mooney & Caroline Norris
---
The world is getting smaller but the racing world continues to grow exponentially making it a forgivable offence to need reminding as to what exactly next year's crop of first-season sires achieved as racehorses. They may have changed physically, but their race records are set in stone and it helps to take a moment to remind ourselves what might be in store for 2022. It's no surprise that 2000 Guineas winner Saxon Warrior, who covered this crop for a fee of €30,000, is top of the class at this stage by virtue of being the only first-season sire to achieve a six-figure yearling average (51 sold for an average of €140,900). If ever you could say €30,000 is a bargain, his 2019 stud fee is it.
She illustrates perfectly the patient and loyal breeding programme operated by the almost unchanged Moyglare Stud team, tracing directly back to one of the original foundation mares Aptostar, a line that has already given us Profound Beauty and Irresistible Jewel.
A rarity in the current climate of, dare I describe it, greed and speed, even in its commercial heyday Moyglare endeavoured to breed the Classic racehorse, the famous bloodlines abounding with top-class middle-distance performers and a multitude of dual Group 1-winning mile-and-a-half fillies, still proving their worth posthumously today.
Look at another Moyglare star of the season – the Gold Cup hero Kyprios, who began his unbeaten four-year-old campaign by leading home a Moyglare one-two in the Vintage Crop Stakes. Behind him was his full-sister, the dual Irish St Leger heroine Search For A Song, a fine advert for another successful Moyglare family, the Talking Picture line via Irish 1000 Guineas winner Trusted Partner.
Kyprios would win six races in all, including four Group 1s. After showing his battling qualities in winning the Ascot Gold Cup, Goodwood Cup and Irish St Leger, where he joined his sister on the roll of honour, he concluded his campaign with a 20-length evisceration of a 12-strong field in the Prix du Cadran at ParisLongchamp. Like Search For a Song, and another multiple winner albeit at a different class, Falcon Eight, he is the result of a union between Trusted Partner's daughter Polished Gem and Galileo. Polished Gem has produced nine winners in total, with Free Eagle, Custom Cut and Sapphire among the high-class progeny.
There are Guineas winners aplenty emerging from the 500-acre stud in Maynooth, most famously Refuse To Bend, a half-brother to Melbourne Cup winner Media Puzzle. Classic breeding can include a turn of foot. Continuing tradition, even if Eternal Silence couldn't quite peg back the impressive Tahiyra and Meditate in the Moyglare Stud Stakes, the Jessie Harrington-trained filly rose above expectations for the occasion and holds an Irish 1000 Guineas entry. Her dam is the Ribblesdale Stakes winner Princess Highway, in turn out of another Ribblesdale Stakes winner Irresistible Jewel.
Moyglare Stud has stood the test of time and much of its success boils down to loyalty. Stalwart team members Fiona Craig and Pat Farrell are almost permanent fixtures and manager Malachy Ryan took over from the late Stan Cosgrove on his retirement ten years ago. If it ain't broke, don't fix it.
Loyalty to staff, trainers and jockeys, is an asset in more ways than one. Moyglare's knowledge of individual families has proved invaluable in ensuring the horses are best placed to succeed. Allegiance to those great families and bloodlines has also meant that commercialism never threatened to dilute Classic breeding.
A case in point, Dermot Weld sending out the majority of the Moyglare Group 1 winners, from Refuse To Bend, Trusted Partner and Brief Truce to Homeless Songs. Not forgetting Belmont Stakes hero Go And Go, still the only European-trained winner of a North American Triple Crown race. And he remains an integral member of the team, even as the decision to begin to use other trainers has borne fruit as evidenced by Eternal Silence flourishing with Jessica Harrington and most notably, how champion stayer Kyprios has flourished under the handling of Aidan O'Brien.
Walter Haefner founded Moyglare Stud in 1962. Haefner was an excellent horseman and in 1963 became Fegentri Champion Amateur, at the age of 53. He was an active supporter of Irish racing through his association with The Turf Club, RACE and the Irish Equine Centre. In 1973 he founded the Moyglare Stud Stakes, a race which boasts one of the longest continual race sponsorships in the world.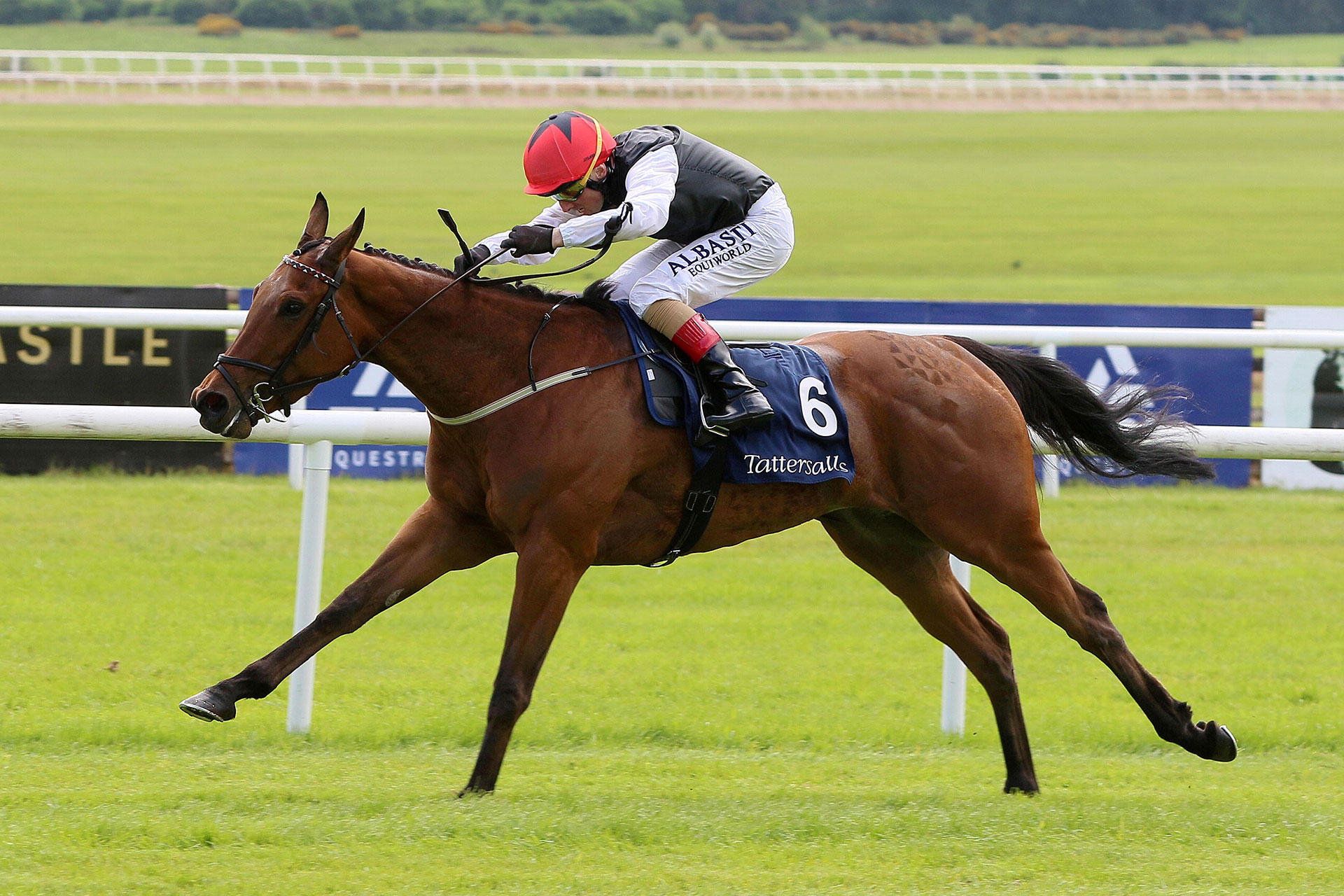 There are Guineas winners aplenty emerging from Moyglare with Homeless Songs adding her name to an illustrious list in May (CN)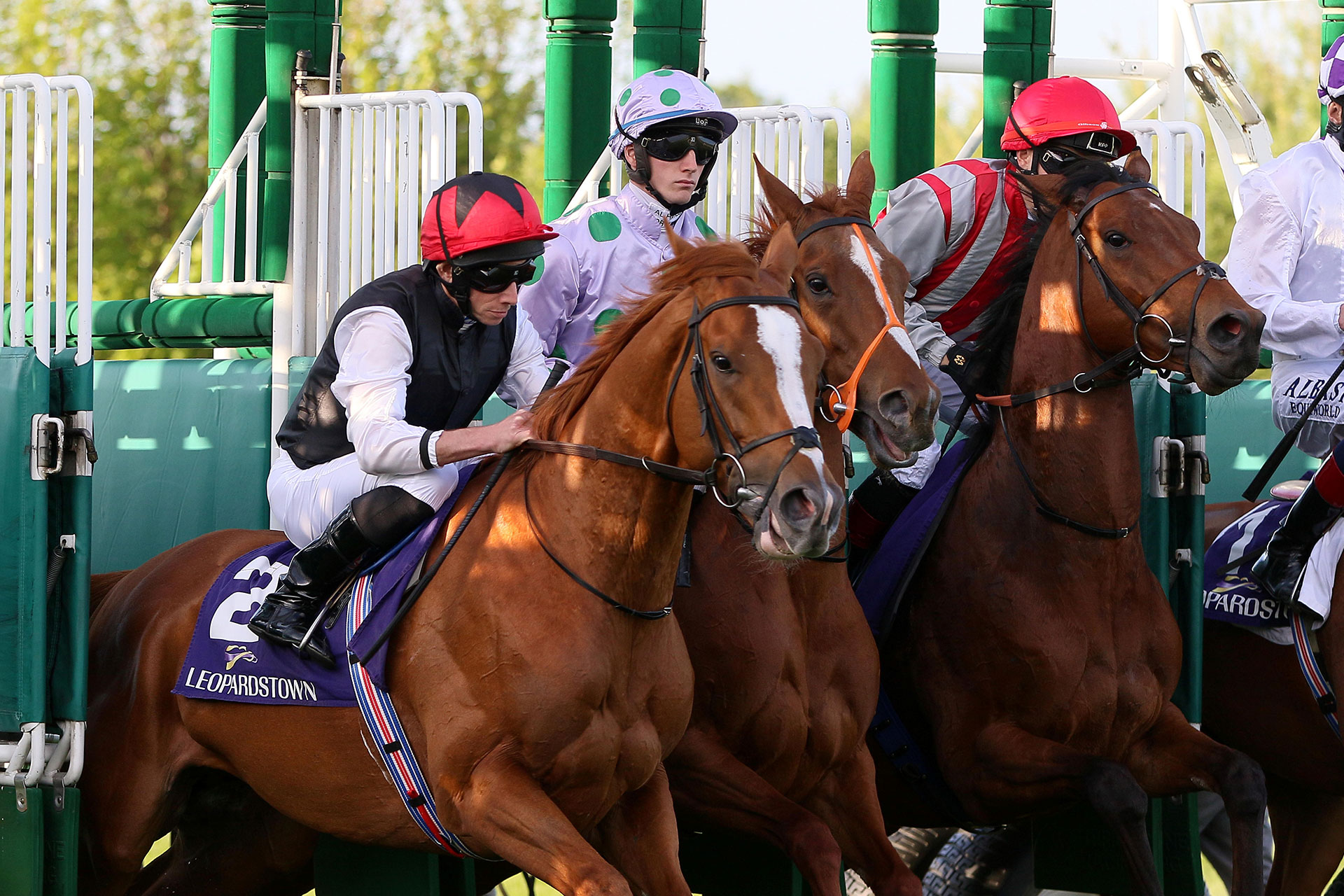 Kyprios bounced out at the start of the season at Navan and then Leopardstown (here) before rattling off four Group 1 triumphs in an unbeaten campaign that established the four-year-old as champion stayer (PM)
Initially Moyglare Stud was run as a commercial operation, selling all yearlings, but that changed in 1980 when Haefner retained stock for racing. When he passed away in 2012 at the age of 101, Moyglare continued under the expert and passionate guidance of his daughter, Eva-Maria Bucher-Haefner. Her children, Chiara and Mischa, are equally passionate about the farm, ensuring there will be plenty more landmark anniversaries still to come.
The famous silks of Moyglare Stud have for long been seen in all the best winner's circles, but the stud's positive impact on racing extends far beyond the racecourse. Eva-Maria Bucher-Haefner and Moyglare's advisor Fiona Craig were among the driving forces behind the redevelopment of Curragh Racecourse and, importantly, the world-renowned training grounds, covering 1,500 acres and home to more than 50 trainers and over 800 racehorses.
Thanks to the support of Bucher-Haefner those facilities have been enhanced, most notably with the addition of the Free Eagle Gallop, an all-weather gallop that runs alongside the Old Vic woodchip gallop; and an 11-furlong sand and fibre gallop added at Maddenstown. Moyglare's support has seen all 70 miles of grass gallops and 12 miles of peat gallops fully refurbished.
Furthermore, behind the scenes, the stud's continued sponsorship at Curragh Racecourse allows stable staff working on race days to have a free meal and refreshments. This has not gone unrecognised or unappreciated. For those present at the Curragh's Guineas Festival, the love was tangible. The backroom staff, with no more than a passing interest in results and barely time to note them, stopped what they were doing and came out to applaud back in Homeless Songs, a filly who can surely be described as the most popular Irish 1000 Guineas winner ever. Not to dent her ego, the good feeling was all for Moyglare, "no better deserving" the buzzword of the day.
We may not know as much about the support of racing's coalface, so much of which is provided without fuss and under the radar, but in racing's shop window the Moyglare silks are a part of history, familiar and just as well loved. Maybe because it is a celebratory year, the flow of winners is even more noticeable.
Homeless Songs, Kyprios, Trevaunance, Thoughts Of June join a roll of honour that includes Be My Guest, Assert, Refuse To Bend, Go And Go, Brief Truce, Media Puzzle, Stanerra, Trusted Partner, Dance Design, Dress To Thrill, Designs On Rome, Profound Beauty and, under Eva-Maria's watch, Free Eagle, Casual Conquest, Search For A Song, Sapphire – the list could go on and on. And all from a relatively small band of about 35 broodmares.
"We try to breed the Classic horse and the broodmare band is itself mainly Classic-bred middle-distance types," Fiona Craig once told me, as we marked another milestone in the 50th anniversary of Moyglare. "It would be no use trying to breed a sprinter when we don't have that type of mare to breed from. We aim to inject class, rather than just speed, and look for a turn of foot, acceleration, rather than just a five-furlong sprinter. You can have a great turn of foot in a two-miler, but if we just send a middle-distance mare to a sprinter, we will end up with neither one thing nor the other.
"Everyone, including Dermot, knows the families so well, and everyone has an input. I've been taking conformation photos of all the foals every season; looking back through the photos you can see family traits and make comparisons."
And that, in essence, sums up the solid tradition of Moyglare Stud and the patient policy of Bucher-Haefner and her late father. And let's not forget to credit sales and breeding advisor Fiona Craig for her vital role. In a time when we all seem to want instant results, their focus on long-term results continues to pay rich dividends.
Same time, same place… I for one am looking forward to welcoming you back here in 15 years' time for the next successful instalment, as we celebrate 75 years of Moyglare Stud and mark the fascinating journey of the next generation, this year's leading fillies hopefully producing champions of their own. No better deserving, as they say.