AIDAN O'BRIEN
Auguste Company
In a time of transition for Coolmore's stallion operations, Aidan O'Brien's conveyor belt of juvenile colts in a season in which he set a number of new landmarks, has never been more important
Words: Ronan Groome • Photos: Caroline Norris / Peter Mooney
---
The extract on the opposite page is a thoroughly interesting pondering from William Haggas and showcases just how differently trainers operate. Hiawatha, just for the record, went on to race twice more, not in the Royal Lodge or Grand Criterium, but in the 19-runner Goffs Million sales race, before finishing out his season when second in the Group 3 Eyrefield Stakes, emphasising Haggas' point.
It wouldn't be like Aidan O'Brien to speculate what might have happened if he trained the great Baaeed but he's more than happy to divulge on the philosophy at Ballydoyle and Coolmore.
"It has always been our way and the boss' way to expose them at two and three and see how precocious they are and they aren't," he explains. "They need to come out and they have to be mature to race at two and then they have to go on and compete in the Classics and progress at three really. That is what the whole thoroughbred breed is built on.
"For the thoroughbred breed going forward, you want them to be born strong and mature early, have enough speed to run in the shorter races and then to start stretching out as time goes on, from two to three.
"You have to show to the breeders that this is what they can do, you know? That's what everyone wants at the sales. No one wants to wait forever anymore, they want to have a horse to go racing, to compete at two and compete at three, and if they're still competing at four and five, all the better."
The central objective for O'Brien, which Haggas also referred to earlier in the piece, has always been to facilitate viable stallion prospects. The conveyor belt at Coolmore must keep moving, more so now than ever after the death last year of Galileo, a generational stallion whose last crop of two-year-olds will hit the track next season.
Sure, Coolmore are not short of potential replacements and with John Magnier et al at the helm, they have one of the strongest breeding minds in the history of the sport, but the pressure has arguably never been as strong.
"It has always been our way and the boss' way to expose them at two and three and see how precocious they are and they aren't"
"I think the lads are doing unbelievable with the amount of stallions they have on the borderline of being exciting at the moment. Galileo was phenomenal with what he did, and we'll see his impact for generations to come, his influence on the thoroughbred breed, in dams and stallions and everything.
"But listen, that's why the likes of Auguste Rodin and them coming along are so, so exciting really. I think the two-year-olds all came through very good this season, a lot of them were Galileos and there were a lot of them who weren't."
Before you read on, it's interesting to ask: do you think Aidan O'Brien has had a good year? By his own lofty standards, there are lots of measurements which you can point to and suggest it has been a below average year for him. After 18 Group/Grade 1 wins last season, O'Brien had 14 by the middle of November this year. Tuesday gave him a 41st British Classic in the Oaks, an astonishing new record, but Kyprios' win in the Irish St Leger was the only other Classic triumph he had in any country.
With that said, it's been a very good year for O'Brien and the larger team with juvenile colts. It might seem a distorted view, to judge a season by what might happen next year but in this time of transition for the larger Coolmore operation, that prism has arguably never been as important.
Last season, the relief was evident when Luxembourg became O'Brien's first Group 1-winning juvenile colt of the season when he powered home to win the Vertem Futurity. This year in the same race, Auguste Rodin was his third individual Group 1-winning colt, and perhaps the most important one.
O'Brien still speaks glowingly about the Deep Impact colt, whose participation at Doncaster went right to the wire due to the heavy going before a brilliant performance prompted bookmakers to move him to the top of ante-post lists for both the 2000 Guineas and Derby.
"From day one this horse was very unusual and different. He's obviously got an unbelievable pedigree - out of a really top Galileo mare (Guineas and triple Group 1 winner Rhododendron), and obviously Galileo is gone, and he is by Deep Impact, the best sire ever out in Japan, and he's gone as well. So when this horse comes along, with his looks and his movement and his mind and his wind, and everything about him, it's kind of perfection.
"We were always thinking of the Vertem Futurity after Leopardstown (where he won the Group 2 Champions Juvenile Stakes) when he was just ready to start back after his first two runs... Ryan rode in the first and he felt it was soft ground and tacky but he didn't think it was heavy so then we walked the track and kind of agreed with his assessment.
"He's anything but a heavy-ground horse, he's a fast-ground horse, so you're thinking, 'Do we run?' I suppose like those really good horses he just coped with it no problem. For us going forward, since he came here, he's probably the most exciting horse with his credentials. "The most unbelievable thing of all was the foresight from John to send his dam over to Deep Impact. How could you even think about doing it? She could have gone anywhere, she is an extremely special mare. To put her on a plane to go to Deep Impact, it was out of this world.
"Obviously John has been watching Deep Impact for years and he did the same with Saxon Warrior's dam. I don't think anyone else would have thought about doing it. But it's probably more unique with this colt. He is from the last crop and I think there might have only been eight foals on the ground from the crop and the lads have four of them."
Like Luxembourg did, Auguste Rodin will assume the 'great white hope' tag for Ballydoyle through the winter months but he will be significantly backed up by Little Big Bear. The son of No Nay Never was a standout performer for his sire, whose influence continues to increase at Coolmore. O'Brien was astonished when he got beaten first time out at The Curragh, but wins in the Windsor Castle, Anglesey Stakes and a seven-length romp in the Phoenix Stakes saw him fulfil the huge regard he is held in at Ballydoyle.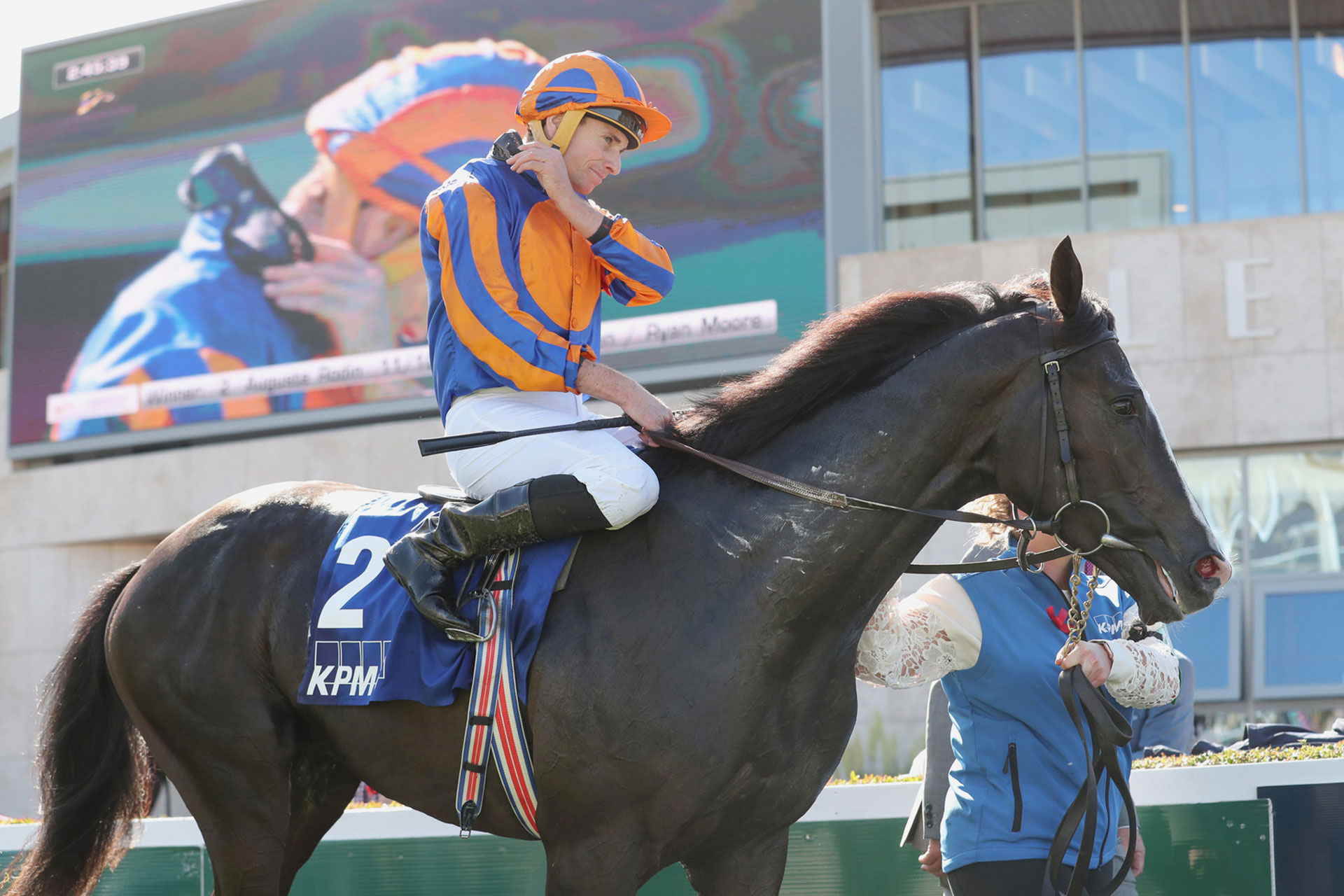 "From day one this horse was very unusual and different" - Auguste Rodin returns to the winner's enclosure after his Group 2 Champions Juvenile Stakes triumph at Leopardstown (CN)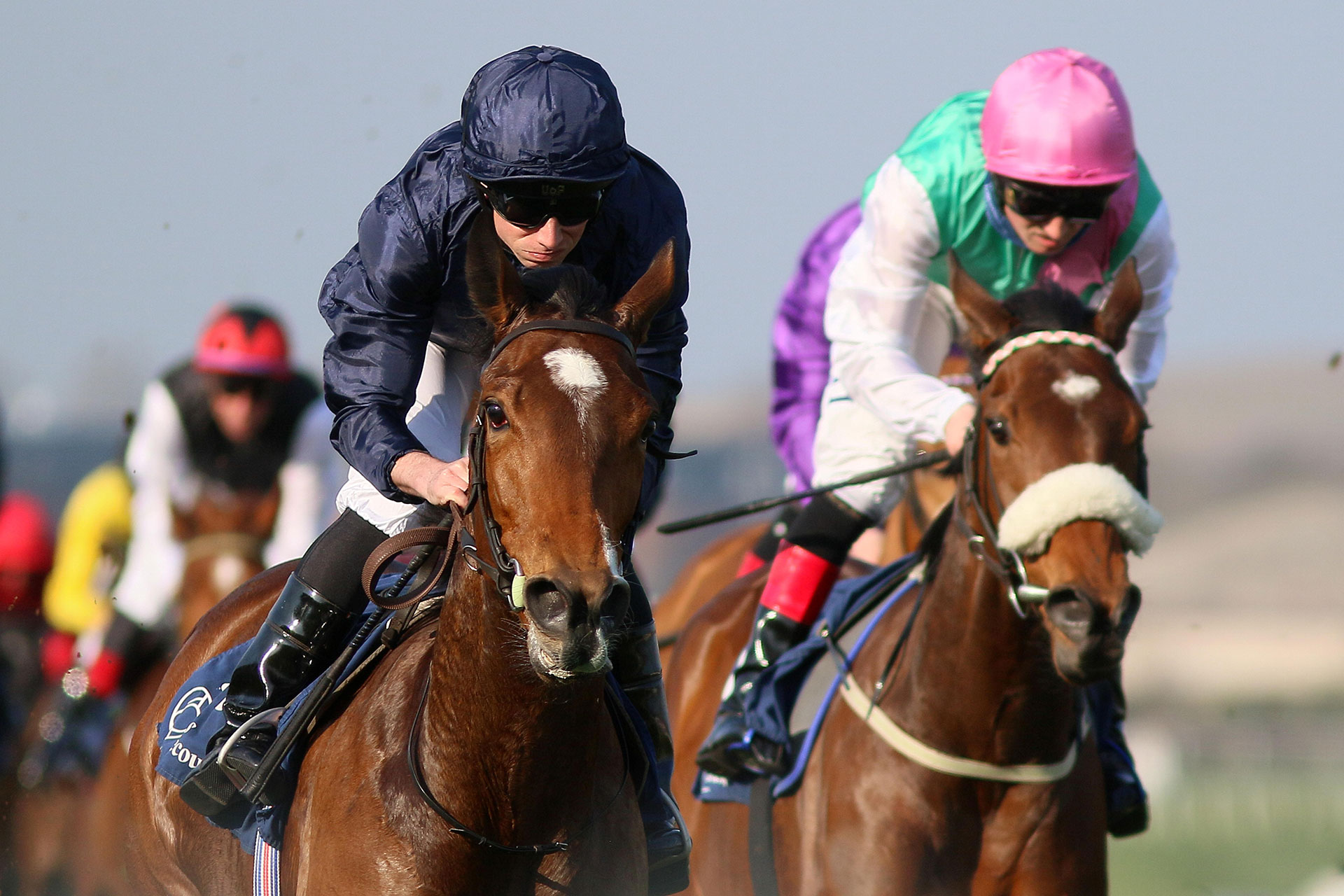 Tuesday provided O'Brien with a record 41st British Classic in the Oaks (CN)
He was set for the National Stakes but the clip of his shoe went into the sole of his foot just before the Phoenix, and considering how sore he was, a call was made to put him away. Unfortunately Prix Morny and Middle Park winner Blackbeard met with a more serious setback and was retired but he will be an attractive proposition to many breeders. Victoria Road became O'Brien's fourth Group 1-winning juvenile colt when he took the Breeders' Cup Juvenile Turf, while Meditate was a most impressive winner in the fillies' equivalent to become his first juvenile filly Group 1 winner of the season.
She is exciting, along with Statuette, who won the Airlie Stud Stakes on her second start, and who O'Brien referred to as a "monster" with particular intrigue in her sire Justify. "They're not two-year-olds at all," he asserts. "From the day they came in, they're very big, very rangy horses. They never looked like horses that were going to be two-year-olds so I'm kind of shocked that they're doing what they're doing, really.
"They're pure big Classic horses, they have big, massive, long strides and they're big and they're rangy so whatever is happening now, it's going to happen tenfold next year." The future is bright then for next year's Classic crop but Luxembourg will be back as well for some unfinished business. That he got any sort of business done at all this season is a huge credit to O'Brien and the team at Ballydoyle.
The muscular injury he sustained after a hugely promising run to finish third in the 2000 Guineas was a massive setback as he was hot favourite for the Derby at the time. Tremendous patience, horsemanship, hard work and big gut-feeling calls got him from being driven riderless in June to winning the Irish Champion Stakes in September, a vital Group 1 in his Classic season. It was a monumental effort.
"The whole thing was a balancing act. Like, at any stage, if he had hit a setback, it was going to be his season over. We had to have him ready enough to go to for the Royal Whip but we couldn't have him at full pitch because the risk of any sort of injury then would have been higher. But you couldn't go to the Irish Champion Stakes without a tough and hard preparation. We needed him to give us the confidence to go to Leopardstown when he ran at The Curragh and he did that, it was the perfect race.
"For him to go and win then, you could only be delighted, for the lads who would regularly be checking in on him and for everyone at home who worked with him. He had the vets and the physios and the chiropractors and the farriers, and the people looking after him, riding him work. I thought it was an unbelievable effort from everyone."
It was fourth straight Irish Champion Stakes success for O'Brien and an 11th in all. But that's O'Brien for you. Such ridiculous records are the norm every year. Little Big Bear provided a 17th Phoenix, Auguste Rodin an 11th Futurity, one more than Henry Cecil now.
Kyprios has been the star man. He won four Group 1s in all, firmly establishing himself as the best stayer in Europe, after most notably wrestling back the Gold Cup to Ballydoyle, O'Brien's first in six years but eighth overall. His most recent win in the Prix du Cadran was a first in that race for his trainer and so was Tuesday's excellent win in the Breeders' Cup Filly & Mare Turf. That was O'Brien's third winner at this year's Breeders' Cup, another first for him. There is always new ground to break.
One statistic that really does catch though is that when Blackbeard won the Prix Morny, it was a century of Group 1 wins for O'Brien combined with first jockey Ryan Moore. For a guide, Mick Kinane rode 62 Group 1 wins during his time as retained rider at Ballydoyle.
With the two men in such high pressure jobs and living in separate countries, it's testament to both that they've made such a success out of their relationship, now going for over a decade. "We know each other for a long time now. Whenever Ryan comes over here, he stays with us. I know his regime and I know everything he does. Everything he does is total professional, every step and every minute of the way, in the saddle and out of the saddle, everything in his life. He's the ultimate professional. He has unbelievable experience. He's been a massive and unbelievable help to us really."
O'Brien turned 53 this year, which means it's 30 years since he first took out his licence. We are now seeing his two sons, Group 1-winning trainers again this year, put it up to him regularly in the biggest races. He clearly has a fabulous position but it's testament to him that he keeps on delivering for his employers, who you suspect wouldn't allow sentiment to come into any business decisions.
Aside from his role at Ballydoyle, O'Brien has always cared for the bigger picture of racing and its appeal to people. It's always interesting to hear what he has to say. Crowds have returned to tracks this season but not to extent as pre-Covid and viewing figures for RTÉ Racing have been alarmingly disappointing.
"Getting people back on course gave racing its soul back. Everybody has to do what they have to do to get people into racing, particularly young people. If they want to come into the industry and work in the industry, great, but even for their downtime and their hobbies and their interests, it is great for them to get involved. The younger they get involved, the better it will be because those people will be the developed crowd later on.
"It's important for the feelgood factor of people. That's one thing racing will always give people for life, that feelgood factor of having an opinion and having a bet if they want to have a bet and watch the racing. We all know the amount of people that are at home, older people that get a thrill and kick out of racing, and they're never seen or heard of, because they're at home marking the paper, listening to interviews.
"Everyone's information is so accessible now on everyone's phones, it's just perfect, everyone can see races and see what's happening. If they want to have a bet, they want to follow a horse or follow the connections of a horse, follow pedigrees. It's only small things but when you wake up in the morning, everyone likes something to look forward to. Racing is one of those things and it should open the door for everyone."
Aidan O'Brien will always have lots to look forward to when he wakes up each morning, next year and further beyond.