PAUL CASHMAN
Rest Assured
Adding a globe-trotting four-time Group 1 winner to the Rathbarry Stud roster has fortified the Cashman family's already strong hand as one of the leading independent operators in both codes
Words: Daithí Harvey • Photos: Healy Racing / Caroline Norris
---
Racing quizzes in years to come may well feature a question regarding which horse won three Group 1 races in a row on three different continents. There can't be too many different answers to that question given the enormity of such an achievement and of course Irish breeders can now look forward to access to a horse that achieved such an incredible feat when State Of Rest takes up stallion duties at the Cashman family's Rathbarry Stud in 2023.
The former Joseph O'Brien-trained iron horse first stamped his passport when plundering the Grade 1 Saratoga Derby in New York in August 2021, which then set in motion an audacious bid for one of Australia's premier races, the Group 1 Cox Plate two months later. Victory in that race at Moonee Valley over the winner of this year's renewal, Anamoe (when ridden by Johnny Allen, the Australian-based native Araglen, which is less than a half-hour from Rathbarry), confirmed State Of Rest as a top-class ten-furlong colt but the back story to his Australian success revealed other qualities about the horse that only those closest to him could really appreciate.
Explaining the rigorous tests the horse had to pass before being allowed to take part in the Cox Plate, his new part-owner, Paul Cashman said: "What he went through to get the green light to run was unbelievable. They injected a dye into him so they could do this invasive bone scan for which he also needed to be sedated for. As well as that they were taking bloods off him two or three times a week. He missed at least three or four days' work in the build-up to a Group 1 so to come out and win it was incredible. He has such a strong constitution and a rock-solid temperament that he just seems to take everything in his stride. He is one of those rare horses that actually puts on weight when he travels.
"Even when he was returning to Ireland, I think he was travelling for about 60 hours and I think he got back to Joseph's on a Friday afternoon. I went over to see him then on the Saturday morning around 11 o'clock and Joseph said to me, 'Would you believe we had to ride him out he was that fresh?' He's just an incredible horse and we are very lucky to have gotten him."
It was after that visit to Carriganóg Stables that Rathbarry did a deal with former connections to purchase State Of Rest and despite two Group 1 wins to his name at that stage, there were still a few gaps in his CV that would need to be filled to ensure his popularity among breeders in Europe.
"We got involved after he won the Cox Plate and then we had to decide to roll the dice to see if he could win a Group 1 in Europe to really put the stamp on his racing career. Joseph was very positive and upbeat about him and was confident he had the class to win at the very top over here and he was certainly right. Things didn't really work out for him as a two-year-old even though he had some very good form so it was important that things went well for him this year as we paid a lot of money for him."
That initial investment from Rathbarry was softened somewhat after prominent Australian stud, Newgate Farm came on board to purchase the southern hemisphere rights to State Of Rest. His Cox Plate performance when he gave over a stone in weight and a beating to subsequent five-time Group 1 winner Anamoe with 11-time Group 1 winner Verry Elleegant back in third certainly did not go unnoticed and being by an Australian-bred horse in Starspangledbanner, who himself won Group 1 races in both hemispheres, will surely aid his cause down under.
"It's like he's here all his life and he is enjoying his downtime before embarking on his new career"
"Henry Field and his team do a great job in Newgate and it's great to have them on board. Obviously as he will be covering mares both here and in Australia, we will be limiting his book here to around 150 mares," Cashman explains.
After a well-earned break following his Australian exploits last year, State Of Rest made his 2022 debut in France in the Group 1 Prix Ganay and in beating Pretty Tiger by three-quarters of a length, he completed his intercontinental Group 1 treble.
"That was unbelievable to win a European Group 1 on his first run of the year. Joseph was very sweet on him going over there and even though he thought he would come on for the run, he said he'd go close. Historically, the Ganay has also been a good race for future stallions to win and to get the win there took a lot of pressure off for the rest of the season.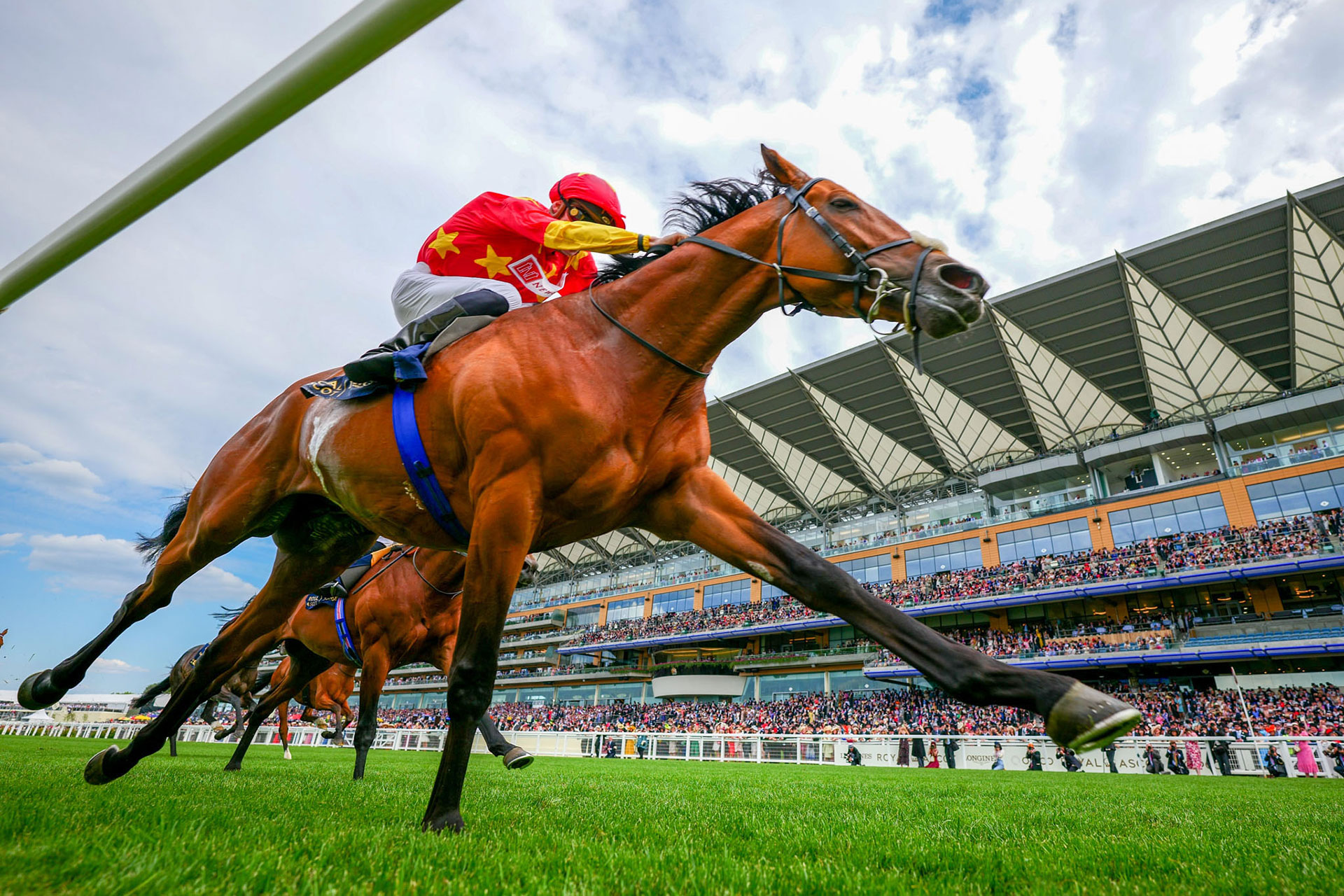 "He has such a strong constitution and a rock solid temperament that he just seems to take everything in his stride" (HR)
Despite a defeat when a fast-finishing third in the Tattersalls Gold Cup in May, the European pinnacle of State Of Rest's racing career would come a month later at Royal Ascot when he contested the Group 1 Prince Of Wales's Stakes. Having mulled over potential race tactics, jockey Shane Crosse and O'Brien made the bold decision to make all and try and control the race. Those tactics worked a treat and having set a steady pace in front, Crosse kicked for home two furlongs out and State Of Rest never saw another rival, beating subsequent Champion Stakes winner Bay Bridge by a length.
"Ascot was what dreams are made of and fair play to Joseph and Shane, they got it spot on. He beat a very good horse that day in Bay Bridge and I think he silenced a lot of doubters that day as he proved he really was a world-class horse. It's a day the family will never forget and it was great for us to have been there to savour it."
Even though a setback derailed a return visit to Australia to defend his Cox Plate crown, State Of Rest essentially had nothing left to prove on the racetrack and at the time of writing had settled into his new regime in Rathbarry Stud just outside Fermoy.
"He's so chilled out it's like he's here all his life and he is enjoying his downtime before embarking on his new career in February. We've got some great breeders backing him and we are very excited about his future. He is by a very popular stallion in Starspangledbanner and his dam-line is top class too. His half-sister, Tranquil Lady even won a Group 3 in France for Joseph and State Of Rest's former owners, Teme Valley Racing so it's a currently successful pedigree."
There is also the promise of more to come from the family with the dam Repose having been sold by Dermot and Meta Cantillon's Tinnakill House Stud to Juddmonte earlier in 2022. No doubt one or more visits to the mighty Frankel is on the cards for Repose in the coming years.
Rathbarry is one of Ireland's most successful and recognisable studs and caters for both codes with the jumps stallions standing under the Glenview Stud banner. For many years Glenview was synonymous with the multiple champion jumps stallion, Presenting and likewise in the main flat stallion yard Acclamation has been a mainstay of Rathbarry Stud for close on 20 years now.
A brilliant sire of sharp, precocious and classy two-year-olds with the likes of Dark Angel, Mehmas and Expert Eye springing to mind, his reputation as a stallion maker himself when one considers the aforementioned names is also gilt-edged. Turning 23 years old in the New Year, Acclamation is still hale and hearty and will again cover a decent book of mares in the spring though the team will be mindful of his years of active service.
"Acclamation has been a great stalwart for us here over the years, both as sire and a sire of sires. Dad (Liam) bought him years ago and he has been a superb outcross for a lot of the breed as well as being a brilliantly commercial sire giving his progeny soundness, toughness and great will to win. He got nearly 80 mares in foal last season and he's been a great horse for us but we'll mind him now as at this stage of his life every year he is with us is a bonus." Kodi Bear is a mere cub compared to Acclamation but he is certainly making breeders sit up and take notice, given the exploits of he his progeny, among them the multiple group-winning sprinter Go Bears Go.
"Kodi Bear is on an upward curve and his best crops will be in the years to come having covered over 180 mares in 2022. We're delighted with his progress and as I said, the best is yet to come."
Those last words from Cashman are certainly a sign that between an exciting new recruit like State Of Rest and the progressive Kodi Bear, Rathbarry Stud will continue at the forefront of Irish racing and breeding for decades to come.