RALPH BECKETT
Back to Beck
Being told he'd be more likely to make a dustman than a jockey by Jimmy Fitzgerald didn't deter Ralph Beckett from establishing himself as a high-class trainer, with Ireland playing a prominent role in that journey
Words: Edward Prosser • Photos: Caroline Norris / Peter Mooney / David Betts
---
It may have seemed an unlikely pairing. As Ralph Beckett basked in Westover's seventh-length Irish Derby victory, he was greeted like the returning prodigal son by Arthur Moore, a man more accustomed to the winner's enclosures of Cheltenham and Punchestown.
For Beckett, who enjoyed a blockbuster 2022 with five individual Group 1 winners, it evoked happy memories of a formative time learning from the master of Dereens.
And although the articulate and urbane Beckett - once described as "like Hugh Grant with attitude" - now trains for some of the top global owners, the red-letter season had been the culmination of years of graft both before and after taking out a licence.
He learned from some great original thinkers, such as Moore, Jimmy Fitzgerald and Martin Pipe, but despite his own deep-rooted racing pedigree, he was dealt no advantages when beginning training in late 1999, financing his future endeavours with the occasional well-executed gamble.
And it has not just been on the racecourse that he made the headlines in 2022. With well-constructed views on industry matters, he has been seen by many to be the voice of reason in British racing politics over recent months in his role as president of the National Trainers' Federation.
But that Irish Derby winner will live long in his memory. "A few people I hadn't seen for a long time appeared after the race at The Curragh. It was lovely to see Arthur, although we do catch up a bit and he'd been at Epsom as well," he recalls.
Westover had finished a luckless third behind Desert Crown that day at Epsom and his trainer grew in confidence as the Irish Derby approached three weeks later.
"I actually never had a moment's worry," says Beckett. "I didn't think he'd get beat at any point. I never imagined he'd win like he did and the frustration of that is that we'll never know what would have happened at Epsom. I didn't think he'd have won there but it would be nice to know."
Westover was just one of many 2022 flagbearers that included a multiple Group 1-winning colt in Kinross, Falmouth Stakes heroine Prosperous Voyage and a seemingly endless group of promising juveniles headed by Cheveley Park Stakes winner Lezoo.
Those wins were all the more meritorious when it's remembered that what looked two of Beckett's best prospects at the start of 2022 were not able to show their talents. The Group 1-winning Scope was sadly put down in the summer while Angel Bleu sustained an injury just as the ground looked to be coming in his favour.
The trainer is not a newcomer to big-race success - he has after all won two Oaks and a St Leger in Britain – but he had never experienced top-grade victories in this volume.
"It's been pretty extraordinary. The good horses have run really well all year and that's the most important aspect; everything trickles down from the top. We've never had this number of Group 1 horses before, or even close.
"It would have all been a surprise at the start of the year. Prosperous Voyage had been second in the Fillies' Mile so what she did wasn't a complete shock. I thought Lezoo was a filly who would win a maiden or novice. As well as being good on the racecourse she was very good at hiding her light under a bushel - we didn't see that one coming at all.
"We started as a handicapping/punting stable... We got everything handicapped and if they were in the right place they got backed!"
"Westover did look good at two but maybe not that good. After Ireland, he went west in the King George but we got hm back on track in the Arc, when he ran close to his Epsom and Irish Derby form, I was really pleased. He showed up really well in attritional conditions at Longchamp.
"Kinross had hit the buffers a couple of time. To get him to where he is now, and having trained his mother also, it gave us all a huge kick."
It's a far cry from those days nearly 30 years ago when Beckett arrived in County Kildare to join Moore, who had recently been Irish champion trainer and was then developing the careers of brilliant chasers Klairon Davis and Soft Day.
"It was a great place to work because he's such a good horseman, we all learned plenty. I really enjoyed my time in Ireland and, being a snotty-nosed English kid back then, they were very good to put up with me!"
He had previously worked in Yorkshire for one of Ireland's legendary exports in Fitzgerald. A man who didn't appreciate mediocrity, he provided an academy that launched the training careers of the likes of Ger Lyons, John Quinn, Ronnie O'Leary, Richard Fahey and Brian Ellison as well as nurturing a young Kieren Fallon.
"Jimmy was the first person I worked for. He was a man to be reckoned with, there was no favouritism there in the sense that everybody who worked for him got it at some stage - he shared it around evenly! If you gathered everyone who was there in a room, they'd all have more stories about Jimmy than anyone else they worked for."
Beckett's own lack of riding talent was emphasised when, returning from a mount in a point-to-point, Fitzgerald told him that he'd be more likely to make a dustman than a jockey.
There was later a spell with the record-breaking Pipe, whose stable also proved an academy for future trainers including Gordon Elliott.
"He was meticulous and his attention to detail was like nothing else. We'd have a check sheet for the horses in every section of the yard and we'd have to do daily comments on each. He was extraordinary."
He subsequently assisted the great Peter Walwyn in the twilight of his training days in Lambourn, taking over the licence in late 1999. The English Jockey Club stalwarts David Oldrey and Christopher Spence were among the only major owners to support Beckett from the start.
Long-time friend Tom Dascombe, a workmate at Pipe's, was assistant and out of necessity, the 12 equine inmates didn't go unsupported when looking to be favourably handicapped. A Brighton nursery on September 27, 2000 proved instrumental in embellishing the Beckett finances. Inzacure was rated 58 after three maiden starts and made virtually all with the result never in doubt. He was backed from 40/1 into 9/1.
After a break he returned in December to win three races in seven days and rounded off the year rated 82. He was again well supported on each start, particularly the first when his price shortened from 9/1 to 3/1.
"I actually never had a moment's worry" (PM)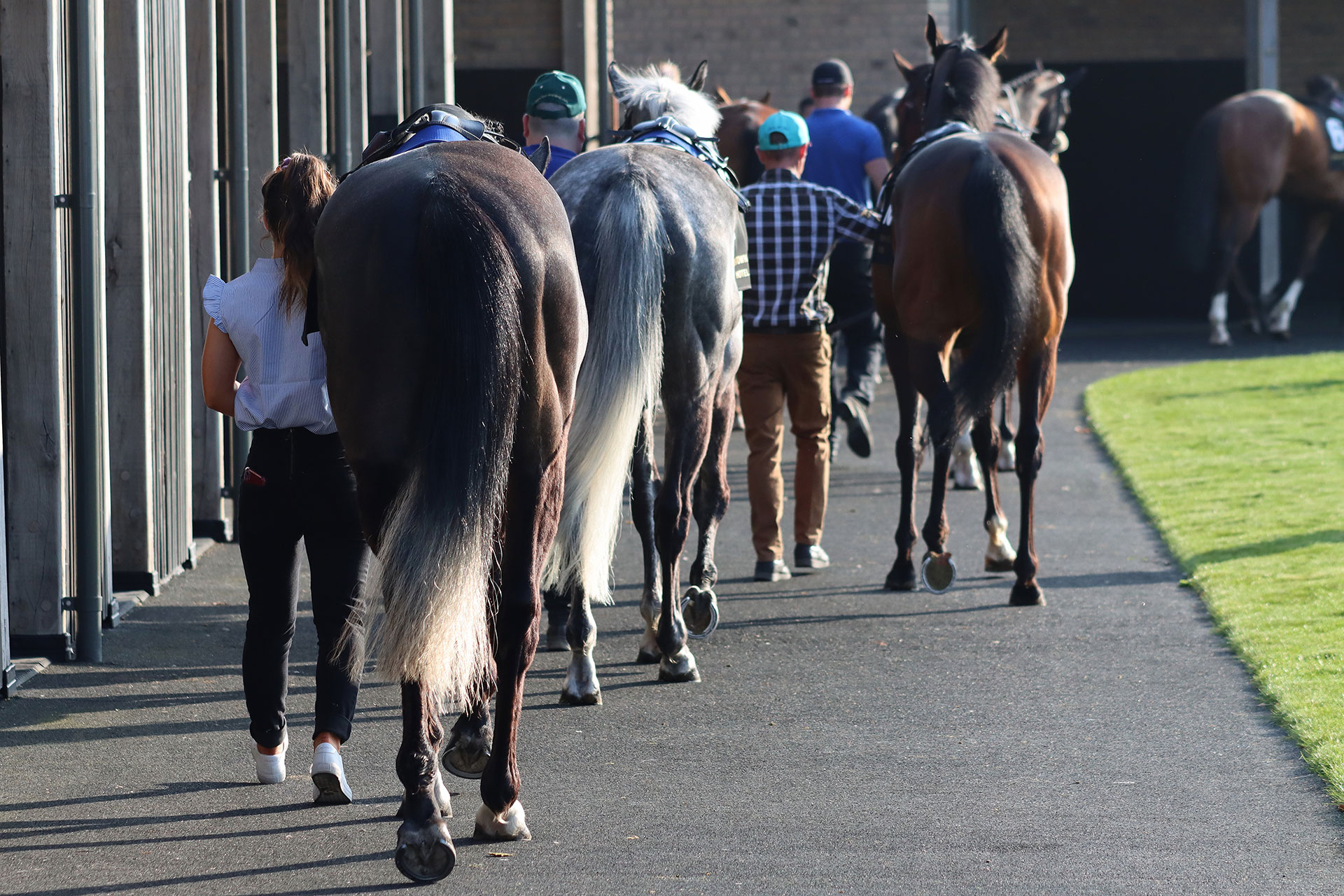 "Do the (British) racecourses have the best interests of the sport at heart? We are not seeing much evidence of that" (DB)
"Inzacure was the horse that got me going. It's a difficult thing to pull off, but I had the right people helping me. Then he won three in a week, which doesn't happen often these days because of the penalty system. We started as a handicapping/punting stable - that was out of necessity. We got everything handicapped and if they were in the right place they got backed."
After Lambourn, Beckett replaced David Elsworth at Whitsbury before stretching himself to buy the current base at Kimpton Downs in Hampshire in 2010.
"I've been fortunate along the way. I was in the right place at the right time and rented the yard off Peter for six years, I couldn't have got going without him. I was then lucky that David Elsworth decided to move out of Whitsbury when I was having a good year and we were able to buy Kimpton at the bottom of the market. We had to paddle pretty hard to keep it running but it's very hard to get going through your career renting."
With a string of 160 horses and away from any big training centre, Beckett has bought up property so that he now provides housing for 40 of his staff and despite the huge financial outlay, he is pleased to have taken the plunge.
As well as the likes of international figures such as Juddmonte, Marc Chan and Andrew Rosen, for all of whom he has sent out Group 1 winners this year, his impressive roster of owners has included Britain's new King and Queen Consort. As Prince Charles and Camilla, Duchess of Cornwall, he had been their flat trainer for the past 15 years overseeing a couple of homebreds each season.
Forays to Ireland have featured throughout his training career. He narrowly missed out on a first Classic in 2005 when Penkenna Princess was beaten a short-head in the Irish 1000 Guineas while Muhannak pulled off an unusual double three years later. Partnered by Pat Smullen on both occasions, he landed the Listed Diamond Stakes at Dundalk before travelling to Santa Anita a month later to win the Marathon, then a Breeders' Cup event.
But that is the past and there should be plenty more excitement to come. Westover will stay in training and Beckett highlights a pair of juveniles who won within a few minutes of each other at Salisbury in late September as names to watch in 2023.
"I was impressed with Bluestocking, who won first time out at Salisbury. She beat the colts that day and got pushed around yet still managed to win on debut. She should come on as a three-year-old as should Remarquee, who looked smart when winning for the Richmond-Watsons, who have been fantastically successful from their small broodmare band."
Don't rule out any of them appearing in a Curragh Classic in 2024 and, if they do, you can be sure Arthur Moore will be there enormously proud of his protégé's achievements.
"Betting on horses is a cerebral exercise"
Britain's racing politics are rarely harmonious as the various factions vociferously defend their own corners, and in Ireland, there is always a keen interest because of the inextricable link between the jurisdictions. The war of words heightened in 2022 as a combination of small fields and low prizemoney caused widespread exasperation.
As National Trainers' Federation president, Beckett has ended up frequently in the headlines, particularly questioning the large racecourse groups.
As in Ireland, the British television pictures are sold internationally with media rights payments returning to the racecourses. But unlike in Ireland, where many of the courses are overseen by HRI, there is less transparency as to where these funds end up.
Although full of admiration for independent tracks like York, he is critical of the major racecourse groups, Arena Racing (ARC) and Jockey Club Racecourses.
"The fact that ARC, for one, won't share the figures on media rights means that we can be confident that there are millions and millions sitting there. There's a massive hole. It's a huge pile of cash and only the racecourses know where that money is and where it's going.
"Nothing is going to change until we have full view of the media rights. What the racecourses have to do is to put prizemoney first. The Jockey Club needs to take the same view on prizemoney as York and the same goes for the other large independents. Once that happens, the pressure is ramped up on ARC. The Jockey Club has a Royal Charter and has to lead.
"The question you have to ask is do the racecourses have the best interests of the sport at heart? We are not seeing much evidence of that except from a couple of the large independents."
Beckett has followed the likes of Mark Johnston, William Haggas and John Gosden to the helm of the trainers' body and feels it is important that their views are heard.
"In the end I did it because somebody has to do it. I get frustrated with people who are vocal that don't get involved in the process. What I'm pleased about is that the trainers' federation is seen as a significant part of the process and I'm not sure that was always the case."
He points to the trainers vetoing a proposal from ARC in October 2021 when they wanted to increase race volume last winter. Following months of small fields, it was a move that has been vindicated.
It remains a source of frustration to him that the British Horseracing Authority has little power over the fixture list. "We are the only racing jurisdiction in the world where the racecourses are purported to own the fixtures. It's not the case anywhere else."
He feels that a new approach to marketing racing needs to be taken that highlights the attraction of betting on the sport.
"Not only are racecourse attendances falling off a cliff post-Covid, they were before that as well. We are boring our customers. I think the sport is marketed really badly. The racecourses' default setting is to market concerts with racing attached.
"Racing is horses running around a field unless you promote it with betting attached. There's nothing wrong with having a bet. Betting on horses is a cerebral exercise because there's any number of possible outcomes whereas there's much less if you gamble on football. It's an intellectual exercise to a degree and in my opinion that's what we should be marketing."