LEADING SIRES
Out of the Shadows
After years of playing second fiddle to the late Galileo, Dubawi earns deserved champion sire honours in Britain and Ireland for the first time (figures accurate as of November 9)
Words: Martin Stevens
---
LEADING SIRES
Dubawi will be crowned champion sire in Britain and Ireland for the first time this year. The honour is richly deserved, as it would have been a terrible injustice if the one of the greatest stallions of recent times had never gained the title.
The Dalham Hall Stud stalwart has sired more than 50 individual Group/Grade 1 winners worldwide, and finished in the top five on the British and Irish sires' table by prizemoney every year since 2013, finding only Galileo too good in 2015, 2016, 2018 and 2020.
He stepped out of the late Coolmore phenomenon's shadow in 2022 with his unparalleled tallies of 23 black-type winners and 43 black-type horses – according to comprehensive statistics available on the Stallion Guide website (stallionguide.com) up to November 5 – finally propelling him to the top of the pile.
The identities of the chief contributors to Dubawi's annual progeny earnings of €7,417,534 illustrate one of the sire's greatest strengths: his remarkable versatility. They were the Platinum Jubilee winner Naval Crown, ill-fated 2000 Guineas and St James's Palace Stakes hero Coroebus and St Leger victor Eldar Eldarov.
Frankel, who ended his father Galileo's 11-year run as champion sire in 2021, was set to finish second one year on, with top-class three-year-olds Homeless Songs, Inspiral, Nashwa and Westover, Anglo-Irish Champion Stakes runners-up Adayar and Onesto, and Dewhurst Stakes scorer Chaldean providing the bulk of his prizemoney haul of €5,950,196.
Silver medal in the British and Irish sire championship this season was a close-run thing in early November, though, with Sea The Stars not far behind in third on €5,918,479 thanks largely to the brilliant Baaeed, his Coronation Cup-winning brother Hukum, Group 1-winning filly Emily Upjohn and gallant stayer Stradivarius.
Galileo was set to finish fourth in the table, with progeny earnings of €4,917,780 at the same point in time, which is his worst result since his half-brother Sea The Stars stole the limelight from him with his world champion three-year-old season in 2009.
We are likely entering the twilight of the Galileo era, then, but the history-making sire isn't done yet, as staying star Kyprios and Oaks winners Tuesday and Magical Lagoon went to show this year.
Rounding out the top five sires in Britain and Ireland this year was Yeomanstown Stud's ever-dependable speed source Dark Angel, with total prizemoney of €4,325,183 fuelled by 127 individual winners, a figure unsurpassed by any of his peers.
Ballylinch Stud's upwardly-mobile young sire New Bay rocketed up the charts to number six late in the season, with a famous double on British Champions Day courtesy of Bayside Boy in the Queen Elizabeth II Stakes and Bay Bridge in the Champion Stakes boosting his progeny earnings to €3,814,736.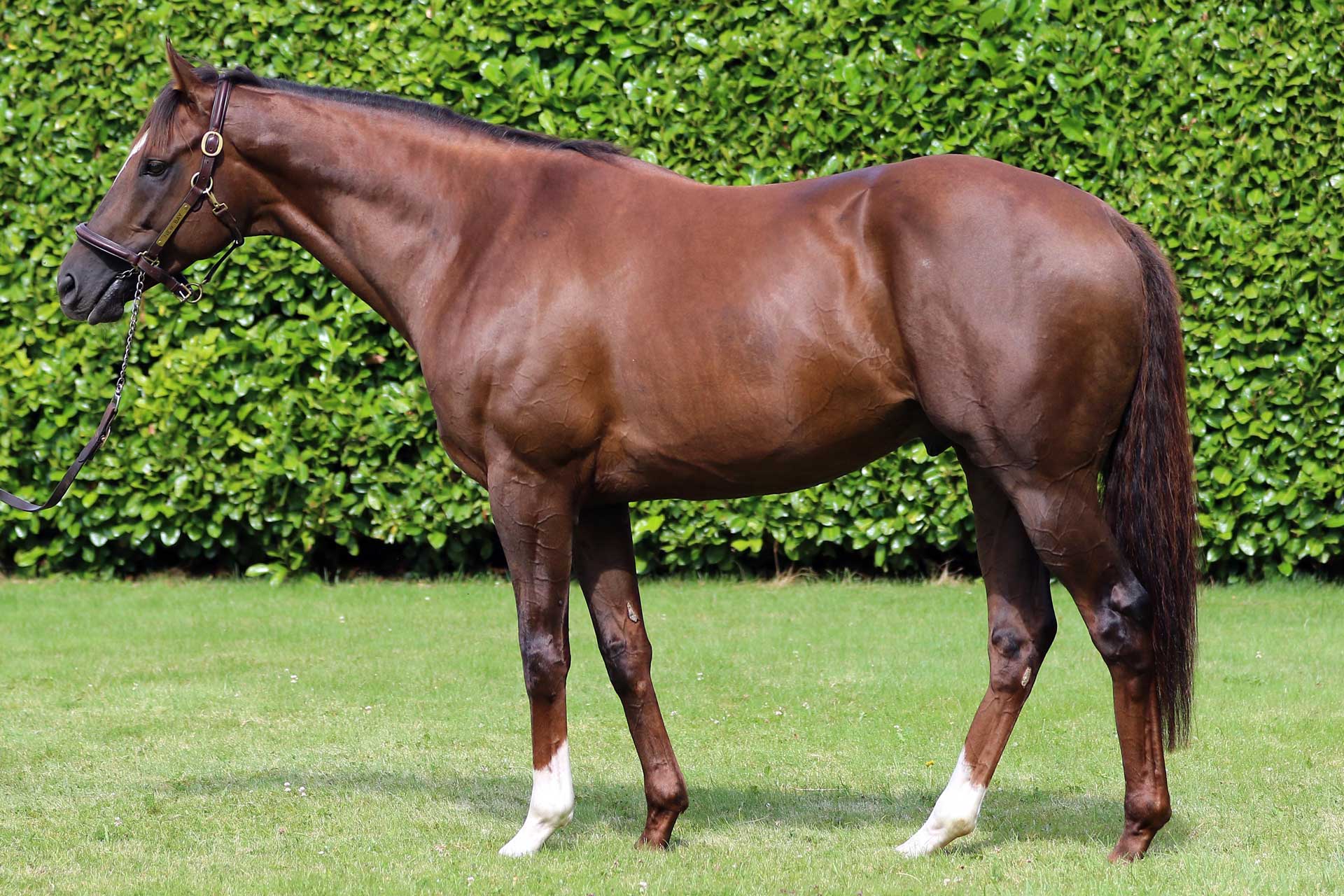 New Bay
Of course, the sire championship might traditionally be decided by prizemoney, but we all know that that's an unreliable measure of ability, as a handful of results skew the picture.
Luckily, Stallion Guide tables can be ordered by all sorts of other more informative metrics: number of winners, black-type winners, black-type horses and – most importantly of all – percentage of winners to runners and black-type winners to runners.
Dubawi also leads the field by those last two strike rates, on 52% and 12.5% respectively, so no one can quibble with his maiden sire title; but there are other rather more surprising names who do well in these categories.
Well done if you can correctly guess who, along with New Bay, produces the joint second-best ratio of winners to runners of 49% among the leading sires, for the answer is none other than Cheveley Park Stud's budget option Mayson.
The joint fourth-best strike rate of 47% belongs to two more names that might raise an eyebrow: Whitsbury Manor Stud's wonderful first-season sire Havana Grey and Manton Park Stud's breakthrough sophomore stallion Aclaim.
The leading sires by percentage of black-type winners to runners are more predictable, with Dubawi leading Galileo (9.62%), Frankel (9.04%), Sea The Stars (8.23%) and New Bay (8.14%). Few could have imagined, though, that the initially disappointing Harbour Watch would come eighth with a mark of 6.06%.
Stallion Guide also features lists of leading sires in 2022 in Europe as a whole, including all major racing jurisdictions, and France in isolation. In both cases it is Frankel who comes out on top, due to Alpinista winning the lavishly endowed Prix de l'Arc de Triomphe in France and Inspiral, Nashwa and Onesto also landing big pots there.
LEADING SIRES OF 2YOS
This year's leading sire of two-year-olds in Britain and Ireland by prizemoney was Coolmore resident No Nay Never, who showed there is no better man for getting an early-maturing star with Prix Morny and Middle Park Stakes winner Blackbeard, Phoenix Stakes scorer Little Big Bear and Debutante Stakes victress Meditate, who later added the Breeders' Cup Juvenile Fillies Turf to her tally.
The son of Scat Daddy also supplied this season's Group 2-winning juveniles Aesop's Fables and Trillium, Oh So Sharp Stakes scorer Midnight Mile and group-placed Queen Olly and Sierra Blanca, so it is no surprise that he was out on his own in terms of prizemoney in this department, on €1,602,582 up to early November, and Havana Grey next best on €1,211,647 with his first-crop fireworks.
No Nay Never also managed the best black-type winners-to-runners strike rate in Britain and Ireland, with a figure of 10.91%, ahead of Siyouni on 8.33%, Dubawi on 7.83% and Showcasing on 7.14%. Mehmas and Night Of Thunder were tied in fifth place at the time of writing, both on 6.9%.
Many of those confirmed sources of precocity are priced out of reach of budget breeders, though, and those looking for a less expensive stallion that has compiled useful statistics with his two-year-olds in 2022 could do worse than Tweenhills Stud-based Havana Gold, who fielded a very respectable 41% winners to runners and 3.7% black-type winners to runners.
A few other smart two-year-old sires closer to home for Irish breeders to consider are Gleneagles at Coolmore (30% winners to runners, 3.03% black-type winners to runners), Dandy Man at Ballyhane Stud (23%/2.67%), Cotai Glory at Tally-Ho Stud (31%/2.38%) and Bungle Inthejungle at Rathasker Stud (23%/2.27%).
LEADING FIRST-SEASON SIRES
Sioux Nation and Havana Grey have fought a battle royal to be the leading first-season sire by number of individual winners in Europe this year. It was too close to call as the time of going to press, with Sioux Nation – by two-year-old sire supreme No Nay Never – posting 42 and Havana Grey – a son of Havana Gold – only two behind.
Havana Grey has bragging rights when it comes to the number of individual black-type winners, with five, and black-type horses, with an eye-popping 13. Sioux Nation was holding his own, though, with three black-type winners and 11 black-type horses.
It's hard to split the pair, so what do the all-important strike rates say? Well they still can't split them, with the pair level on 49% each when it came to winners to runners, although Havana Grey held a healthy lead when it came to black-type winners to runners, with 6.17% as opposed to 3.53% for his rival.
Havana Grey and Sioux Nation weren't the only freshman stallions who put together some decent stats this year. Unfortunately and Harry Angel achieved 44% and 45% winners to runners respectively, while Saxon Warrior managed 5.77% black-type winners to runners and surprise package Cracksman came in at 4.35% on that score.
No Nay Never
LEADING SECOND-SEASON SIRES
This year's second-crop sire table in Europe had an unusually open look to it for most of the year, but Churchill drew clear by progeny earnings towards the end of the season thanks to Prix du Jockey Club and Eclipse winner Vadeni's valiant second in the Arc, Blue Rose Cen's five-length romp in the Prix Marcel Boussac and The Foxes coming out best in a scrappy Royal Lodge Stakes that has worked out well form-wise.
Churchill's kitty stood at €4,727,065 in early November, giving him a huge advantage over second-placed Zarak on €1,815,407, but the runner-up gave every indication he might be a real star of the future. Haras de Bonneval's son of Dubawi and Zarkava matched Churchill's feat of producing seven black-type winners (two of which, La Parisienne and Times Square, placed in fillies' Classics in France), and he did so with less than half the amount of runners, at a quite exceptional clip of 9.72%.
Another less heralded second-season sire in mainland Europe who put his head above the parapet with some smart figures was Counterattack, a crack Australian sprinter by Redoute's Choice who stands at Gestüt Karlshof in Germany. He was represented by only 28 runners but they included three black-type winners – including Italian 2000 Guineas hero See Hector.
Irish Racing Yearbook readers will no doubt want to know more about the productive sophomore sires nearer home though, in which case they might check out the 45% winners-to-runners ratio and 2.99% black-type winners-to-runners ratio achieved by Tally-Ho Stud resident Cotai Glory.
LEADING THIRD-SEASON SIRES
A big advantage of the Stallion Guide website is that, unlike some other outlets, it features a third-crop sire table. The information contained within it is of utmost interest and importance, as those names are still young and establishing themselves.
New Bay, the shooting star of the stallion ranks who stands at Ballylinch Stud, is top of the class by many measures here including progeny earnings (€4,176,418, ahead of former record-breaking freshman Mehmas in second place on €2,954,739) and number of black-type winners (seven, with Mehmas next best again on five). The son of Dubawi, who also supplied this year's Prix Rothschild heroine Saffron Beach, shines brighter still with 47% winners and 6.09% black-type winners to runners.
Kodi Bear at Rathbarry Stud remains one to watch in this peer group. The son of Kodiac had a quieter season than in 2021, but that was to be expected when he covered smaller second and third books at low fees, and still managed a very healthy 34% winners and 1.92% black-type winners to runners this time around.
LEADING BROODMARE SIRES
With the midwinter mixed sales taking place as you read this, and the 2023 breeding season just around the corner, you might have turned your thoughts towards which broodmare sires you should be homing in on. Stallion Guide has the answers, with flat and national hunt tables for Europe in the past 12 months.
Galileo led the way in terms of prizemoney on the flat side, with his maternal grandchildren – including two-year-old Group 1 winners Al Riffa and Auguste Rodin – having earned €10,829,979. Several classy performers showed us once again this year that a Galileo mare can help upgrade a mating with even the most modest stallion, and none more so than the really likeable sprinting filly Gale Force Maya, who is by far the highest-rated offspring of the former Irish National Stud stallion Gale Force Ten.
Pivotal, Dansili and Oasis Dream were among the other leading broodmare sires in 2022, but they have been known to be effective in this respect for a long time now. For a more under-the-radar option, how about Sea The Stars? He has fewer crops of daughters retired to paddocks than many but is already in the top 50 in Europe by prizemoney due to Eldar Eldarov, Onesto and the Tsui family's talented trio of siblings My Astra, My Oberon and My Prospero.
LEADING NATIONAL HUNT SIRES
Stallion Guide also caters to National Hunt breeders, with tables of leading jumps sires in Britain and Ireland as well as France and a nifty new list that is indispensable in an industry where the time lapse between a mating and the product running is so much longer, containing as it does only 'young' stallions who were retired to stud in the past decade.
Legendary stayer Yeats notched his first jumps sire championship in the 2021/22 season though only just, with a final prizemoney tally of €3,520,964 edging out his late Coolmore NH colleague Fame And Glory on €3,013,260. Noble Yeats' £500,000 cheque for winning the Grand National swung the title for Yeats. Fame And Glory fielded the most black-type winners that season, though, with his figure of 14 outdoing Shantou on 11 and Yeats on 10.
Late Burgage Stud stalwart Shantou did something extraordinary in that period, by the way: he managed a 6.11% black-type winners-to-runners clip that put him on a similar level to No Risk At All, Martaline and Kapgarde, who are or were based in France and only have a select few offspring imported into Britain and Ireland.
The NH stallion table for France, such an important nursery for our jump racing nowadays, is renewed each calendar year rather than season, as in Britain and Ireland. French mainstays Martaline, Saint Des Saints, Kapgarde, No Risk At All and Balko lead the way by prizemoney, but an emerging name is Masked Marvel in seventh.
The St Leger-winning son of Montjeu is responsible for reigning Grand Steeple-Chase de Paris winner Sel Jem and useful sorts La Danza and Pacha Senam. He has also been showcased in Ireland by the useful Teahupoo, and it will be a surprise if we don't see more of his stock cross the English Channel.
One of the highest black-type winners-to-runners strike rates in French national hunt racing this year has been achieved by the German Derby winner Kamsin, with three out of 30, for 10%. Those performers were conceived when the son of Samum stood at Haras d'Etreham, but he has been based with Michael Shefflin at Annshoon Stud for the past two seasons.
A highly valuable nugget contained in that table of 'young' jumps sires who were retired to stud since 2012 is Galiway's three black-type winners from just 20 runners under this code, including three-time Grade 1-winning juvenile hurdler Vauban. Galiway, a listed-winning son of Galileo, also delivered last year's Champion Stakes winner Sealiway in his first crop, resulting in a fee increase to €30,000 at Haras de Colleville that put him beyond the reach of most jumps breeders, but his stock are nevertheless definitely worth checking out at the horses-in-training sales.
That is just one example of a competitive edge that can be gained by scouring the Stallion Guide website. Really, you'd be mad to book a mare into a stallion or make a purchase at the sales without consulting it first.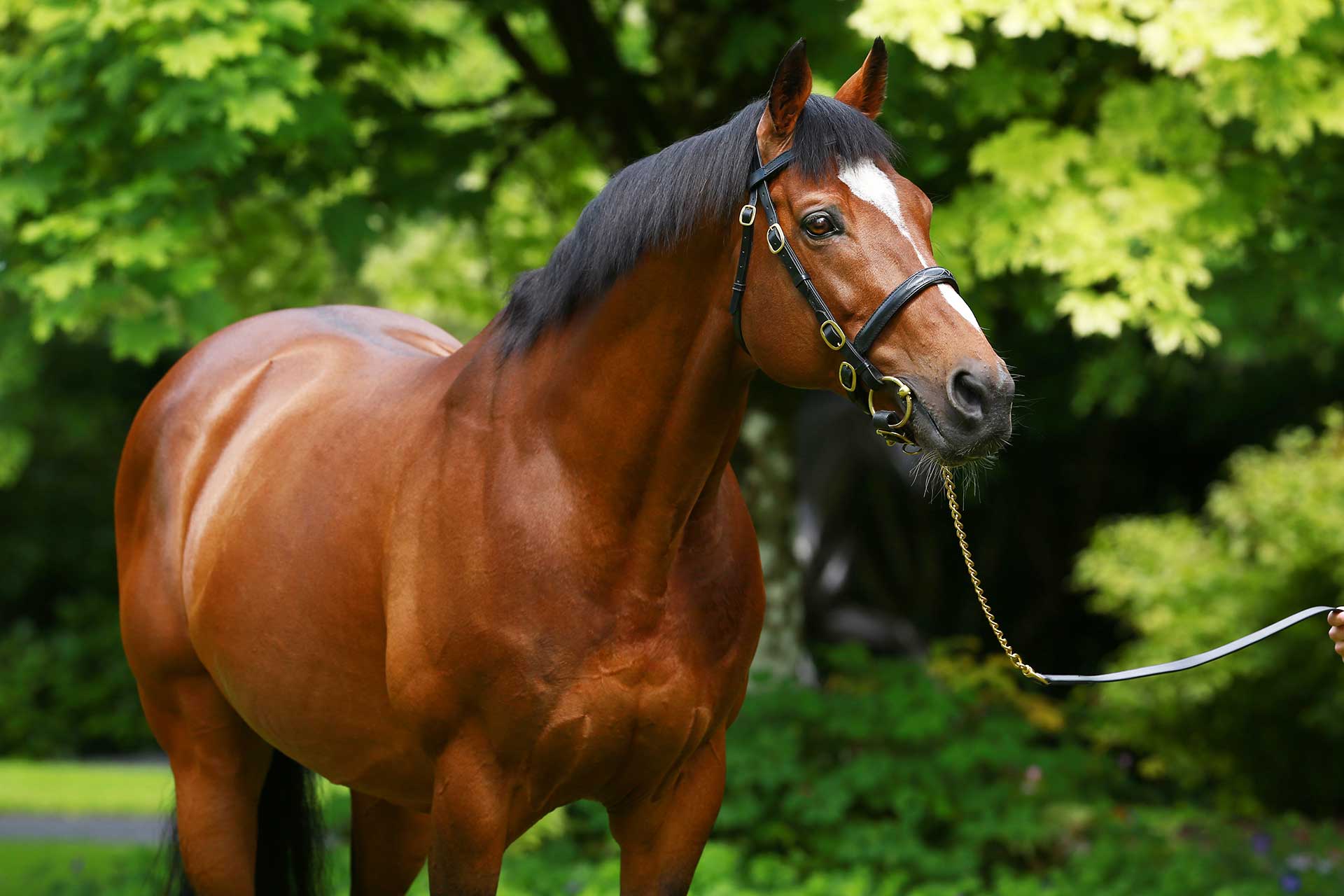 Galileo