Kirsten Rausing
Rebel Rausing
Little about the Swedish boss of Lanwades and Staffordstown is traditional, which make her enduring success very welcome indeed
Words: Lissa Oliver • Photos: Healy Racing / Cartier
---
The world is getting smaller but the racing world continues to grow exponentially making it a forgivable offence to need reminding as to what exactly next year's crop of first-season sires achieved as racehorses. They may have changed physically, but their race records are set in stone and it helps to take a moment to remind ourselves what might be in store for 2022. It's no surprise that 2000 Guineas winner Saxon Warrior, who covered this crop for a fee of €30,000, is top of the class at this stage by virtue of being the only first-season sire to achieve a six-figure yearling average (51 sold for an average of €140,900). If ever you could say €30,000 is a bargain, his 2019 stud fee is it.
As Miss Rausing pointed out in a public message, "Winning the best race in the world, the Prix de I'Arc de Triomphe, represents the pinnacle of most thoroughbred breeders' ambitions. Now that my wonderful Alpinista, homebred at Lanwades for four generations, has triumphed on the world stage, I find myself overwhelmed by innumerable kind messages of congratulations from friends and colleagues all over the world."
Just as Frankel was nurtured in his formative years on the limestone-rich paddocks of Ireland, so too the Lanwades-bred weanlings enjoy a spell here on our home soil before departing as yearlings. Rausing purchased the near-500-acre Staffordstown Stud in Co Meath in 1990, specifically as a base for the foals when they have been weaned, until they are ready to go into training or sent to the yearling sales. There, they are overseen by manager Paddy Moloney and director John Oxx, who both took over at the start of 2022 following the retirement of Julian Lloyd. No stone is left unturned in ensuring the most perfect of beginnings for the Lanwades produce.
That care and attention to detail is certainly paying dividends now, but success at the highest level isn't new to Miss Rausing and her team. Lanwades emerged onto the world stage almost from Day One; it could be said against the odds, but at the very least flying in the face of the conventions of the day.
It's safe to say that Rausing is no trendsetter.
Far better, she is a groundbreaker. Back in 1980, when she created something of a stir by purchasing Lanwades Stud in Newmarket, it was considered pretty groundbreaking to have a woman managing a stud and stallions – earth-shattering, in fact. Rausing broke the trend and laid the foundations for the more inclusive thoroughbred community we enjoy today. Maybe we have a bit more still to do, but inclusivity wasn't even a word in use when she took on the somewhat neglected 150-acre stud.
Her first stallion was the Classic winner Niniski, as a St Leger and Prix Royal-Oak winner maybe not the most advisable choice to get a new public stud off the ground and running. Of course, he proved an inspired choice and was the British champion first-season sire of 1984. His winners included champion European two-year-old Kala Dancer and King George VI & Queen Elizabeth Stakes hero Petoski, both bred by Lanwades.
"Back in 1980… it was considered pretty groundbreaking to have a woman managing a stud and stallions – earth-shattering, in fact"
In 1986 Lanwades expanded to include the French 2000 Guineas winner Nishapour on the roster, providing us with French Oaks winner Shemaka and French Derby winner Mouktar as a result. European champion miler Selkirk arrived in 1993 and became another champion first-season sire for Lanwades. It's fair to say Rausing has a good eye for a potential stallion and is not afraid to swim against the tide to obtain value.
Take for example Canadian champion With Approval, or Breeders' Cup Turf Sprint winner Bobby's Kitten, the first son of Kitten's Joy to stand in Europe. Sea The Moon, German Derby winner and German horse of the year, the first son of Sea The Stars to retire to stud in England. Or the regally-bred French Derby winner Study Of Man, the first of Deep Impact's sons to stand in Britain.
Currently, Lanwades Stud is home to four stallions – Bobby's Kitten, Sea The Moon, Study Of Man, who had his first yearlings in 2022, and Derby winner Sir Percy. It has developed from a small stud in Newmarket in need of some much-needed TLC to a farm of over 1,000 acres, which includes Staffordstown Stud. Rausing recognises potential, be it in horses, land or people.
We all know about her success as a breeder and businesswoman, but what isn't so widely publicised, in the racing media at least, is her broader renown as a philanthropist. In 2001, Rausing founded The Alborada Trust, named after her great race mare Alborada, a dual winner of the Champion Stakes and world champion three-year-old filly in 1998.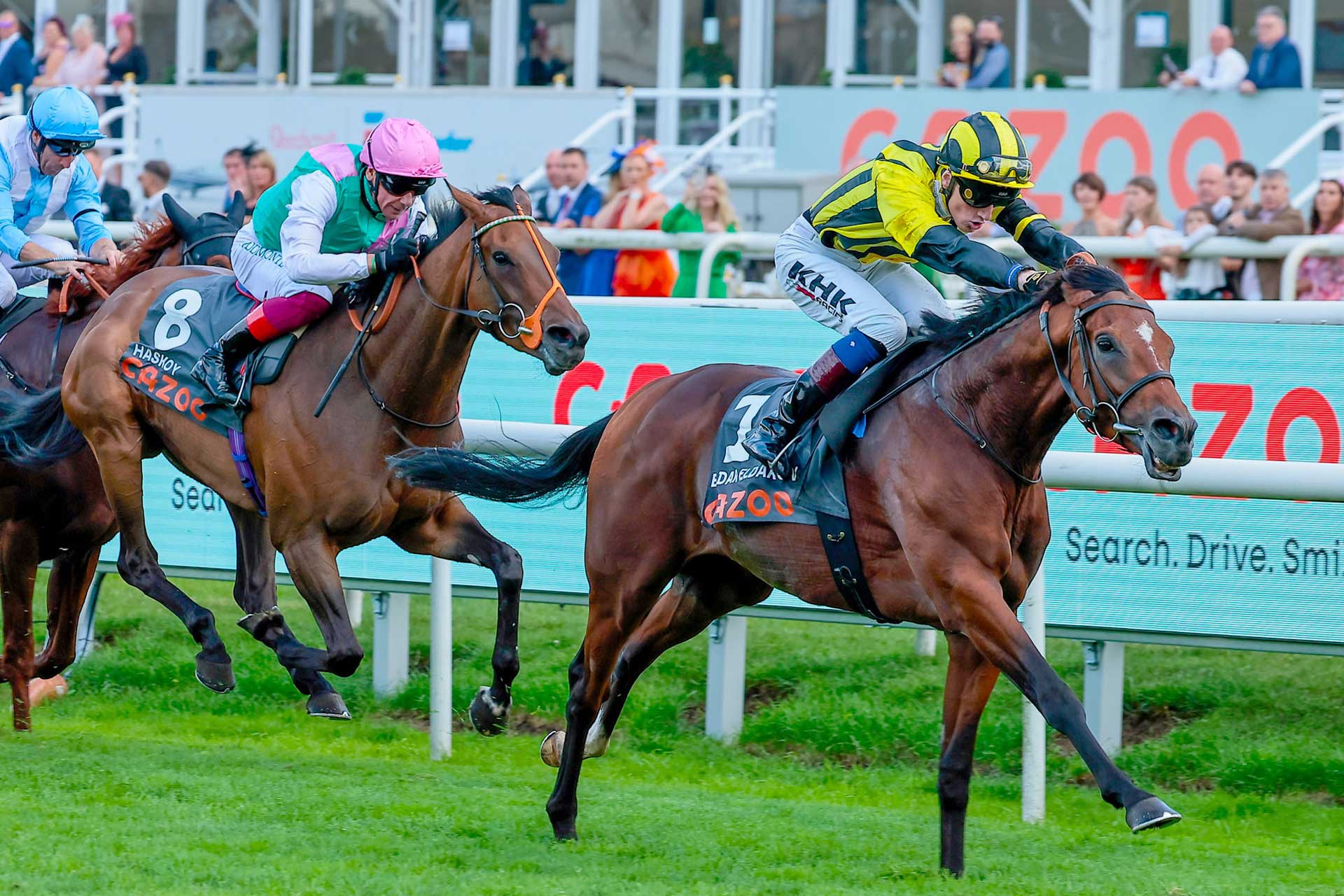 Eldar Eldarov's triumph in the St Leger at Doncaster was Rausing's first British Classic as a breeder (HR)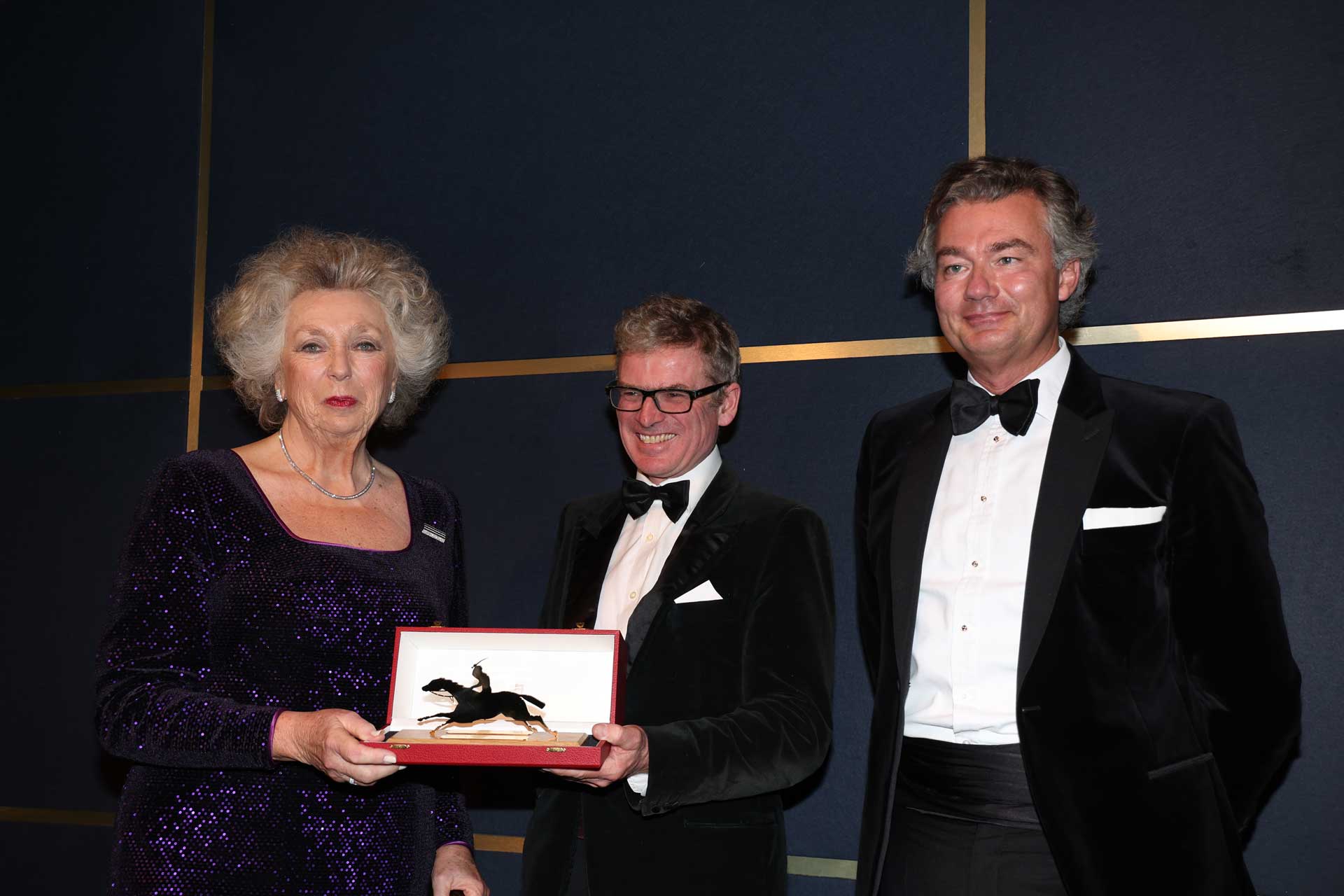 Kirsten Rausing receives the Cartier/The Daily Telegraph Award of Merit from Marcus Armytage of The Daily Telegraph and Laurent Feniou, managing director of Cartier UK (C)
Since its inception, the Trust has donated £30m to the far-reaching benefit of animals, and people, in need, as well as providing long-term commitments of £10m. Last year alone, 2021, grants of £4m were bestowed by the Trust, with a global reach of Afghanistan, Africa, Bangladesh, Belarus, Congo, Ethiopia, Greece, Haiti, Gaza, Lebanon, Libya, Mali, Mozambique, Pakistan, Sudan, Thailand, Uganda, Uzbekistan, Yemen and Zimbabwe.
Closer to home, over £1m has been given to assist Ukrainian refugees and Cambridgeshire's Addenbrooke's Hospital, to help with the demands caused by the Covid pandemic. In February, Rausing donated £400,000 to Addenbrooke's for a state-of-the-art 3D CT scanner, making the hospital the first in the east of England to offer in-house digital 3D surgical planning and thereby transforming and hopefully saving lives.
While Alpinista thrusts Rausing into the spotlight, just as her illustrious forebears did during their time on the track, it's worth pausing for thought and realising just how important, in the wider term, those victories are. We see only the strengthening of those solid bloodlines and a bright and secure future for the Lanwades Stud broodmare band. Others, who know nothing of the thoroughbred world, may now also see a bright and secure future, thanks to those wins and The Alborada Trust. At a time of a cost-of-living crisis, it brings a different perspective to what is commonly perceived as a "rich man's" sport.
Of course, the less wealthy among us, and those following the trail that Rausing blazed, know that neither of those words are indicative of the modern thoroughbred industry. As a woman, and the proprietor of an independent stallion farm, Rausing has been immensely important and influential in creating the landscape we enjoy today.
The Swedish-born Rausing has been an integral part of Newmarket's fabric since 1980. She is a member of the Jockey Club, a director of the British Bloodstock Agency, and a former director of The National Stud. It's funny, but in 1980 this writer recalls leaving school and being declined a place on the National Stud diploma course by dint of gender, "unless your parents own a stud". At home on my bedroom wall was the inspiring 'poster' of Miss Rausing leading Niniski, torn from a magazine notorious for losing its pages. Today it's easy to forget what a difficult career-path Rausing carved out for herself. Acceptance in the early years could not have been easy.
It has certainly been made a whole lot easier by the Lanwades Class of 1984, Class of 1994, Class of 2004 and all the years in between. Rausing's skill and experience have been on full display in racing's shop window, the famous white and green silks carried to victory on racecourses throughout Europe; and Lanwades-bred horses carrying so many other famous colours to victory, too.
Since the first produce hit the tracks in 1984, Lanwades has bred or raised the winners of more than 2,120 races worldwide, including 167 black-type winners. Over jumps, Lanwades has bred 110 winners of 244 races worldwide, including 22 black-type performers.
Even by those high standards, 2022 was an exceptional year. Eldar Eldarov claimed the St Leger and in doing so became the first British Classic winner bred by Lanwades Stud. Alpinista is of course the flagbearer and won six consecutive Group 1 races before injury scuppered a tilt at the Japan Cup and led to her retirement a few months early. The daughter of Frankel is the first foal and one of two winners to date out of Alwilda, by former Lanwades stallion Hernando. Her second dam Albanova, a full-sister to Alborada, was a three-time Group 1 winner and produced nine winners, including All At Sea, dam of Eldar Eldarov. The exceptional year didn't happen by chance.
Sandrine won the Group 2 Lennox Stakes, having run with credit in the 1000 Guineas when fifth. Further afield, the second-generation Lanwades-bred Durston became the latest Group 1 winner for his sire Sea The Moon when landing the Caulfield Cup in October. His Melbourne Cup favouritism was ended by a failed CT scan, but for which he might yet have upstaged Alpinista. Another Lanwades-bred, Zaaki was leading miler in Australia in the World Thoroughbred Rankings 2021.
Little wonder Rausing recently received the Cartier/The Daily Telegraph Award Of Merit.
Returning to Kirsten Rausing's public statement immediately after Alpinista's Arc win, she says it best when she concludes: "Achieving that unrealistic objective was beyond my wildest dreams when I set out on the path of breeding racehorses, now more than 50 years ago." And she's not done yet.