Rachael Blackmore
Goldern Girl
The world she inhabits now leads us to forget that Rachael Blackmore only rode her first Cheltenham winner in 2019. Such is her newfound confidence that she handled intense pressure and expectation with aplomb three years later, implementing her Gold Cup plan nervelessly on the horse that had gotten her off the mark
Photos: Caroline Norris • Words: Donn McClean
---
Rachael Blackmore throws her bag over the rail and jumps down. It's a bit of a drop from the inside of the track at Wexford onto the actual racecourse, but it's no bother. One of Ireland's greatest sports stars, and she enters the sporting arena by jumping over a rail in the infield.
The glamour of it. But that's Rachael Blackmore for you: ducks under the spotlight. Grand entrances are for others. You just can't see her being marshalled through the pre-match crowds, Bose noise-cancelling headphones on, sullen look, an in-the-zone face for the cameras.
Rachael Blackmore rides a winner at Tipperary and emerges from the winner's enclosure. The people wait. She still has to weigh in, the result is not official until she does, and it is a fair walk from the winner's enclosure to the weigh room at Tipperary, but still she stops, still she poses for the selfies. Eager and respectful kids, similarly eager but slightly bashful adults. It doesn't matter, she has time and smiles for all.
Rachael Blackmore is standing in the queue at Starbucks. The queue is fairly long, but it moves quickly. "Rachael," she says when asked by the barista."Sorry?"
"Rachael," she says again, and the barista writes on the cup. She could have said, with an A, but she doesn't. She could have said RTÉ Sports Person of 2021, or Irish Times Sportswoman of 2021, or BBC World Sports Star of 2021. But she doesn't.
She is talking now about Cheltenham. High summer, three months after the curtain came down on the 2022 Cheltenham Festival, but still the pictures are vivid. Cheltenham 2021 and Cheltenham 2022, from defeat on A Plus Tard in the Gold Cup, the glitch in the perfect matrix that was the 2021 Cheltenham Festival, to Gold Cup glory in 2022, and all the history.
"Plenty of people said to me in 2021," she says, "'Aw, you know, you'll win it on him next year.' But in my head, I was thinking, 'That is so far away, so much has to happen, for the two of us to even get there. There are so many variables. We have to line up in the race together, then the race has to go to plan.' It was frustrating for me at the time to be hearing those things, it was just so far away in my mind."
Even on the first day of the 2022 Cheltenham Festival, 361 days after the 2021 Gold Cup, the 2022 Gold Cup was ages away. There were so many other things going on. There was Honeysuckle in the Champion Hurdle for starters, and Honeysuckle in the Champion Hurdle was massive.
"I had been thinking about this race for the last 12 months, and I just knew that I wanted to ride the race differently, ride him to his strengths, and if that got me beaten, then so be it"
"Firstly," says Rachael, "I was hoping that I'd get to ride a winner over there. Because of the calibre of horses that I was riding, like not everybody gets the chance to ride those horses. So, as a collective, I was hoping that I'd have success, because of the position that I am lucky enough to be in, because of the horses I get to ride."
But Honeysuckle was standing out, because it was so early in the week, the first day, because it was the Champion Hurdle again, and, well, because she is Honeysuckle.
"She was the one I suppose. At the start of the week anyway. Every time you ride her, it's like a snowball now. And maybe, as well, it was because she was my first big ride. The Champion Hurdle is on Tuesday. On Monday evening at Cheltenham, the Gold Cup is so far away."
There was pressure too. Of course there was. When you are Rachael Blackmore, when you are riding the horses that Rachael Blackmore is riding, there is a high level of expectation. You want it, you want to be in that position, but there is an inherent pressure that goes with that position.
"I remember the first year I went over to Cheltenham to ride for Henry. I had 16 rides. He was giving me all these chances on these big horses, and I had never ridden a winner there. I hadn't even that much experience of riding there. That was pressure. It's pressure every year you go there. I can't say that this year there was any more pressure than there was any other year. There's always pressure when you go there, but it's pressure you want."
That first year was 2019, when Rachael drove A Plus Tard to a 16-length victory in the Close Brothers Chase on the Tuesday, a first Cheltenham Festival winner, then went out on the Friday and landed the first Grade 1 win of her career on the 50/1 shot Minella Indo in the Albert Bartlett Hurdle.
The 2020 Festival was Honeysuckle, that sublime ride in the Mares' Hurdle and home by a half a length from Benie Des Dieux. And then there was 2021.
That was an extraordinary week, the Covid Festival, with no paying punters and no amateur riders. It was extraordinary for Blackmore too. Honeysuckle's Champion Hurdle on Tuesday, Bob Olinger and Sir Gerhard on Wednesday, Allaho and Telmesomethinggirl on Thursday, Quilixios on Friday and the leading rider's title home with her.
That was 2021 though. She set all the dials back to zero in 2022. She had to do it all again, and that Gold Cup defeat was still a pebble in her shoe. Having similar living arrangements to at home, where Patrick Mullins is a lodger with Rachael and her boyfriend Brian Hayes makes things more comfortable.
"I rode at Limerick on the Sunday, then flew out on Sunday night. I got a great house, close to the track, me and Brian and Patrick – why change it?! – rode out Monday morning, walked the tracks, got all my stuff, got it down to the weigh room, ready for the next day. You could be doing previews and stuff on Monday evening, but I don't do any of that. Monday's a chill day. I just thought about the days ahead, the races, the horses. Slept well on Monday night."
The crowds were back this year. The buzz. Even before racing, going into the track, the hum, the atmosphere. And then going into the parade ring before the Champion Hurdle. Electric.
"It was class to have the crowds back this year. I know that everyone has said that, but it was. It was great to have the owners there, to have (Honeysuckle's owner) Kenny Alexander there before the Champion Hurdle. You speak to your owners in the parade ring, but you're not really in the conversation. When you walk into the parade ring, you just want to hear the bell so that you can get up and get out. You're going out to do your job."
She talks about Honeysuckle, the lead up to the Champion Hurdle, the build-up to the race. Great before the race, as she always is. Colman Comerford chatting away to the mare, keeping her nice and relaxed, legged up and on down to the start, away from the crowds.
"You'd nearly be getting goosebumps now thinking back to it," she says suddenly. "It's mad, isn't it? I'm actually shaking a bit now, remembering it all. Isn't that so weird?"
Honeysuckle was as Honeysuckle always is and always has been. Travelling well, just behind the pace, towards the outside. Over the third last, and Rachael moved her into a gap between Appreciate It and Zanahiyr, and suddenly she was in the front rank and still on the bridle. Over the second last and her rider said go. They moved into a two-length lead around the home turn and eyed up the final flight. Rachael saw her stride and asked her mare up.
"I could hear Epatante behind me, but watching it back afterwards, it looked a lot more threatening than it felt. I still felt okay. I didn't see Epatante, but I did know there was something there. I could hear her jumping as I was landing."
When she landed, Honeysuckle went on again. Up that hill that she knows so well, up which she had run twice before, and only green grass in front of her again.
"When you land, you take five or six strides, you take a glance up at the big screen, and you can see that you're ahead. It's a lovely feeling. Are you even thinking it then? I don't know did I even get that feeling that we're going to win. I don't know if I had that moment. I think that it was too tight to get that feeling. Last year, we were clear, I had that feeling half-way up the run-in. This year, I think that we were past the line before I felt it."
You ask her to explain the feeling, to try to put it into words, and she thinks for a second.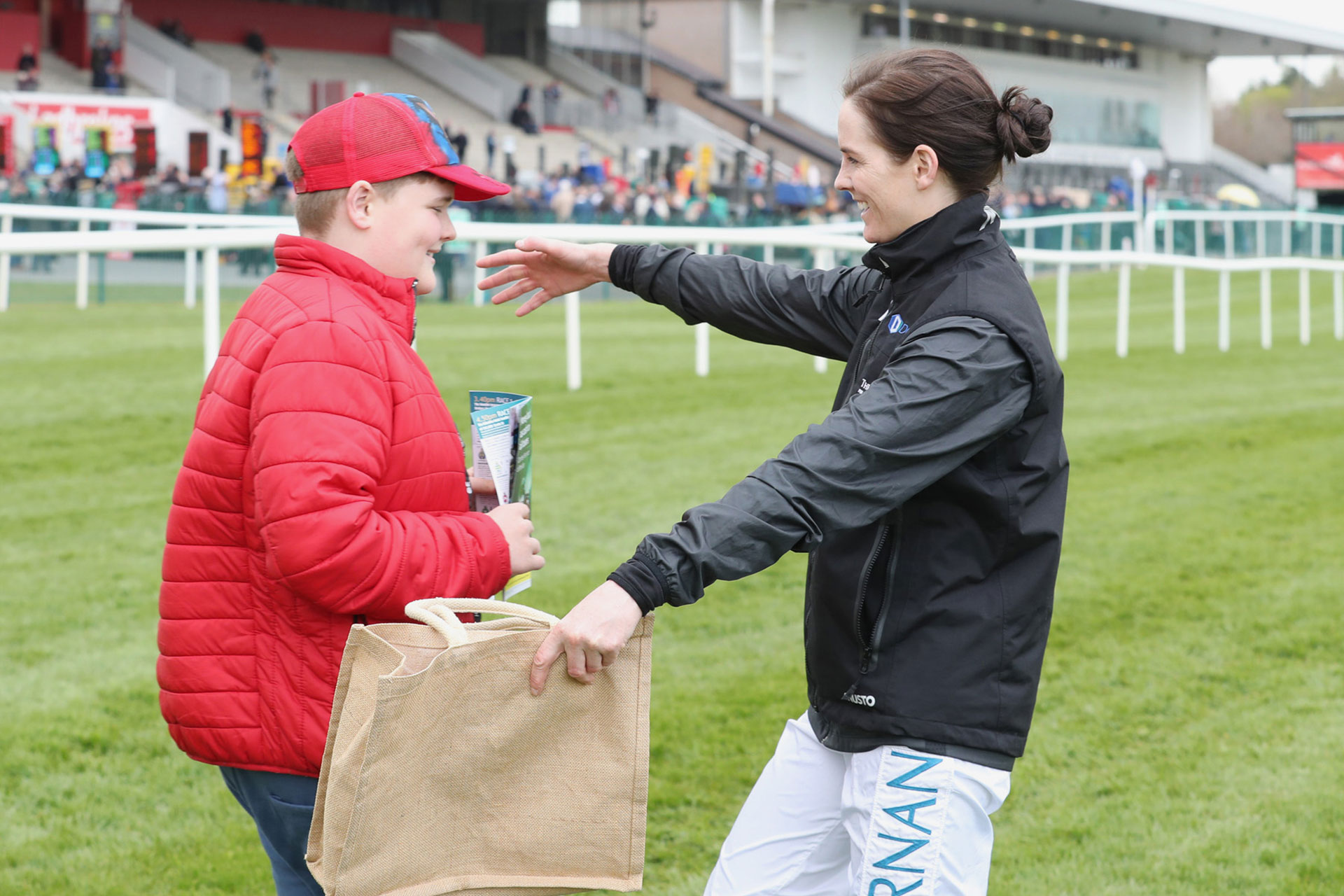 She has time and smiles for all, including in this instance, big fan Mason Coleman at Punchestown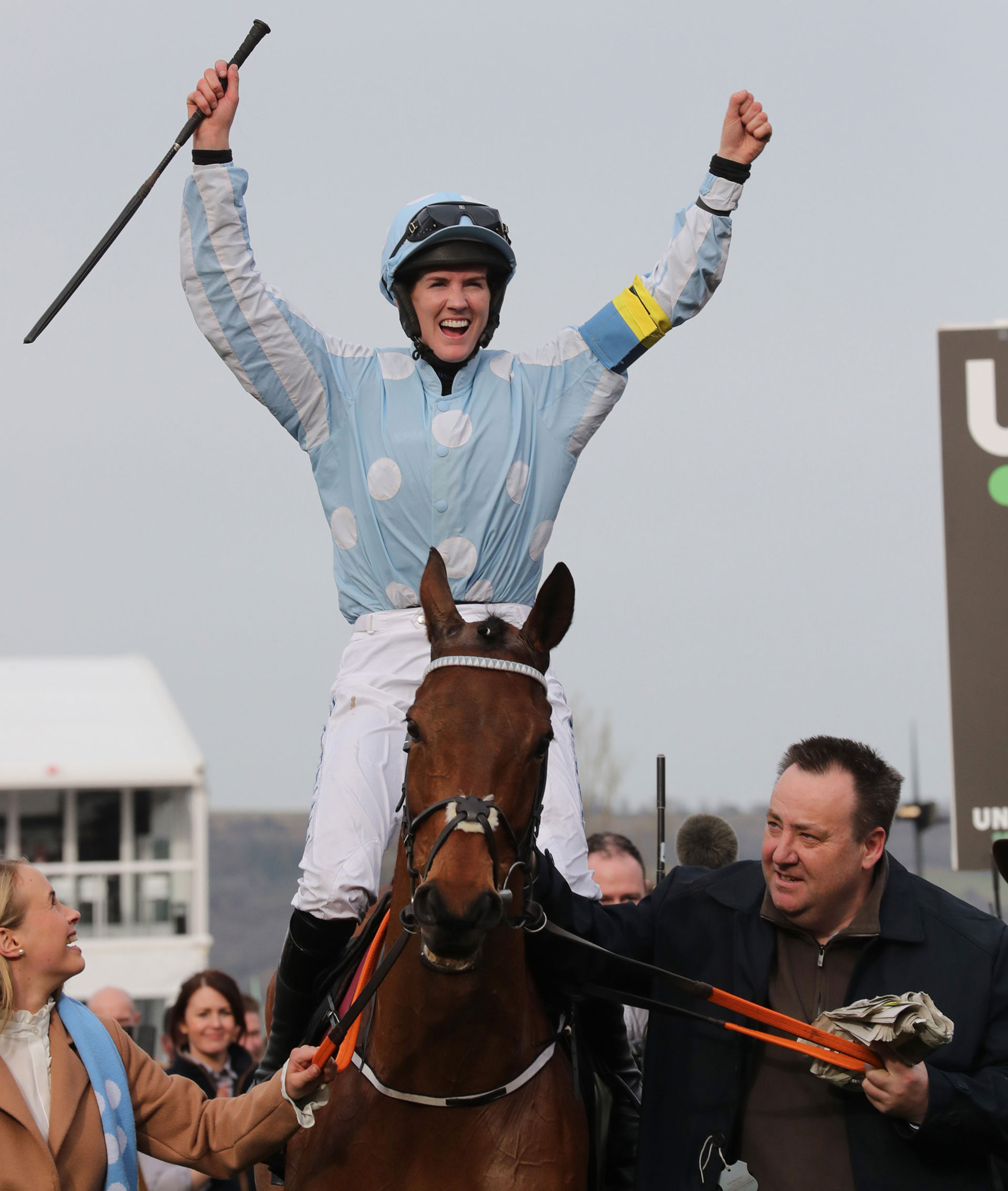 "You'd nearly be getting goosebumps now thinking back to it… I'm actually shaking a bit now, remembering it all"
"It's relief. It's actually just relief. To explain to people how the Grand National differs to the Gold Cup and the Champion Hurdle. You cross the line on Minella Times, the first feeling you have is joy, elation, you can't believe you've won the Grand National. You feel like you're going to burst with happiness. Because you have no pressure going out to ride in the Grand National. Nobody goes out to ride in the Grand National expecting to win it."
She pauses for a second, which allows you recall the enormity of it all, the Grand National, Rachael Blackmore riding to victory in the Grand National, laced history. Even the movie was too far-fetched.
"Even though Minella Times was well fancied, nobody really expected him to win. But when you're going out to ride Honeysuckle, who's favourite for the Champion Hurdle, who's unbeaten, that's a lot. Your first feeling is relief. And then obviously, all the rest of it floods in. It's disbelief. On her. Disbelief. She's done this again. And the crowd was so loud. You're so happy. It's an incredible feeling."
Her flow is interrupted by a well-wisher. "Sorry, are you Rachael Blackmore?" "Ah I told him that nobody would recognise me here!" "Sorry for interrupting, I think you're great." "No problem at all, thanks very much." Sip of coffee and a smile.
"You'll get the odd person," she says, referencing our conversation before the red light went on. "Or you might get a person serving you somewhere who'll say something to you. I do get recognised more often than I used to, but not anywhere close to it stopping me from doing anything. It's mainly with racing, going racing or with racing people. I can walk around Dublin fine. And people are really nice. They're literally just saying, 'We think you're great,' just like that, and off they go."
That all feeds into this sense that she doesn't truly believe that she is the superstar that she is. And not just within racing's confines: make no mistake, she is mainstream. BBC's World Sport Star of 2021, on the roll of honour that includes Roger Federer, Rafael Nadal, Usain Bolt, Cristiano Ronaldo, Tiger Woods, Jonah Lomu, Michael Johnson. Go back further if you like, go back to Seve Ballesteros, Carl Lewis, Martina Navratilova, Muhammed Ali, Gary Player, Arthur Ashe, Pelé, Nadia Comâneci, Eusébio. It's difficult to find a more illustrious list of sports stars across the spectrum, and Rachael Blackmore is the most recent addition.
She met Shane Lowry at an event recently, and she thought, impressive, RTÉ Sports Person of the Year there a few years ago. It took her a few seconds to realise that it is an accolade that she was also awarded.
"You're all the while looking forward in racing. You have to be. Like, after the Grand National, after the Gold Cup, people think, you've won the Champions' League, you've won the All Ireland, you're done, maybe your season has ended. They want you to do all these things. Can she come on this television show, this radio show? But no, she can't, she's racing at Thurles, she's in Ballinrobe."
Rachael Blackmore thought deeply about the Gold Cup. Honeysuckle was brilliant, but on Friday morning, Honeysuckle was three days and 17 races ago. The Champion Hurdle was over, Friday was all about the Gold Cup.
"I was really excited to ride A Plus Tard in the race. The feeling from the yard was that he was a better horse all season than the horse that he was in 2021. He was just doing things more easily. Even so, I was just so mad at myself in 2021, how I rode the race. I needed to ride him for his strengths. He's really fast, and I didn't ride him for his strengths in 2021. Maybe Minella Indo was just the best horse on the day anyway in 2021, but I had to try to figure out how we were going to beat him the next day. I knew that I had to give A Plus Tard a ride that would play to his strengths."
You take the information that you have and you adapt accordingly. It's a depth of thought. You know that Rachael Blackmore won't be doing the same thing the next day and expecting a different result.
"I thought that I had a really good chance of winning. I was one hundred per cent happy that I was riding A Plus Tard. The year before, I was very lucky in that I had the choice. It was a big decision, I was weighing up the pros and cons for both horses. This year, it wasn't a choice that I had to make, but I was always very happy that I was riding him. I had my plan in my head, and thankfully it worked out."
They didn't go a great pace but, even so, she was happy to sit well back in the field and bide her time. That was the plan. Ride him for speed. Jumping the final fence on the first circuit, they were third last, ninth of the 11 runners. Going down the hill to the third last fence, she was behind a wall of horses, but still she sat. And even when they landed over the third last fence, and she could see Minella Indo and Robbie Power going for home around the final bend, she sat.
"Even when we landed over the third last, and I'm kind of nudging a little bit, and there's nowhere for me to go. I get down and give him a little push, but then I stand back up again. I'm like, 'No, this is where you wanted to be.' I remember having that thought. 'This is where you wanted to be.' I could feel him under me. All that power.It'll open up when it opens up. And it did. Which was class."
It would have been easy to go wide, give away ground, reduce the risk of not getting a clear run. It was the Gold Cup, it didn't get any bigger, any more important, so much at stake, you could have panicked and used up your horse in order to ensure that you didn't get boxed in. But that's Rachael Blackmore for you. Calm and considered, a plan in her head that will maximise her horse's chance of winning, and she stuck to the plan.
"I had been thinking about this race for the last 12 months, and I just knew that I wanted to ride the race differently, ride him to his strengths, and if that got me beaten, then so be it."
It opened up on the run to the second-last fence, Al Boum Photo moved a little to his left and Protektorat moved a little to his right, which left a gap between them that was just about wide enough to fit another horse. A Plus Tard moved into second place, and then it was as you were in 2021. Minella Indo and A Plus Tard, the two Henry de Bromhead horses, stable companions, toe-to-toe in the Gold Cup again.
"You're going down to the last, and you're just hoping that your eyes will see a stride. And about six strides from the fence, I can see that there's an acceptable stride there, and I'm so happy, because I just know he's going to go. It was a nice feeling because that's what I wanted to be doing. I wanted to be coming at Minella Indo at the final fence, not on his tail."
A Plus Tard rose to the final fence a neck in front of Minella Indo, and he got to the winning line 15 lengths in front of him. It was an incredible surge of power up the final hill, three and a quarter miles and 22 fences after he had set off.
"He sprinted up the hill. I could feel that. I knew that I was clear. Six strides away from the last, I knew that it looked good. Unless they landed a horse in from a helicopter right beside me. I knew that no other horse could go this fast. I never thought that a horse could land over the last in a Gold Cup and pick up like that. It felt like he was sprinting.
Usually when you're in front on that hill, you're dying for the line to come, you're hoping that nothing is going to come from behind and get you. But on him, I knew that nothing could. I was just trying to hold everything together and get to the line. Even so, I was able to enjoy it. And it's the Gold Cup. It was an incredible feeling. He's an incredible horse. It's hard to describe. It felt massive."
It was massive. For all the reasons. A 1-2 in the Gold Cup again for trainer Henry de Bromhead, a Gold Cup for owners Cheveley Park Stud, ambition realised, and a Gold Cup for Rachael Blackmore to go with her Champion Hurdle. Some week. The first jockey since Sir Anthony McCoy in 1997 to win the Champion Hurdle and the Gold Cup in the same year.
Rachael flew home that evening, exhausted, exhilarated, exalted. The following day, the Saturday, the day after the Cheltenham Festival, the day after she had won the Gold Cup, she went to Thurles and rode Gentlemansgame to win the Carey Glass Hurdle.