Paddy Twomey
Quality Control
Assiduous use of the bloodstock transfer market has propelled Paddy Twomey to flat racing's upper echelons
Words: Michael Verney • Photos: Caroline Norris / David Betts
---
Paddy Twomey is in France trying to source his next star, when he fields the call to reflect on a blockbuster season which saw the Tipperary-based trainer scale the rare Group 1 peak.
You won't hear him blowing his own trumpet, though, and all eyes are already on making sure that his stock can land significant blows against powerhouse trainers like Aidan and Joseph O'Brien next year.
While he doesn't nail his colours to any one team, it's clear that he is a soccer fan and he likens the life of a horse trainer to that of a Premier League manager with efficient use of the "the transfer market" an essential component of his craft.
"You're a bit like a soccer manager," Twomey reasons. "There's a transfer market there, there's horses available for sale, whether they be as yearlings or as form horses or as foals or anything you want, and it's up to you to get the best out of them.
"You've to constantly update your squad, constantly renew the players. Horses have a certain shelf life as racehorses before they go on to their next career and you have to keep improving your squad and putting fresh legs in there.
"You're constantly looking on the transfer market as to where the next horse is that's hopefully going to bring you to the places that you want to go. It's my job as a trainer to keep improving the level of horse that we train. If the manager of a soccer team keeps playing the same players six years later then they're not going to win any trophies, you've got to keep improving your team."
Irish jumps king Willie Mullins is someone he particularly admires in that regard as the Closutton maestro continuously strengthens and regenerates his battalion each season while cementing his place at the head of the national hunt game further.
Twomey is operating on a much smaller scale with around 50 inmates but from just over a hundred runners this year – a number dwarfed by the other big hitters – he managed to finished fifth in the Irish flat trainers' championship with the likes of Dermot Weld, Johnny Murtagh and Jim Bolger in arrears.
That is quite something with the Cork native bagging his first Group 1 along the way when the ever-reliable Billy Lee – who also rode Twomey's first winner as a trainer, from his first runner a decade ago – steered La Petite Coco to success in the Pretty Polly Stakes at the Curragh in June.
Watching La Petite Coco and stablemate Rosscarbery – which finished third but was later disqualified after jockey Wayne Lordan weighed in 5lb light afterwards due to an initial scales error for which the IHRB offered an official apology – both being in contention for glory at the highest level in the same race was a thrill like no other.
"To look down the track there at The Curragh and see two of the first three coming up the straight in a Group 1 and they're yours, it's a great feeling. To have two fillies in the first three home in a Group 1 is hard to do," Twomey beams.
"Year on year we've been steadily working on improving and it was great this year. We had the horses and they went and ran well and did what we wanted them to do. It's great to achieve what you think the horses are capable of."
Rosscarbery nearly had her Group 1 day in the sun when just touched off in the Prix Jean Romanet at Deauville but it was still a sensational season for the Sea The Stars filly considering she arrived to Twomey's base in Golden this season while still a maiden after nine starts.
"If the manager of a soccer team keeps playing the same players six years later then they're not going to win any trophies"
Pearls Galore was another to leave her mark and having been "a model of consistency since she walked in the gate," the daughter of Invincible Spirit grabbed that elusive Group 1 triumph on her final start in the Matron Stakes on Irish Champions Weekend at Leopardstown.
"She's taken us everywhere, she's a tough model of consistency and she's been a pleasure to train. It was something that we set out our stall to win a Group 1 with her this year, she was kept in training for that distinct purpose," he says.
"It was great when it came off and she ended the year as the highest-rated older filly or mare in training in Ireland. That's just fantastic."
That trio along with stablemates Rumbles Of Thunder and Show Of Stars have allowed Twomey to experience the "big buzz of competing on the big days". That is what he craves and from humble beginnings, he is in the midst of building a training empire at Athassel House in Bansha, underpinned by quality over quantity. Being one of Ireland's leading flat trainers wasn't necessarily part of the master plan, however.
Twomey was well known as one of the game's shrewdest judges in terms of the breeding, breeze-up and pinhooking business, but he stumbled into life as a trainer in 2012 more out of necessity than anything else.
"I had horses in training with Joanna Morgan at the time and she retired from training and I kind of took a permit out to train a few horses that I had that she would have trained and continued along like that for a while.
"I had a few more runners in '15 and '16 and the Turf Club (Irish Horseracing Regulatory Board) called up one day and told me that I had too many horses to be a permit holder and that I needed to be a full trainer. I thought that they were mad to be honest. They made me get a full licence and it turns out they were right."
The 44-year-old chuckles at the fact that Irish racing's regulator actually did him a favour by making him concentrate more on training and his state-of-the-art facilities have come a long way since those early days.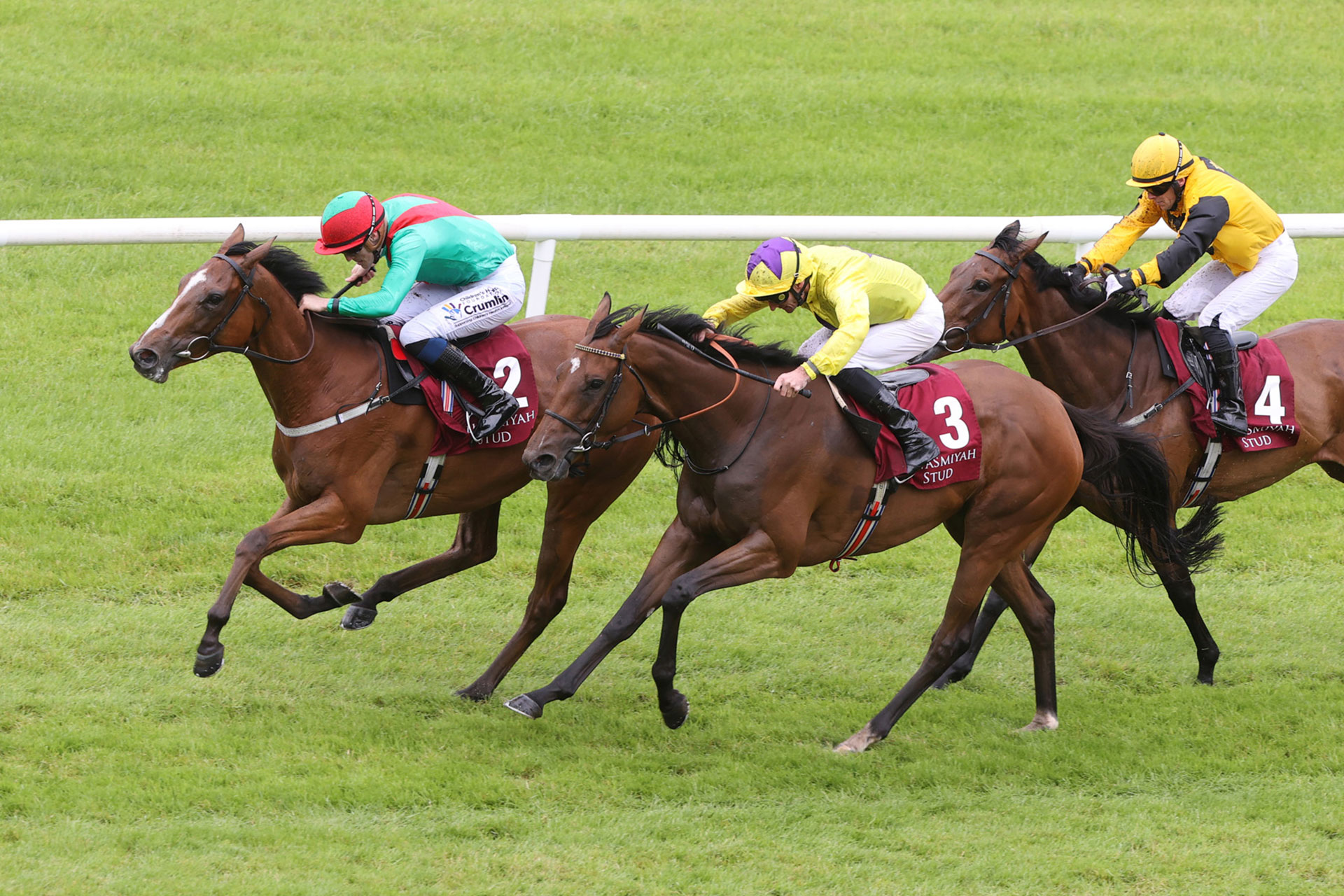 "To look down the track there at The Curragh and see two of the first three coming up the straight in a Group 1 and they're yours, it's a great feeling" (CN)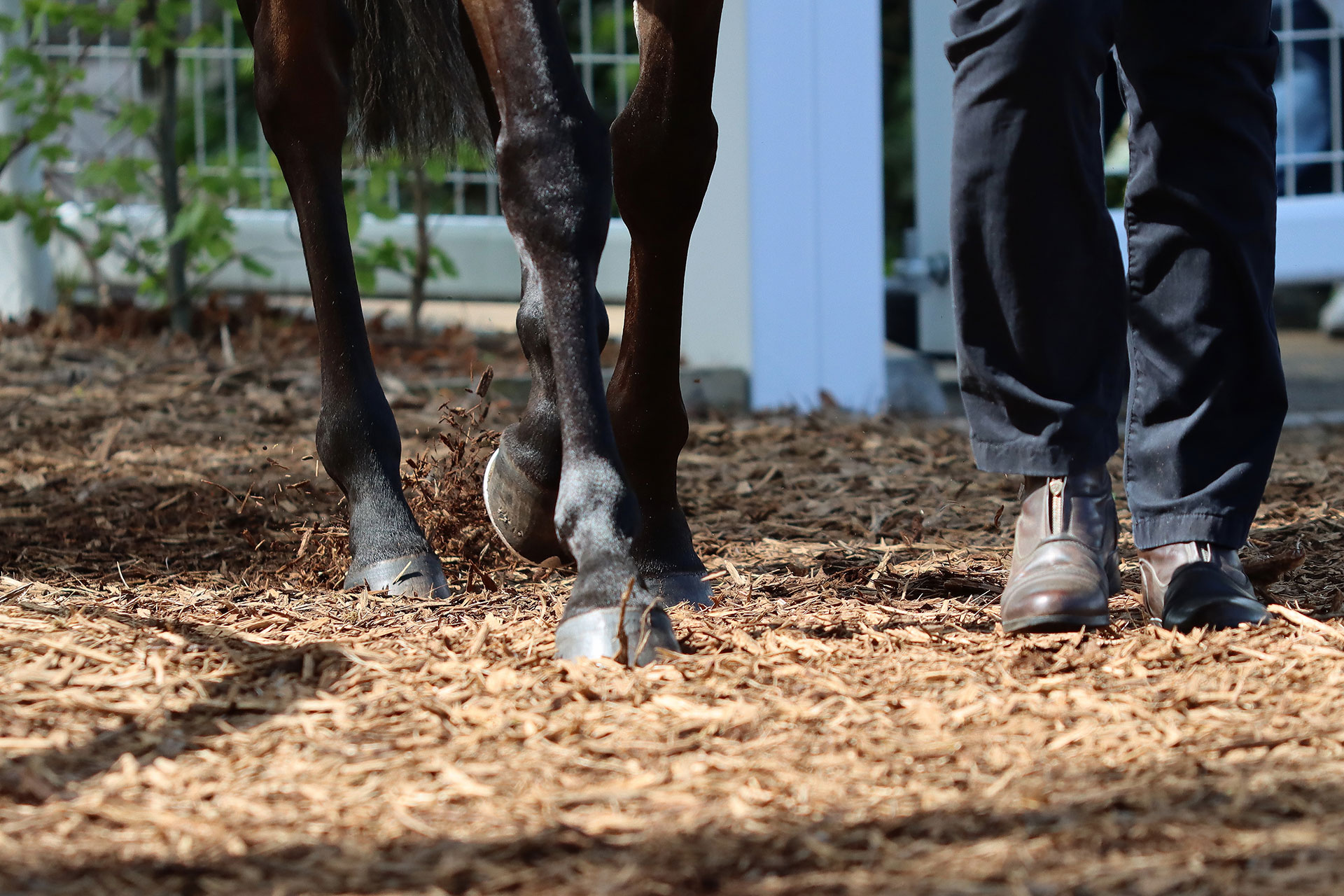 "You have to keep improving your squad and putting fresh legs in there" (DB)
"We built a training operation on what was basically a stud farm that I bought in 2006, purpose-built the facilities and as we could afford to, we've improved them, bit by bit. We started off with one horse, no gallop, bit by bit we've updated it.
"We used to canter them around the field back then and I used to go and use other people's gallops nearby or whatever. As we sold a horse, we might have built a bit of a gallop and then we sold another one and built on and so on."
Buying and selling horses, as well as cattle in his younger days, was always a passion of Twomey's and perhaps it was only natural that he was destined for the top having bred subsequent Group 1 winner Tagula when he was just 13.
Nothing else was ever really on the cards other than horses – he bought Tagula's mother Twin Island when others his age were out hurling in the garden – and he insists that he "took a hobby and made a living out of it".
"It was pretty much horses all the time, from a young age I bought and sold cattle and horses. I doubt there was ever going to be another career path. I bought my first calf when I was seven, I bred Tagula when I was 13. I bought his mother a year before that, sold a couple of cattle and bought her. From a young age I was wheeling and dealing and trading in horses. Tagula won a Group 1 so we've been lucky over time and horses have been very lucky to me all my life."
Luck doesn't tell half the story as Twomey has basically taught himself how to prosper as a trainer. Most trainers hail various influences for showing them the methods needed to shape the running of their yards, but Twomey has been his own biggest influence.
"I was a horse breeder, trader, dealer, sold yearlings, breezed horses, I taught myself how to do pretty much everything with a horse so it came from that background, making mistakes and not trying to make them twice," he says without any hint of ego.
"When it hurts your pocket, it will make you focus. I just try to take my experiences and try to do better than we did the previous day. I've a lifetime of working in the horse business and luckily when I decided to go training, a lot of the people that I knew and did business with along the way decided to support me and I'm very grateful to them for that and hope we can repay their faith in us."
Twomey trusts his own judgements, but he admits that he is "extremely" critical of himself when things go wrong.
"I mightn't be angry, but I would have no problem blaming myself for doing something wrong and I definitely won't blame anybody else that doesn't deserve to be blamed. The buck stops with me. If I make a wrong decision then I have to face up to that.
"You learn a lot more in defeat than you do the day you win and when you lose, you have to analyse the reasons that you lost. Why did you get beaten? Why did the horse not run the way you thought? You can learn a lot from those days. If you learn from what you didn't do right and improve it and do it right the next time, you'd be hoping that the next day will be a different result and that you'll be a winner."
While he highlights the mistakes he has made along the way, there have been few mis-steps from the outside looking in with Twomey boasting a blistering strike rate this season that few, if any, could replicate.
Other horses like Treasure Trove (his first British winner), Group 1 second Erosandpsyche, York Ebor third Earl Of Tyrone, Irish Derby third French Claim, Impact Warrior and Beamish have helped him flourish like few before him.
"I don't sit down thinking and looking at strike rates too much; we try to run the horses where they belong and when they're ready to run. Sometimes it works and more times it doesn't, but the idea would be to run them in the appropriate races at the right time.
"We're about 70 or 71% to finish in the first four and Ireland is a tough jurisdiction. The aim is always to finish in the first four in every race you run in, the reality is we fail to finish in front of the four lollipops 30 per cent of the time, but that's the way it goes."A nice paragraph

As a dealer-turned-trainer, Twomey admits that "leopards don't change their spots" with sourcing horses an "exciting business" and one that is kept in-house, aside from working closely with some of his owners' agents. His instinct is something he always trusts and while some stars may have slipped through his nest, straight ahead is the only direction that matters to him.
"You have to analyse what's in front of you and it's basically a gut instinct, a decision to go or not to go and pursue the horse, whether it's a yearling or a horse with form. It's down to gut instinct that you think the horse will suit your system and your operation. We don't look back, once we make a decision we keep going forward."
With that in mind, he certainly won't be patting himself on the back for a season well done. All that matters now is trying to make sure that the next is as good, if not better, than the last.
"Ah sure, you're always looking for the next horse. It's great to be able to compete at the top level anywhere and to do it in this country is difficult, and with a small string. It's enjoyable to rock up there and try and do the best you can.
"You're always looking for the next horse and you're always looking to keep improving so we'll just keep looking for the elusive next one. Every year we want to do better than we did the year before, every time we go out, we want to do better than we previously did.
"We start with a new page next year and I always want to train more winners than I did the year before, have more winners, try and win more stakes races, do better, have a higher strike-rate, whatever it is. I always want to be better than I was previously so that's the aim every year, to be better than you were the year before and to get the best out of what you have and win as many races as you can with them."
The bar is set ridiculously high if Twomey is to surpass what he achieved in 2022, but history suggests that only a fool would back against him scaling those lofty heights once again.