Godolphin
Blue Renaissance
The recalibration in terms of a focus on homebreds has been fundamental to Godolphin's re-emergence as a global force
Words: James Thomas • Photos: Caroline Norris
---
Even by the standards of a global racing and breeding giant, Godolphin have enjoyed a particularly productive 2022. Sheikh Mohammed bin Rashid Al Maktoum's outfit has been operating at close to full tilt throughout the last 12 months and has chalked up well over 550 worldwide wins, including a fairly astonishing 28 successes at the very highest level.
In Europe there were English, French and Irish 2000 Guineas triumphs for Coroebus, Modern Games and Native Trail, Naval Crown annexed the Platinum Jubilee Stakes, and Rebel's Romance claimed the Grosser Preis von Berlin and Preis von Europa.
On the international stage Daumier was victorious in the Blue Diamond Stakes, while Anamoe took his top-level tally to seven, his Cox Plate victory not only his fifth Group 1 success this year but a result that makes him Godolphin's most prolific performer at the highest level.
In the US there were also significant results for the likes of Mysterious Night, Nations Pride, Santin and Speaker's Corner. And for the second consecutive year the Breeders' Cup brought with it a flurry of winners as Mischief Magic claimed the Juvenile Turf Sprint, Cody's Wish penned a fairytale in the Dirt Mile, Modern Games struck in the Mile and Rebel's Romance romped away with the Turf.
Crucially for an operation that requires continued success to keep its global stallion rosters well stocked, those 28 Group/Grade 1 victories came from 17 different runners, 13 of which are colts and 15 of which are homebreds. However, things have not always seemed quite so straightforward.
The seeds for an empire were sown in 1977 when Hatta became the first horse to carry Sheikh Mohammed's colours to victory with a routine success at Brighton. The ruler of Dubai's thoroughbred interests grew exponentially and in 1981 he purchased Dalham Hall Stud in Newmarket, followed five years later by the acquisition of Kildangan Stud in County Kildare.
"Other obstacles proved rather more of their own making, not least the self-imposed embargo on the support of stallions owned by their Irish rivals Coolmore"
Plenty of racecourse success came courtesy of the likes of Balanchine, Daylami, Fantastic Light, Street Cry and Sulamani and in 2000 the auspiciously named and outstandingly talented Dubai Millennium fulfilled his destiny by winning the Dubai World Cup. Shortly after the turn of the century, the operation expanded into America with the purchase of Jonabell Farm in Kentucky, followed soon after by the addition of studs in Japan and New South Wales, Australia.
Operating in all corners of the globe, Godolphin had vast numbers of horses on their books as well as virtually unparalleled finances and access to unrivalled resources but from the mid-2000s they suffered from a confounding shortage of homebred talent.
There is no denying they were dealt a cruel blow when Dubai Millennium was struck down by grass sickness in April 2001, just two months into his first season on stallion duty. He left just 56 foals the following year. But other obstacles proved more of their own making, not least the self-imposed embargo on the support of stallions owned by their Irish rivals Coolmore, both at the sales and at source. The boycott began in 2005 and lasted 12 years, during which time Coolmore's breed-shaping Galileo was the dominant force among the stallion ranks, winning eight of his twelve champion sire titles.
Although Darley's global stallion roster did not have anything comparable to Galileo, they did stand some important sires nonetheless, including Street Cry and his relative Shamardal. But while Coolmore ensured the best Galileo had to offer was under their ownership and the care of their trainer Aidan O'Brien, the progeny of Darley's best routinely ended up in others' hands.
That is not to say the organisation didn't have its share of racing successes along the way, enjoying 139 Group/Grade 1 victories between 2011 and 2020 when the likes of Barney Roy, Charming Thought, Colour Vision, Dawn Approach, Rewilding and Ribchester were in their pomp, but plenty of those top-level winners were bought rather than bred. However, by midway through the 2010s the Godolphin torch was being carried by two emerging forces, and in time they would have a profound impact on the operation's fortunes.
In the summer of 2013 Charlie Appleby was installed as Godolphin's in-house trainer at Moulton Paddocks, taking over from the disgraced Mahmood Al Zarooni. At the same time Dubawi, one of Dubai Millennium's 56 foals, was revealing himself to be a stallion of significant consequence at Dalham Hall Stud. Despite some initial market indifference, the three-time Group 1 victor's 26 winners was a higher tally than any other first-season sire that term.
It is clear that midway through the 2010s Godolphin regrouped and refocused and took the decision to start ploughing more of their own mares into the books of their own stallions, most notably Dubawi, and to fill the Appleby stable with the resulting progeny. This shift has seen Appleby and Dubawi ascend similarly steep trajectories, and the pair will end 2022 as champion trainer of Britain and champion sire of Britain and Ireland. Their symbiotic relationship has been pivotal to Godolphin's recent renaissance.
Godolphin's 17 Group/Grade 1 winners in 2022 provide a snapshot of the operation's redrawn dynamic, as eight of those top-flight scorers were sent out by Appleby and all bar two are homebreds. Four - Coroebus, Modern Games, Naval Crown and Rebel's Romance - are by Dubawi. Of course, 17 horses is an insufficient sample size from which to draw firm conclusions but detailed analysis of the last five years of British and Irish results reveals that an increasing percentage of homebred winners has been the bedrock of the outfit's success.
During the 2018 season Godolphin's royal blue silks were carried to victory on 191 occasions by 131 different horses, the highest rated of which was Harry Angel, who achieved a Racing Post Rating (RPR) of 127 for his success in the Group 2 Duke Of York Stakes. In many ways Harry Angel typified Godolphin's past approach, as the son of Dark Angel was bred by Paul McCartan under the CBS Bloodstock banner and cost trainer Clive Cox just £44,000 at the 2015 DBS Premier Yearling Sale. He joined the Godolphin fold in a private deal that can only have been worth many multiples of his public auction price as it was struck after he had won the Mill Reef and Sandy Lane Stakes for previous owner Peter Ridgers.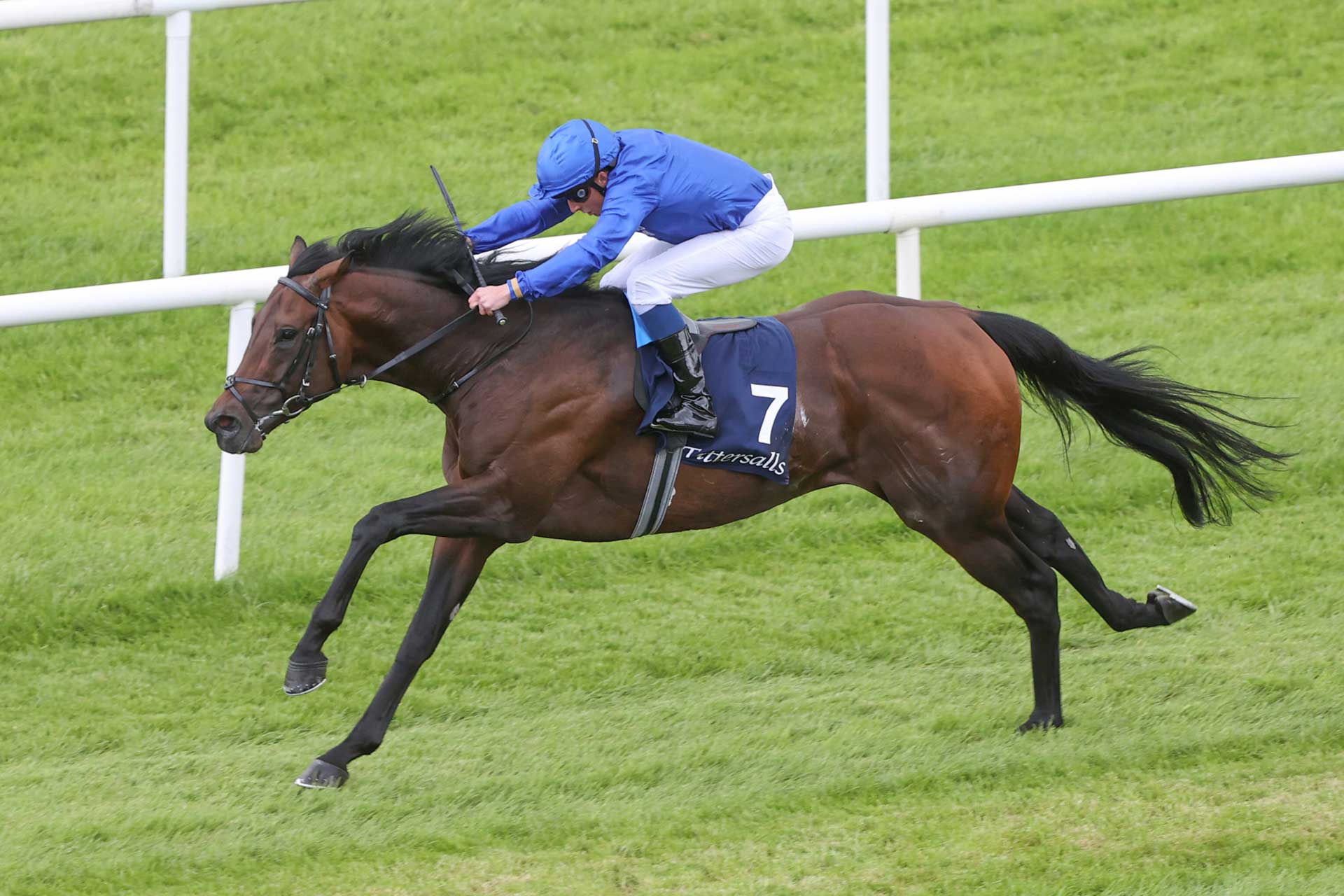 Native Trail's Irish 2000 Guineas triumph was one of 28 Group/Grade 1 successes worldwide for Godolphin
Godolphin winners sired by Dubawi
| Year | Winners sired by Dubawi | % of total winners |
| --- | --- | --- |
| 2022 | 46 | 36 |
| 2021 | 41 | 33 |
| 2020 | 40 | 34 |
| 2019 | 22 | 18 |
| 2018 | 28 | 21 |
However, while Harry Angel was Godolphin's highest-rated winner in 2018, Masar was the most significant as the Derby winner. Not only was this a famous victory, but it came courtesy of a true Godolphin homebred, as Masar is by Dalham Hall stalwart New Approach and out of UAE Derby winner Khawlah, a homebred daughter of another Sheikh Mohammed homebred, Cape Cross.
If Harry Angel represented the old modus operandi, Masar brought a new direction into sharp relief. His success may just have given Godolphin the belief that they already possessed the tools they needed to succeed. The Derby hero was one of 75 homebred winners in 2018, when the Godolphin breeding programme supplied 57% of the operation's British and Irish successes. The following year that figure dropped to 56% when Godolphin's homebreds accounted for 69 of 123 winners.
That percentage has shifted quite markedly since, rising to 59% in 2020, 67% in 2021 and (as of November 5) hitting 73% in 2022, when the first crop of two-year-olds bred in the afterglow of Masar's success reached the racecourse.
It is Dubawi who has received the biggest vote of confidence and he has repaid Godolphin in spades. In 2018, he supplied 28 of their winners and that slid to just 22 in 2019, but it has been one-way traffic since with 40 in 2020, 41 in 2021 and 46 in 2022. This means that, in percentage terms, the volume of winners Dubawi supplied Godolphin with has doubled between 2019 and 2022, rising from 18 to 36%.
Of course the increasing volume of homebred winners means a decrease in the percentage sourced at the sales, where the Godolphin buying team, of which Appleby is a key member, appear to be focusing on the top of the market. In 2018, 54 (41%) of their winners came from the sales but that number has dropped to 35 (28%) in 2022. However, the average annual purchase price has swung in the opposite direction, with 2018's winners having cost an average of €431,610, compared to an average of €771,075 for 2022's team.
Although an increasing reliance on homebred stock may not have resulted in a significant increase in the quantity of winners Godolphin has had in Britain and Ireland each year, it has brought about a spike in the overall quality. Their average of Group/Grade 1 winners a year from 2011 to 2020 is 14 yet they doubled that in 2022 with the majority of the 28 homebreds. And a closer look at the RPRs confirms a distinct upward trend, which is significant for an organisation that undoubtedly prioritises quality over quantity.
Interestingly, where the number of homebreds has fallen and risen over the last five years, the average RPR of Godolphin's winners in each campaign has followed suit. In 2018 the group's 131 winners (75 homebreds) generated an average RPR of 97, which dropped to 94 in 2019 (123 winners, 69 homebreds) and fell to an 93 in 2020 (116 winners, 68 homebreds). But as more homebreds have come online, the quality began to rise as 2021 ended with 126 winners (85 homebreds) and an average RPR of 97, while the 129 scorers in 2022 (94 homebreds) have struck for an average of 100.
Although homebreds have underpinned the rise in average ratings, the increasingly select number of purchases have continued to pull their weight. Godolphin's winners bought either privately or at public auction between 2018 and 2022 have generated an average RPR of 97, which compares favourably, albeit from a smaller sample size, with the homebred winners during the same timeframe, who struck an average of 96. Interestingly, albeit not surprisingly, when these results are broken down by sire, the average RPR for those by Dubawi, among which are homebreds and purchases, is 99.
Given this research shows how Godolphin have harnessed the power of their breeding operation, it is perhaps an ominous sign for their rivals that they also went quite so hard at this year's renewal of Book 1 of the Tattersalls October Yearling Sale, dropping 25,355,000gns on 35 lots. This haul includes the 2,800,000gns top lot, the Frankel colt out of So Mi Dar.
Godolphin have refined their breeding methods, and in turn Appleby has found the key to getting the most out of their stock, particularly those by Dubawi. With so much blue-chip ammunition at their disposal, both bought and bred, there is no telling how far Godolphin can go in the years to come.
Godolphin's British & Irish winners: homebreds v purchases
| Year | Winners | Wins | Homebreds | % | PURCHASED | % | Ave purchase price (€) | Trained by Appleby | Appleby % |
| --- | --- | --- | --- | --- | --- | --- | --- | --- | --- |
| 2022 | 129 | 201 | 94 | 73 | 35 | 27 | 771,075 | 89 | 69 |
| 2021 | 126 | 191 | 85 | 67 | 41 | 33 | 724,785 | 71 | 56 |
| 2020 | 116 | 144 | 68 | 59 | 48 | 41 | 693,360 | 65 | 56 |
| 2019 | 123 | 174 | 69 | 56 | 49 | 40 | 469,650 | 49 | 40 |
| 2018 | 131 | 191 | 75 | 57 | 54 | 41 | 431,610 | 60 | 46 |
Godolphin's British & Irish winners by average RPR: homebreds v purchases
| Year | Average RPR | Homebred average | Purchase average | Dubawi Average |
| --- | --- | --- | --- | --- |
| 2022 | 100 | 100 | 101 | 102 |
| 2021 | 97 | 97 | 97 | 101 |
| 2020 | 93 | 93 | 95 | 95 |
| 2019 | 94 | 94 | 94 | 97 |
| 2018 | 97 | 95 | 98 | 98 |
Godolphin's British & Irish winners: home sires v outside stallions
| Year | Winners | Godolphin sires | % | Outside sires | % |
| --- | --- | --- | --- | --- | --- |
| 2022 | 129 | 83 | 64 | 46 | 36 |
| 2021 | 126 | 88 | 70 | 38 | 30 |
| 2020 | 116 | 70 | 60 | 46 | 40 |
| 2019 | 123 | 71 | 58 | 52 | 42 |
| 2018 | 131 | 75 | 57 | 56 | 43 |
2022 stats as of November 22 • The small discrepancy in some instances between total winners and numbers of homebreds