Danny, David, Emmet & Patrick Mullins
The Mullins Boys: Part Deux
From boys to men, the first cousins have come a long way
Photos: Caroline Norris • Words: Daragh Ó Conchúir
---
Fourteen years ago, I was asked by then Irish Racing Yearbook editor, Mark Costello to have a chat with the three teenage Mullins first cousins that were making a big impact.
Patrick, son of Willie, was 18 at the time, turning 19 in December and he had won the first of what currently stands at 14 champion amateur jockey titles the previous season, a campaign that included the Cheltenham/Punchestown Champion Bumper double on Cousin Vinny.
Emmet, whose dad is George, had just turned pro, after winning the Goffs Land Rover Bumper. And Danny, from the Tony gene pool, was a 16-year-old just out of the pony-racing circuit, who had ridden 18 winners in four months, including a treble during the Galway Festival. Even then, he had the reputation as the joker in the pack.
"I'm the quiet one," he half-heartedly protested. "I'd say Emmet is the one to keep an eye on." Wrong and right at the same time.
Much has happened in the intervening period. They are grown men of course – most of the time – and achieved so much in their lives and professions. Even in the context of all that, it is remarkable how spectacular the past year has been for the trio.
Patrick won five Grade 1s, three over obstacles, and filled in blanks on his CV that had been irking him in the artist formerly known as the GPT (the Connacht Hotel Handicap) on Echoes In Rain, and the artist formerly known as the Foxhunter Chase (the St James' Place Festival Hunter Chase, if you must) on Billaway.
Danny bagged four Grade 1s, landing the King George VI Chase on Tornado Flyer and then making it two in a row in the Stayers' Hurdle on Flooring Porter at Cheltenham, earning widespread praise for his horsemanship in the process.
Emmet, who had secured a Cheltenham Festival winner as a pilot before packing it in and turning heads as a trainer with his successful international forays, trumped all that by saddling the winner of the Grand National, Noble Yeats.
So I thought it might be fun to sit the three of them around the table and like the makers of the comedy Hot Shots!, go with Part Deux.
David, son of Tom, was only 12 in 2008, dreaming of playing hurling for Kilkenny or maybe showjumping in an Aga Khan but not winning a Grand National. He wound up doing just that only eight years later and then four years after that, gave it up. He is now, among other things, building a trading operation.
Danny suggests adding David to the mix, because three opinionated Mullinses might not be enough.
So we rendezvous at The Lord Bagenal in Leighlinbridge.
"I watched it on my own and I'm fairly sure watching it live, I was watching the wrong horse the first lap"
Daragh: The Grand National or Gold Cup?
Patrick: It's the National definitely. You'd read about Red Rum and Crisp, all the different stories. You'd name more National winners from 50 years ago than you would Gold Cup winners.
Danny: It's the most high-profile race.
Patrick: And it's different.
Danny: It's one that hits home with maybe a wider audience. The Gold Cup is probably one of the best races in racing but it wouldn't be as widely known. If you asked someone on the street who won last year's Grand National, they'd tell you that quicker than a Gold Cup I'd say. Patrick: It seems to have got a bit easier to win lately all right… Guffaws from around the table.
Daragh: Noble Yeats winning 14 months after running in a bumper isn't the norm.
Emmet: No, we don't do much normal. But it still took him (points to Patrick) two goes to win a bumper on him. At least he got it right a second time. Move on then, we didn't give him a third chance.
Daragh: Why only run once over hurdles?
Emmet: I just felt he was an out-and-out three-mile chaser. He probably wasn't going to be that high-class Grade 1 novice hurdler and we'd have been wasting time over hurdles for the season. Get on and get the job done.
Daragh: When was the National the job in mind?
Emmet: From his maiden hurdle, it was a toss-up between the Irish and English National.
Daragh: It's a different race now from what it was.
Danny: It's definitely a different race now. There's a lot more jockeys getting unseated rather than horses falling lately.
Patrick: I think that's with the…
Emmet: … Easyfix…
Patrick: ... Easyfix centres. So what happens is the horse banks (slaps hands), the jockey gets fired rather than what used to happen…
Emmet: There's give in it and it doesn't take the horse out of it.
Patrick: … whereas they used to flip. So it's better.
Danny: It still has its excitements in that there are plenty of fallers but less injuries come out of it.
Patrick: I think it was a good change. I rode over the Old Course on Boxer Georg and he was very good but the first year they put the Easyfix in it, I could feel him getting lower at every fence. He knew. And eventually he overdid it. Emmet: I wouldn't have blamed the horse. More laughs.
Daragh: Was it always the plan to sell Noble Yeats?
Emmet: Yeah, we put him through the ring after he won his bumper.
Patrick: I couldn't have done anymore for you! 20 lengths, driven out.
Emmet: It wasn't enough. If you'd done it the first day, it would've been fine. He was always for sale, went through the ring but didn't make enough. It was always on Paul (Byrne)'s radar to cash in. We bought him fairly right in Tatts in December '19.
Danny: Was he a point-to-pointer? Emmet: Point-to-pointed with Brian Hassett. He was second in Ballindenisk. Fast-finishing. Flew home. He was always a relentless stayer.
Daragh: Tell me about the race itself.
Emmet: I watched it on my own and I'm fairly sure watching it live, I was watching the wrong horse the first lap.
Patrick: You were hoping you were watching the wrong horse. Everyone laughs.
Patrick: He can't be that far back!
Emmet: Going out on the second circuit he was in a position that every year the winner comes from, within those few pockets of space and we'd a great chance from there.
Daragh: Did you enjoy it afterwards? It can be mayhem one imagines.
Emmet: I was grand, I was on my own. Disappeared for a bit.
Danny: Where did you disappear to?
Patrick: We spent ten minutes looking for him.
Danny: I fell and I was coming back up…
Patrick: I was in the stands and saw him out on the track.
Emmet: I know no one is allowed out but I managed to sneak out. I was happy with the horse. He can be a bit funny, he'd the hood on and went down early.
Patrick: If there's a parade for one it should be for all, but anyway.
Emmet: I was happy, the hood was off. I decided to go back into the stands, watched the race. Exit stage right. Circled back around through the pre-parade ring, came back down the hill and everyone was celebrating looking out on the track. And I just stood behind them.
Danny: Were you crying after this one?
Emmet: You'll never know.
Danny: There might be a video after the first Cheltenham winner! He disappeared into his hands for a few minutes!
Emmet: And the snood.
Danny: Pulled it up over his face. Emmet: So no one saw it.
Daragh: It must have sparked memories for you David?
David: No. No memories. It was just great that Emmet won it. Riding out in the yard, I'm in the WhatsApp group and all the lads in the yard got a great kick out of it. It was great but it didn't spark any memories.
Daragh: Are you that unsentimental about it though? Or anything in your career?
David: Danny's a bit the same. You go in, you look at the race card and check the prizemoney.
Patrick: Stop, he'd have it up on Instagram.
Emmet: Exactly.
David: I got good kicks out of Faugheen and Bellshill (winning the Stayers' Hurdle and Gold Cup in 24 hours at Punchestown in 2018). That was a good week but other than that, not too many.
Danny: That's why he ended up retiring.
David: The National is massive all right but that didn't register really.
Daragh: Rule The World had never even won over fences.
David: He was a great spin. I was second in the Irish National on him in 2015 and third in the Kerry National in Listowel later that year.
Danny: Was it 2016 (in Aintree)? Jesus.
David: He wasn't really a novice. He could have won any beginners' chase but he had a high enough rating to run in all those big handicaps. I'd say he only ran in two beginners' chases.
Daragh: Danny is the only one of you not to ride Faugheen.
Emmet: He mustn't have been good enough.
Daragh: You won on him in a Limerick novice hurdle.
Emmet: He could have gone around again and that was three miles. He was class.
David: On his day, I don't think, you'll ever see a better horse again. Two miles. Three miles. I don't remember Istabraq, but…
Patrick: He's as good as any of them. Faugheen over a strong-run two mile…
Danny: You can only beat your opposition. I think comparisons can be very unfair on horses.
Emmet (to Patrick): Would you have won the Queen Mother on Douvan?
Danny: Yes. Definitely. He was flying that year.
Patrick: It was a long way out.
Danny: Ahhhhh. Emmet: This is a very different tune now to when we're having the conversation.
Patrick: At the time, yeah, I thought he would.
Danny: I think he was flying going to Cheltenham that year.
Patrick: I think he's the best I ever saw. He's one of the few I got to ride in their prime... We went a million miles an hour St Stephen's Day at Leopardstown (in 2015, winning by 18 lengths from Sizing John). He was a runaway. I just couldn't hold him. I think Willie was listening to the commentary after Vautour (in Kempton). "What the fuck is he doing in front?" And he walked into the second-last and still he went away. He was great.
Daragh: Did you just fall out of love with riding David? Or was it that you weren't interested if it wasn't going to be at the top end?
David: Bit of both, yeah. I didn't enjoy going racing during the summer. And I always felt like I wanted to be somewhere else. Even at sales and that. If I wasn't getting to them, I was thinking I could be there and I wanted to be there, investing my time in something else. And even if you'd planned to take a week off to go and do something like that, you couldn't plan it because you might have a ride. But then you couldn't go because you hadn't planned it, but you've no ride. That used to drive me cracked.
Danny: I would have said he was out of love with the game a long time before he pulled the plug on it. Even up to the day you retired, on a big day, you were riding as well as ever but the small days weren't interesting you.
David: And that wasn't fair to trainers and owners.
Daragh: Were you the same Emmet?
Danny: He was too fond of the pot, so he was.
Emmet: I wasn't good enough. I didn't want to be mediocre. Move on to the next thing and do better.
Patrick: Myself and Danny are able to accept we're not Ruby Walsh. He's like that with his jockeys as well. He can't accept they're not Ruby Walsh either.
Danny: I don't' think he'd accept Ruby Walsh either! The one jockey that was good enough for him retired straight away after winning the National.
Patrick: And he was getting a bollocking at half-way.
Danny: Usually when you're riding for Emmet, you kind of indirectly hear what he's mumbling about afterwards. He'd send out a Chinese whisper. He'll give out to his little birds, they'll fly off and it'll make its way back around.
Emmet: And they still keep ringing to find out if they're riding.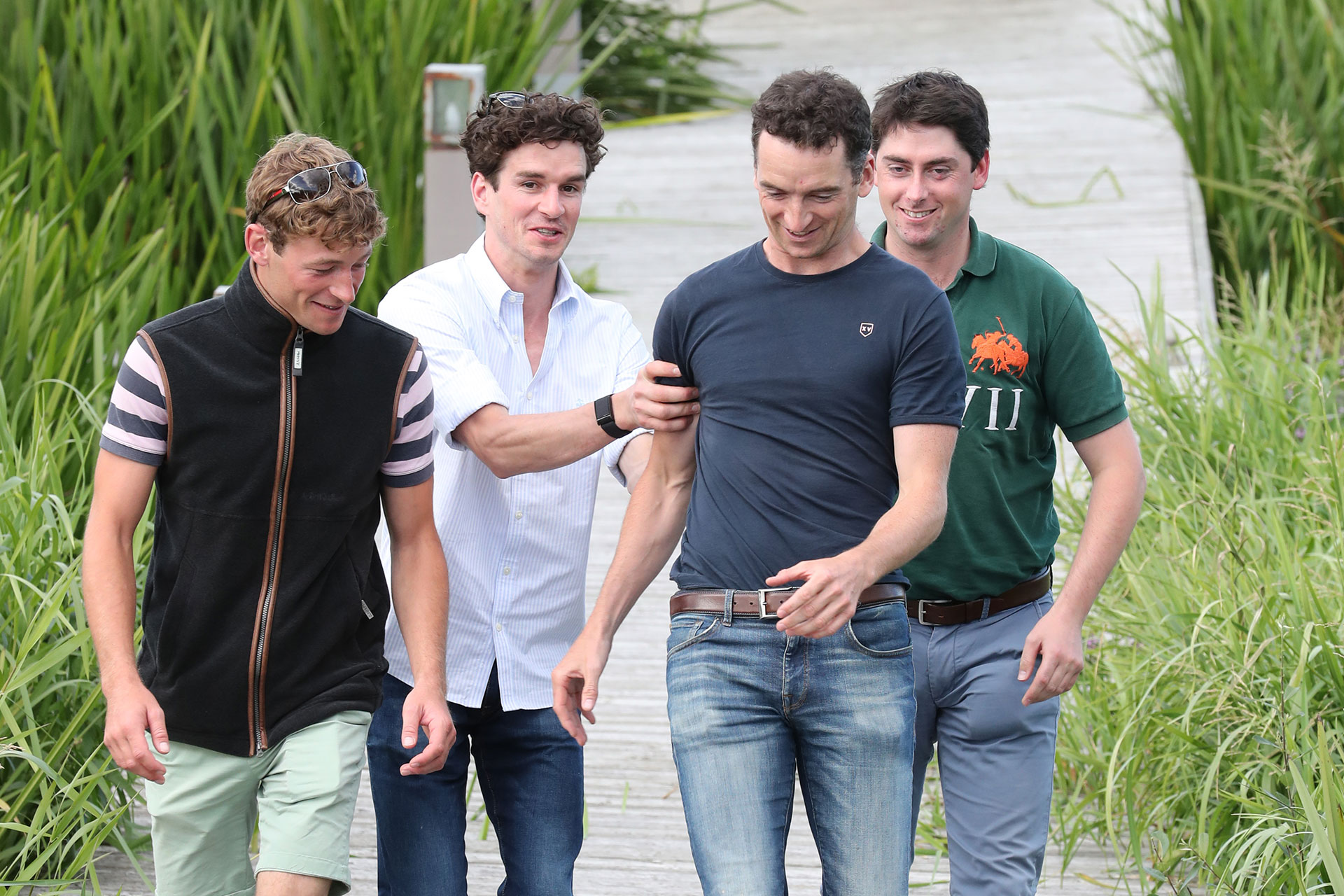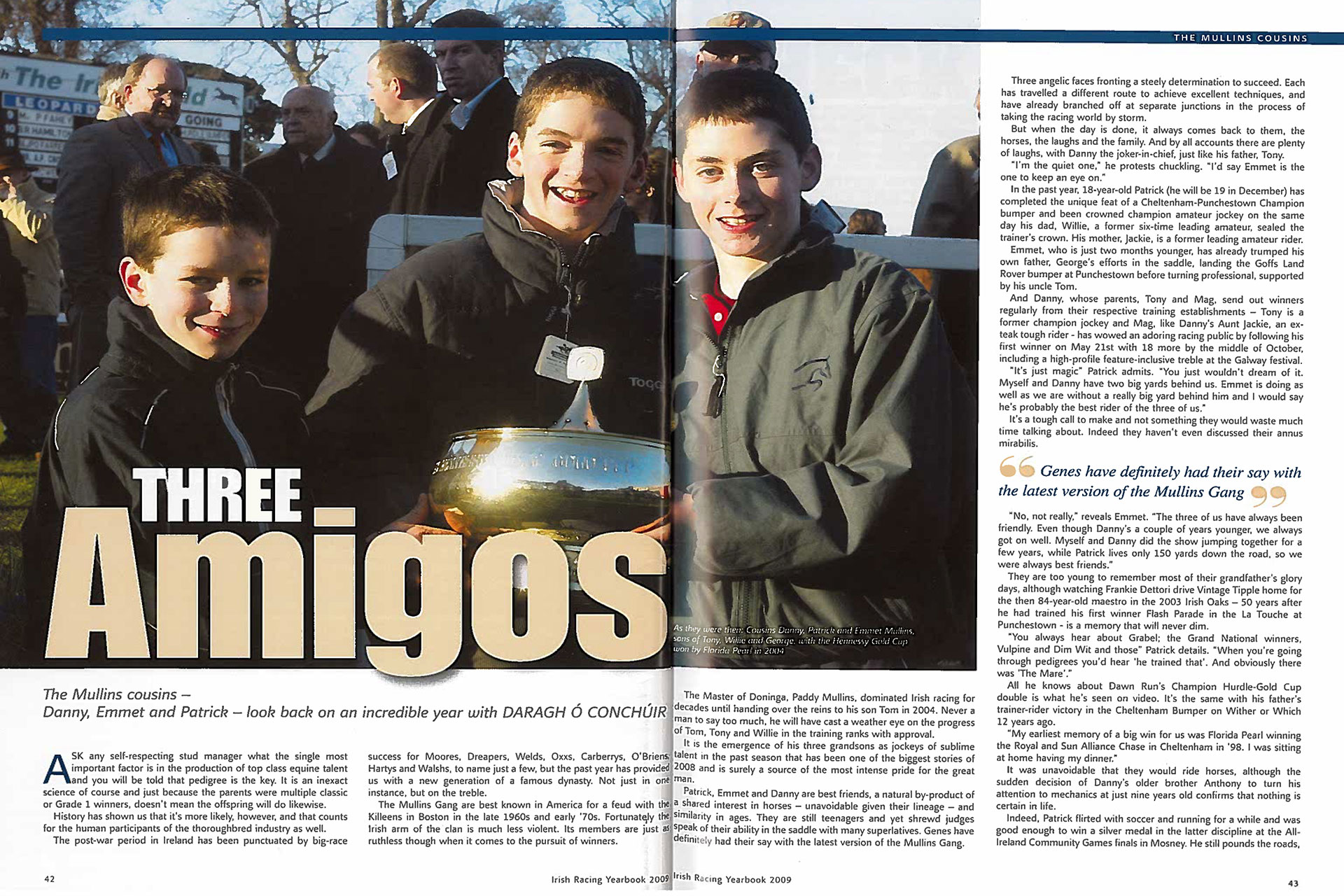 The original article in Irish Racing Yearbook 2009
Daragh: Tell me about Kempton, Danny.
Danny: He wasn't the number one pick in the race for sure but he was a horse, that every year, turns up once, maybe twice in a season and if he got to his best form, he was gonna have an each-way chance in it. It unfolded perfectly for what I wanted to do. Strong pace, get into it late on. They went a right gallop and half-way down the back, I was starting to pinch myself how well I was going. Turning down the back, they injected a bit more pace and from there, I thought it was going to take a fair horse to beat me. In a King George. It was unbelievable. It's THE race of the Christmas. I knew I had a few good rides in Leopardstown that day and he was 28, 33/1. I spoke to Ruby about it and Ruby said, "Sure if you ride two or three winners at Leopardstown and you're looking at the TV at Tornado turning in going well, what'll you be thinking?" "I'll be thinking I want to be there." So I said I'd give it a shot. Half an hour before the race, one of the horses I was supposed to ride in Leopardstown for John Ryan won and John said in his interview, "What was Danny doing thinking of going to Kempton?" As it turns out, it's probably the quote of the season from John. I went out and won the King George after!
Daragh: What about Flooring Porter's two-in-a-row and Ruby hailing your left-hand-on-right-rein manoeuvre after the last?
Danny: That's just a reaction. I had my whip on the other hand as he went to run for the right-hand rail last year. Maybe with the crowd there this year... He jumped the hurdle very well and he just has that kink in him. Next year, he'll probably do something different and you just have to be ready for it. You have to keep him as relaxed as you can but at any point, he could throw a curve ball at ya. I don't think I'd like to see him lose that bit of flair, madness, whatever you want to call it, because sometimes when good horses lose that, their ability is starting to drop off as well.
Daragh: What were your highlights, Patrick?
Patrick: To me the highlight of the year was Sharjah winning the fourth Matheson at Christmas, matching Istabraq and Hurricane Fly. I think he would have won quite easily only we had to come around the last hurdle onto the old ground and it was like driving a sports car in the mud and he started to slip and Jack Kennedy on Zanahiyr just didn't let us back in, which was clever enough. Paul Townend cost us a length or two down the back with a little bit of race-riding too so I still have that favour to pay back! It sounds silly, but quick ground and a slow pace in the Champion Hurdle, and maybe Honeysuckle not being at her best, it might have been interesting had he made it there. Who knows?
Daragh: What's it like when ye are all in there looking for rides in these Grade 1s?
Danny: Definitely with the Mullinses, it doesn't matter who you are, it matters what you're doing at the time. There's no favouritism for family. If you're performing, you get the job.
Patrick: It's Willie's choice, plain and simple. There's nothing you can say… Seán O'Keeffe, Brian Hayes and Rachael Blackmore are there after Paul as well. There's no set number two as such.
David: It's not 1, 2, 3, 4. It's 1, 2, A, B, C, D, E.
Patrick: It probably keeps everyone sharp as well. But it can depend on owners and the type of horse as well. Danny and Dave would be very different riders. Danny would be quite proactive, Dave would be quite laidback so it has to suit the horse as well. Is that fair?
Emmet: We'll discuss whether it's fair later…
Daragh: You're buying and selling horses now David.
David: I'm buying stores to go point-to-pointing for myself. There's no money in bumper horses. I tried to do that with Dad a bit but it didn't really work out. I'll try go to the horse-in-training sales too and be on the lookout and be there if a trainer or somebody purchasing isn't at the sale. You'd never know what might come up.
Patrick: Myself and Emmet had Black Hercules a couple of years ago as a point-to-pointer. Emmet's very good at it. He loves going to sales. The free ice cream is a big draw.
Emmet: It's killing me here now. Tatts is on at the moment and I've been blown out of the water twice already.
Patrick: Three of us have broodmares to varying degrees of success. Myself and Danny are gluttons for punishment.
Daragh: Trading is the core of your business Emmet.
Emmet: There's no money in training racehorses. You have to sell. They won't get to run in big races in my colours anyway. They'll be sold before that.
David: Shop window training.
Emmet: The biggest win I nearly had this year was a two-year-old filly winning an auction maiden first time out in Gowran. Grand National prizemoney wouldn't get you a deposit on a house.
David: 11/1 she was. I fell asleep on the couch and missed it all.
Patrick: The Grand National-winning jockey or trainer couldn't buy a car with what they get, which is mad when you think about it.
Emmet: There is huge prizemoney but by the time it filters down, as I say, it wouldn't give you the deposit on a house.
David: It's good money but the public think you're made for life.
Emmet: I led up one I own myself in Tramore the next day. He got beat.
Daragh: Two-year-olds, staying chasers, France, America, Japan, you're always looking for opportunities.
Emmet: You back your own judgement.
Daragh: Is it a Mullins thing to think outside the box? Danny is renowned for doing something completely different to other riders in a race.
Danny: It's having, as Emmet said, the confidence in your own ability. The risk that goes with that is you look like a buffoon if it goes wrong but if you're afraid to take those chances, you're never going to win races you shouldn't have won.
Patrick: But it goes back to Grandad. Grandad bringing Grabel out to Dueling Grounds and obviously you see Willie bringing horses to the Melbourne Cup and Emmet went over with Blackstairmountain for him in Nakayama and bringing Rule Supreme and Nobody Told Me over for French Champion Hurdles. That's probably where we've seen it. We've been taught to think outside the box. Emmet is very good at it. Tornado Watch going over to America. I wouldn't have ran him in Tramore, not to mind Far Hills.
Emmet: He won in Tramore with David.
Patrick: Fujimoto Flyer going over to France to take on the three-year-olds. I'd say that's never been done. I told him he was an eejit that day as well. Danny rode him.
Daragh: Must be a great buzz to pull something like that off.
Emmet: Oh yeah. I suppose before I go, I get told I'm an eejit enough times.
Patrick: When it goes wrong, you'll get told you're an eejit.
Emmet: Win or lose you're an eejit. Auteuil was a big one.
David: You have to risk looking silly. Emmet loves looking silly and so does Danny, but they risk it.
Danny: And you ARE silly.
David: You can't be afraid of that.
Daragh: You did it with Kemboy in the Savills Chase.
David: If I didn't do it, I'd have pulled up. He was too free.
Danny: What you did that day was going to bring the best outcome for the horse but anything bar him winning and David was going to be blamed. Even if he finished second, it was still a brilliant ride.
Patrick: Even the next year with Kemboy and Melon.
David: I'm blaming you for that definitely.
Patrick: But sure like, we got away from them. A Plus Tard had to make up ten lengths on us. Allaho didn't get near us. They let us go but when you don't win, you were doing too much.
David: A Plus Tard is a Gold Cup winner now. Allaho was (a 20-length) fourth in that race. Kemboy won the Irish Gold Cup after. I should have held on another few weeks.
Daragh: You always have a new goal Patrick, a race you want to win or record you want to break.
Patrick: I like having something to aim at. Even when I was at school, every year on Sports Day, I'd be going out getting the fractions, have pacemakers to set records but of course Eddie O'Leary's son Jack wiped them out later. Nothing to do with the Gigginstown split! I have the ammunition to do it. There are all Ted (Walsh)'s records and titles. I'd like to win the Kim Muir because I think Derek (O'Connor) and John Oaksey are the only people to win the three amateur races at Cheltenham. The Aintree Foxhunters obviously. The Pardubice is a dream.
Emmet: Beat sixth.
Patrick: Emmet went around on Uncle Junior. It was too light for me then. Lots of laughter.
Danny: There was a bit of fiddling on the scales that day!
Emmet: Remember your man, Jo Vàña? This man was 60 coming back from a broken leg. Couldn't walk.
Patrick: He died! He literally died at one stage.
Emmet: He trained the winner ten times, rode it eight. He had to be placed on the horse.
Patrick: Like a Lego man. They just lifted him up. That's why the race appeals to me. Richard Dunwoody went the wrong way around one year or ran out. Ruby broke his leg there one year.
Danny: Charlie Mann winning it with a cast on his hand.
Patrick: He'd no licence! Emmet: He'd a broken wrist as well.
Patrick: There's great history to it. Goodbye Sam could be one we have for it in a couple of years. But you've to learn how to ride it.
Daragh: You're not a natural size for a jockey Patrick.
Patrick: As an amateur it's fine. I wake up 11-7 or 8, handy enough. For riding Grade 1s and bumpers, that's fine. I've to ride lighter, every now and then and that's fine as well. I choose to do that. It's actually easier, not harder, when you get older.
Daragh: I guess the knowledge and education with nutrition and exercise is much better than it was and jockeys view themselves as athletes now.
Patrick: There is no one more professional than Danny with his exercise and his diet. I don't know if it's the case with all jockeys.
Danny: The information is there and I think it helps me. I take an active interest in it but a lot of lads just don't want to. And they ride every bit as good as me but I don't think they'll last as long. Anybody can win a race on a given day but to be riding consistently well, season after season, that's where diet, fitness and all that comes into it. You lessen the chance of injuries. You're swinging the percentages in your favour when you do get injured, how long you'll be out. You're a fool if you think you're not going to get injured.
Daragh: Do you have any sounding boards, to debrief or get feedback from?
Patrick: Our fathers. We don't have coaches. It's the only sport in the world you don't have a coach but we had our fathers and our grandfather as well. And we chat away to each other as well.
David: I thought Ruby was the best. He got a kick out of nearly telling you.
Danny: For as grumpy as everybody says Ruby is – and he is grumpy – but when we were young, if ever there was anything you'd ask, he'd go out of his way to help you. He'd tell you if you got it wrong as well but from a riding point of view, in the weigh room, Ruby was very good to all of us as youngsters. And we had our parents as well.
Emmet: You could get a bollocking for riding winners! There were no compliments.
Patrick: I definitely had a Galway Hurdle winner or two where I haven't spoken to Willie afterwards. He gave out to me about the bumper all right.
Emmet: There were never compliments. You were told where you went wrong and you had to learn from that. They obviously did.