Barry Mahon
Top Mahon
It has been a rollercoaster year for Juddmonte with the death of Prince Khalid and Frankel's succession of his father as champion sire but the commitment remains to operate at elite level
Words: James Thomas
---
The story of Frankel's remarkable 2021 is arguably best told through numbers. The unbeaten dual world champion has sired eight new Group/Grade 1 winners over the last 12 months, taking his tally of top-flight scorers to 20.
The up-and-comers have included three elite-level winning juveniles in three different countries, namely Converge, Inspiral and Wild Beauty, and two new British and Irish classic heroes, with Adayar landing the Derby and Hurricane Lane annexing the Irish equivalent and the St Leger.
Frankel had sired 86 winners in Britain and Ireland by the middle of November at a strike rate of 48 per cent, while 16 of those struck in stakes company. In turn, his progeny had amassed prizemoney of €6,076,549 and this year's yearling crop sold for up to 925,000gns and averaged €393,770. However, none of these big figures matter more, nor sum up Frankel's year better, than the number one. For that is the position he finds himself in at the head of the British and Irish sires' table, having ended Galileo's 11-year unbroken reign as the champion stallion of these lands.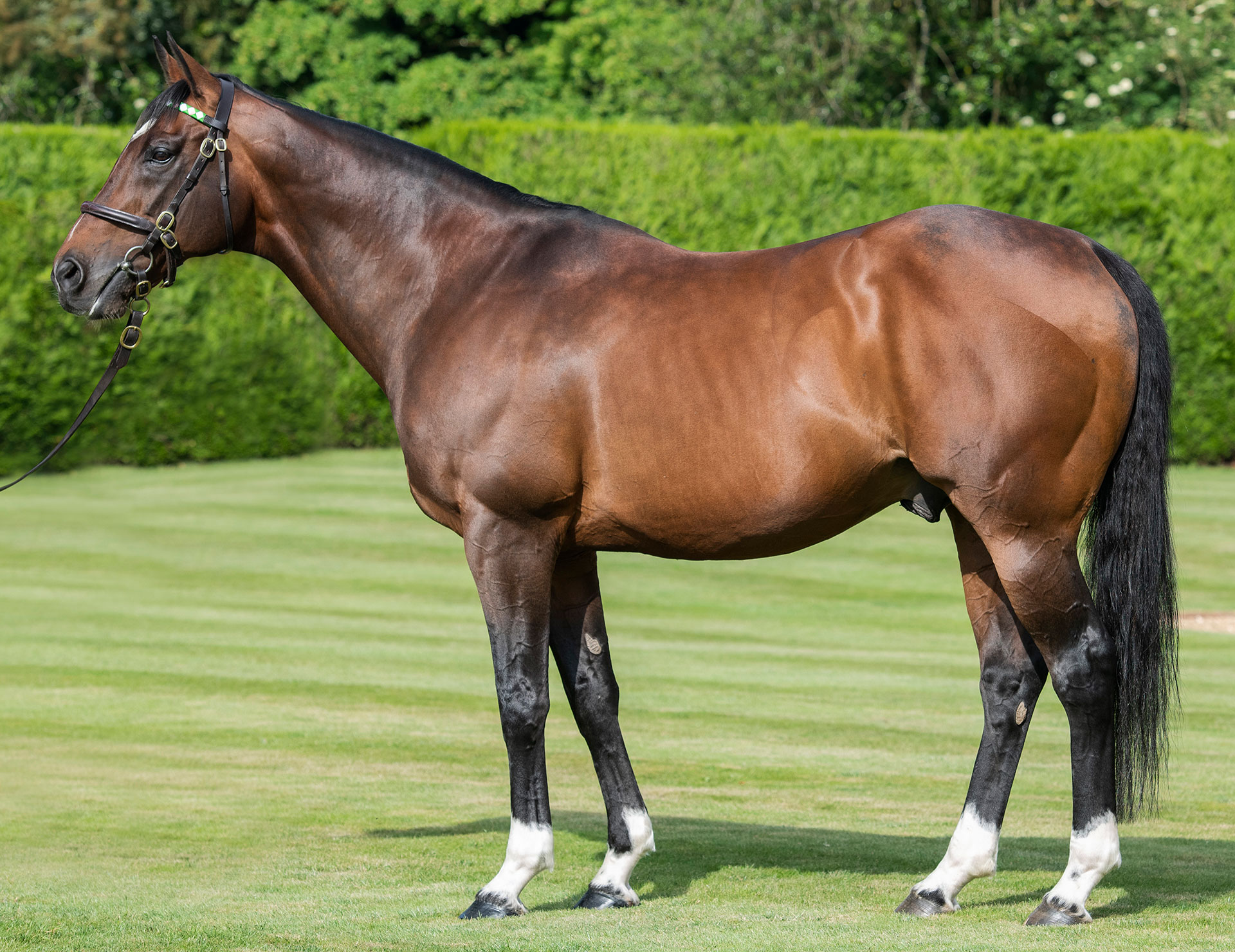 Frankel (Melanie Sauer)
It is fitting that it should be Frankel who proves the heir to the late Galileo's throne. Not only because he is Galileo's greatest son in racing terms, but because the early years of Frankel's stallion career have borne all the hallmarks of his own sire before him, chiefly an innate class that is capable of manifesting itself in a variety of circumstances.
This year has seen Frankel sire group winners over as short as 6f, namely the Queen's homebred Summer Stakes scorer Light Refrain, and up to 1m6f in the St Leger with Hurricane Lane. His 20 top-flight winners are split evenly between 11 colts and geldings and nine fillies and mares, while six struck at the highest level at two, eight scored at three and six were aged four or older when first winning in Group/Grade 1 company. All this means that Frankel can only really be pigeonholed as one thing: an extremely talented sire indeed.
"It's been a remarkable year," says Barry Mahon, general manager of Juddmonte's Irish division and the operation's new European racing manager. "He's always delivered to a high level every year since he's gone to stud but, without doubt, he's stepped up to the next level to be champion sire. It's a remarkable feat and he's the first British-based champion in a very long time."
When asked if the Juddmonte team had been prepared for Frankel to elevate his status to quite such a degree this year, Mahon says: "It does take a couple of crops of racing age for breeders to figure out what mares suit, distance wise and physical wise, so coming into this year we felt people had really fine-tuned what sort of mares suit him and the stars have duly aligned.
"It's phenomenal for the breeding industry that when we lose one great, we have the emergence of another potential great directly behind him"
"He's not a horse you can pigeonhole at one extreme; he can get you a top-class two-year-old, a top-class colt or a filly, a miler, middle-distance horse or a stayer. Like his father before him, he's really got all bases covered. It was one of Galileo's biggest attributes that he could get you a good horse at practically any distance and any category. This year Frankel has shown that same attribute. It's phenomenal for the breeding industry that when we lose one great, we have the emergence of another potential great directly behind him."
While the Juddmonte team can take immense pride in what Frankel has achieved this year, there is an unmistakable poignancy to his coronation having come in 2021.
When the year was only 12 days old, news broke that Prince Khalid Abdullah, Juddmonte's revered founding father, had died at the age of 83. Although the prince bred 118 Group/Grade 1 winners, and raced 16 more sourced through other channels, it is said without fear of contradiction that Frankel rates the magnum opus of the man many consider to be the greatest breeder in Turf history.
"It's a real boost to the whole team," Mahon says on the subject of Frankel's championship breakthrough. "The only sad aspect of it is that Prince Khalid isn't still with us to see Frankel's emergence as a champion sire because it's all down to the foundations he put in place. From breeding him, to racing him, the mares he's supported him with, managing his stallion career so well; it's all attributed to Prince Khalid. It's phenomenal for his family, who've now taken over, to have a champion sire on their hands in their first year at the helm."
It is also a testament to Prince Khalid's skill and vision that Frankel is far from the only resident of Banstead Manor Stud with plenty to shout about. Arguably the noisiest neighbour is Kingman, who has continued his own rapid ascent of the British and Irish sires' table to finish a highly creditable seventh this year with only four crops of racing age to his name.
The son of Invincible Spirit is already the sire of 59 stakes performers, headed by four Group/Grade 1 winners. His leading lights this year have been the mighty Palace Pier, the winner of five Group 1s and now destined for a second career at Darley's Dalham Hall Stud, and leading US turf runner Domestic Spending, a three-time Grade 1 scorer for Chad Brown and Klaravich Stables.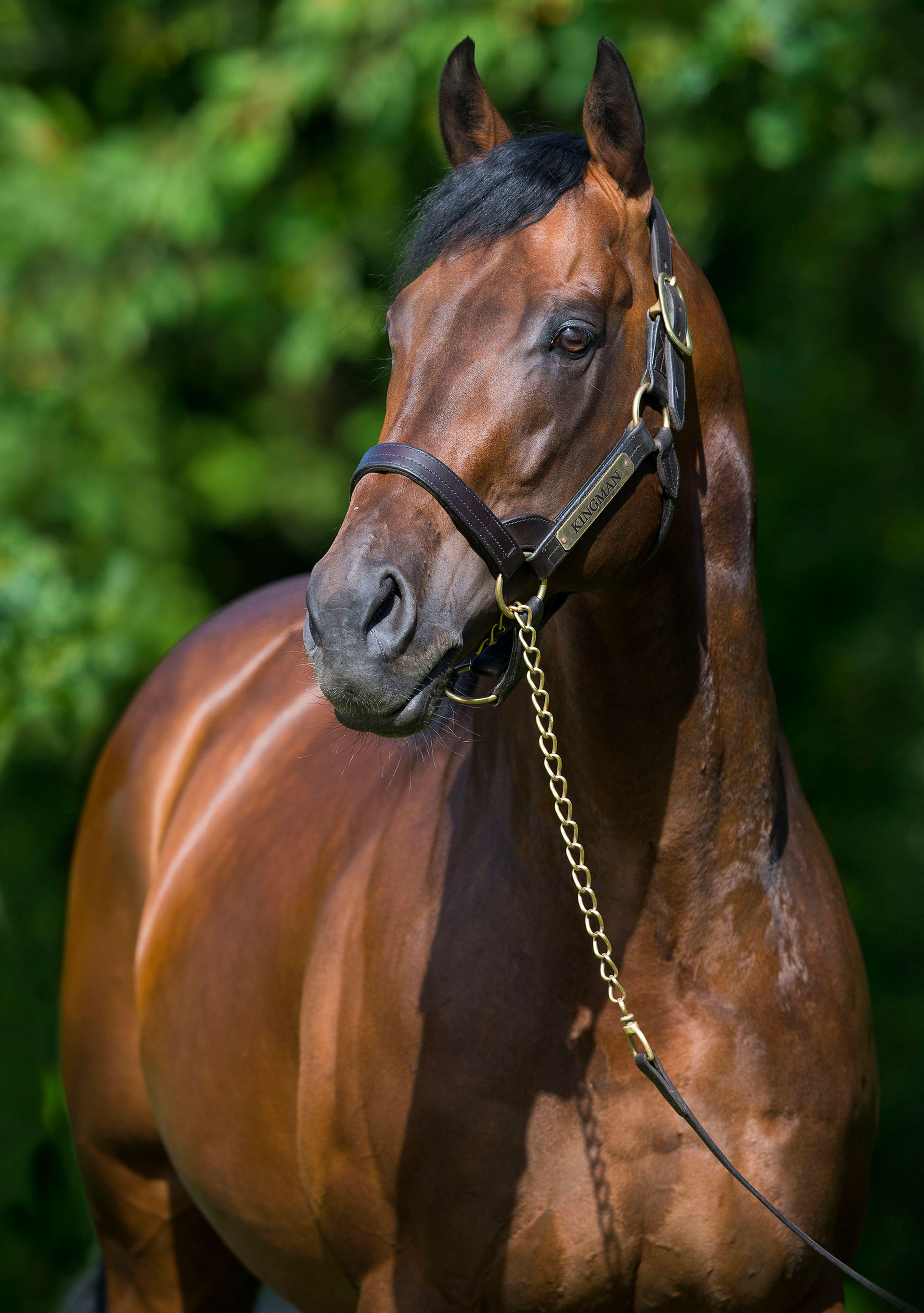 Kingman (Bronwen Healy)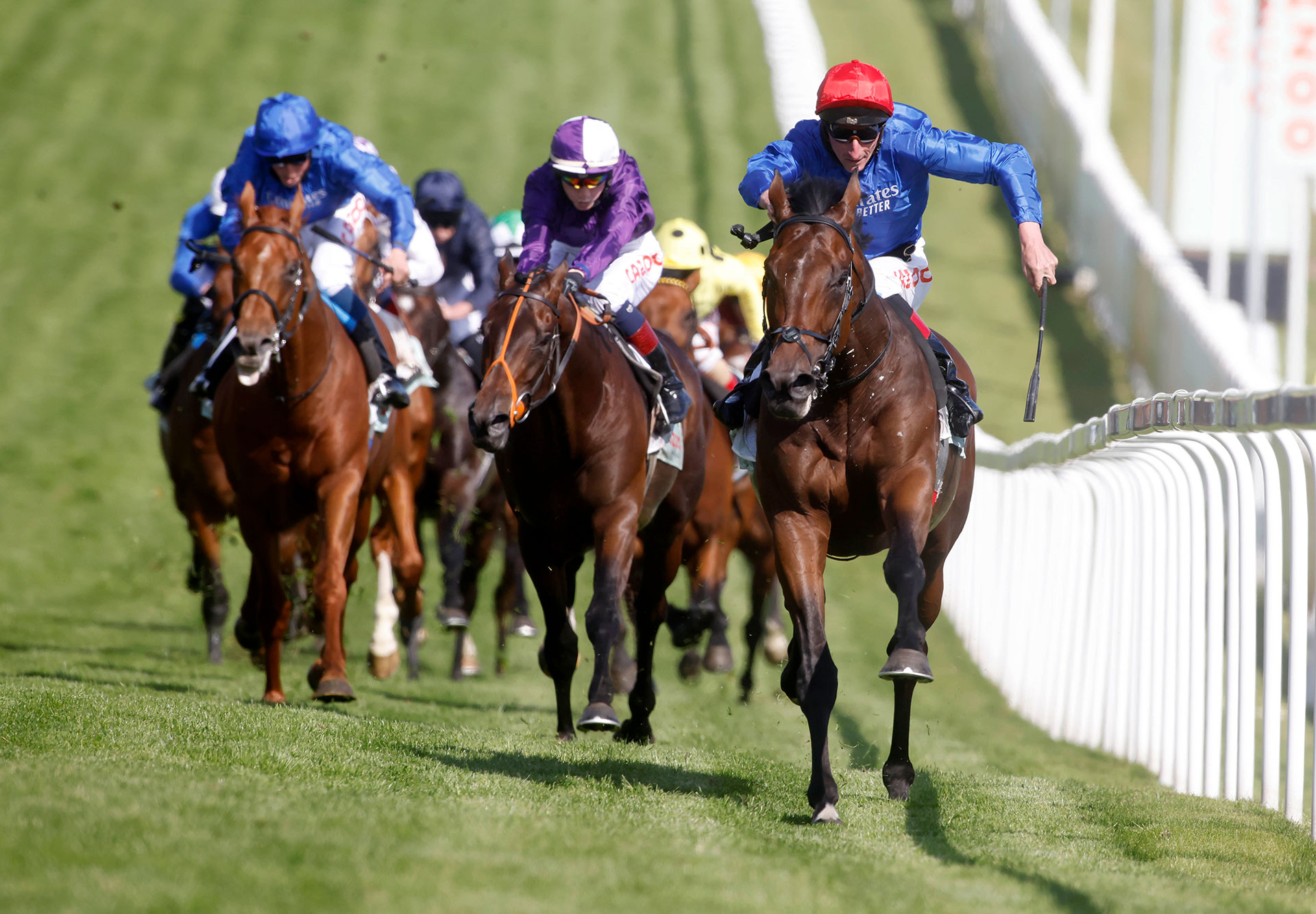 Adayar (Healy Racing)
"Like any business, we can't stand still and rest on our laurels and the family are very aware of that fact, hence they were keen to invest in new blood"
"Kingman is another exceptional talent. We've seen it again this year with Palace Pier. He's a highly promising stallion and he's had some hugely exciting two-year-old winners in the last few weeks, which are from his smallest crop to date. In the next few years I think we're going to see him siring a lot more top-class horse."
While the profiles of Frankel and Kingman could scarcely be higher, they will need to maintain their respective rates of progress if they want to overhaul the most high-achieving member of Juddmonte's European stallion roster.
Oasis Dream may be rapidly approaching his 22nd birthday but the venerable son of Green Desert has shown that he still has much to offer courtesy of the unbeaten Native Trail.
The runaway winner of the National Stakes and the Dewhurst Stakes is the 18th elite winner sired by Oasis Dream, who also featured in the second generation of the pedigrees of Group 1 winners Helvic Dream, Laws Of Indices and Sonnyboyliston, who are by Power, and Muhaarar's daughter Eshaada. "He had a good year covering in 2021 and his fertility is still very good. Simon Mockridge and his team at Banstead Manor Stud are very happy with him and there's definitely not been any sign of him slowing down, so he's very much part of the team for next year's breeding season. To see him back with what looks like the champion two-year-old colt is just fantastic."
Bated Breath, the fourth and final member of the Banstead Manor roster with progeny of racing age, has continued to punch above the weight of his humble covering fee. The son of Dansili has been represented by the likes of Juddmonte homebreds Sacred Bridge, successful in the Group 3 Round Tower Stakes, and Grade 2 Ballston Spa Stakes victress Viadera, and other classy runners such as Gift List, Fresh and Space Traveller.
"The whole roster, from top to bottom, is very solid and really caters for everyone. I'd have to say Oasis Dream and Bated Breath are phenomenal value for the commercial breeder who doesn't want to spend a six-figure fee on their mare."
The 2022 season will see the journey begin all over again for Juddmonte and their followers, with the debut two-year-old crop of Vintage Stakes and Breeders' Cup Mile winner Expert Eye set to reach the racecourse.
"Expert Eye is also coming along. His yearlings seemed to sell well at the sales and we've got quite a few here on the farm broken and riding away already and we're very much looking forward to seeing them on the racetrack next year.
"A lot of his progeny have his head and plenty of them are very Acclamation-like through the body and their back end. I think there's similarities there with another stallion who's doing very well at the moment in Mehmas."
Mahon is well placed to recognise a career going places, as his own standing within the Juddmonte machine took a significant forward step in June when it was announced that he would succeed Lord Grimthorpe after a 22-year tenure as the operation's European racing manager.
As the son of Rory Mahon, one of Juddmonte's longest-serving and most well-respected employees, Mahon was, quite literally, born and bred into the business having grown up on Ferrans Stud in County Meath, which his father managed for close to 40 years.
However, far from the coveted title of European racing manager being seen as a birthright, Mahon says he was "a bit surprised" to be asked to take on the role given that running the Irish arm of the operation was already very much a full-time concern.
"It's gone well so far and I'm very much enjoying it," he says of his first few months in the new job. "It's been demanding at times but it's a very enjoyable role that knits well with the Irish operation.
"It's a little bit of everything. Overseeing the operation is the first thing and then I'm also the intermediary between Prince Khalid's family and the trainers. It's very much a team effort and I can't overemphasise the family's involvement in the decisions that get made as they take a very active role.
"We break and pre-train all the young stock here (at Ferrans) so we have an in-depth knowledge of each and every one of the horses before they go into training. As they progress through their careers it's nice to be able to follow them all a bit closer and have a chinwag with the trainers on a weekly basis about each horse.
"I would've had a good acquaintance with most of the trainers, if not all of them, prior to taking over from Lord Grimthorpe as we would've talked annually about the two-year-olds when they went into training, offering a few dos and don'ts."
As well as regular contact with Juddmonte's roster of trainers, Mahon says he continues to call on the counsel of his father. "I still work closely with my father, he's here every day and out with every lot and watching over everything," he says. "He's in good form and still very much part of the team, and it's great to be able to call upon someone with that kind of experience."
Mahon has also been involved in Juddmonte making a number of notable public auction purchases during the latest round of yearling sales, including a pair of well-related Dubawi fillies who fetched €900,000 and 800,000gns respectively at the Arqana August Sale and Book 1 of Tattersalls October. While Prince Khalid's passing understandably raised questions about the outlook for Juddmonte, Mahon says the increased presence at the yearling sales can be seen as evidence of the Abdullah family's commitment to the future.
"It was Prince Khalid's family who said we needed to go to the sales and get some new blood, buy some fillies and support our stallions," says Mahon. "And we were only too delighted to do that. It was very much their idea and it's their passion driving the business forward.
"Like any business, we can't stand still and rest on our laurels and the family are very aware of that fact, hence they were keen to invest in new blood. We bought one colt and four nice fillies, so hopefully they can repay us on the racetrack and later on as broodmares."
Those public auction purchases will form part of a powerful two-year-old crop for 2022, and with promising youngsters like Raclette and Sacred Bridge primed for fruitful classic campaigns, and not to mention the burgeoning stallion roster, Mahon and his Juddmonte colleagues have much to be optimistic about.
"On the racetrack we've had a nice solid season, we maybe lacked a little bit of quality at the very top end, we got close a few times but unfortunately, for one reason or another, we missed out on the big days. It's been a phenomenal year from the stallion's point of view though, they've really shone in 2021 and come to the fore on numerous occasions throughout the season.
"We've some nice two-year-olds who've shown plenty of promise this year too and we've got a very strong crop of yearlings coming through. When they hit the racetrack hopefully there'll be plenty of top-class prospects among them. All told we've plenty to look forward to."