Jim Bolger
Nobody does it Better
What Jim Bolger has achieved in racing and the thoroughbred industry will never be replicated
Words: Daragh Ó Conchúir
---
Some interesting comments there from three behemoths of the racing and commercial bloodstock world that sum Jim Bolger up and though made in the past, they were emphasised once more in the present, by the exploits of Poetic Flare and Mac Swiney, and by risking the opprobrium of most of his training colleagues and the wider industry in claiming that doping is a serious problem in Ireland.
Coolmore titan, John Magnier referred to Bolger not being a mé féiner, which for our non-Gaelic speakers, is someone motivated only by self-interest. Bolger, he argued, had always had the best interests of the wider industry and people within it, at heart. Also, he was a straight shooter.
Joe Osborne, MD of Godolphin Ireland, compared the Wexford native, who turns 80 on Christmas Day, to Tesio and it was appropriate. There is no one else in racing now operating at the scale he does as someone who breeds so that he can race in numbers and quality. Unless the landscape of the industry alters significantly, there will never be another. Osborne spoke too of Bolger's courage.
And then there is the espousal by the man himself of the type of philosophy that doesn't feature in too many self-help books. Don't be afraid of doubling down if you think you are right, even if first impressions are that the initial call was an error or it went badly wrong on you. That is a testament to his self-belief.
Some might call it stubbornness. Call it what you like, we know as a result of what he has built since starting off at Phoenix Park, that it can work – as long as you know what you're doing. Galileo, who died this year after a decade of dominance in the stallion stakes, wasn't even a second thought for breeders until Bolger intervened. Some of that, of course, was necessity. He could not afford to access the commercially popular routes, so had to be creative.
The result was an unprecedented dominance by one stallion but even though he long since had been priced out of sending his mares to the Coolmore record breaker, the proud son of Oylegate was reaping the benefits still in 2021.
"There was a week in October 2020, when Bolger bred four juvenile stakes winners, two of them Group 1 winners, and he trained three of them, who ran in the colours of his wife Jackie"
Bolger bred and trained Teofilo to an unbeaten champion two-year-old career in 2006 before injury prevented the colt from attempting to translate that brilliance into classic glory. That success and the Irish Derby victory of Soldier Of Fortune, who also came into the world and was reared at Bolger's Redmonstown Stud before being sold to Coolmore, rewarded the support of a sire whose first crop had failed to deliver. New Approach emerged from the third crop, out of Bolger's first Champion Stakes winner Park Express, to be champion two- and three-year-old, emulating his sire to win the Epsom Derby.
Teofilo is the damsire of Mac Swiney, who followed up Group 1 success as a juvenile by edging out stablemate Poetic Flare in a thrilling renewal of the Irish 2000 Guineas in the summer. Teofilo is also the sire of hugely impressive Ascot Gold Cup victor, Subjectivist, bred by Bolger too. Of course the Coolcullen resident bred and trained Mac Swiney's grand dam Speirbhean, and his dam Halla Na Saoire as well.
It wasn't just the backing of Galileo that marked Bolger's outside-the-box thinking. See Mac Swiney's pedigree for evidence of a lateral approach – the first Group 1 winner inbred to Galileo, in this instance, 2x3. It just isn't the done thing but that wouldn't ever put the man off.
Earlier this year he sold a Teofilo filly at Goffs who was 2x2 to Galileo and 3x3 to Danehill. To the non-pedigree gurus, that means Galileo is both her paternal and maternal grandsire, while both her grand dams are by Danehill. A tremendous piece of work by Martin Stevens, of this parish, for the Racing Post recently calculated that at least 24 of the 42 mares sent mostly by Bolger to Dawn Approach, who now stands at Remondstown, would produce foals with Galileo repeated in their pedigrees in the coming months. It isn't that the rule book wasn't read, it's just that the bits that didn't add up to him have been ignored. And the results keep coming.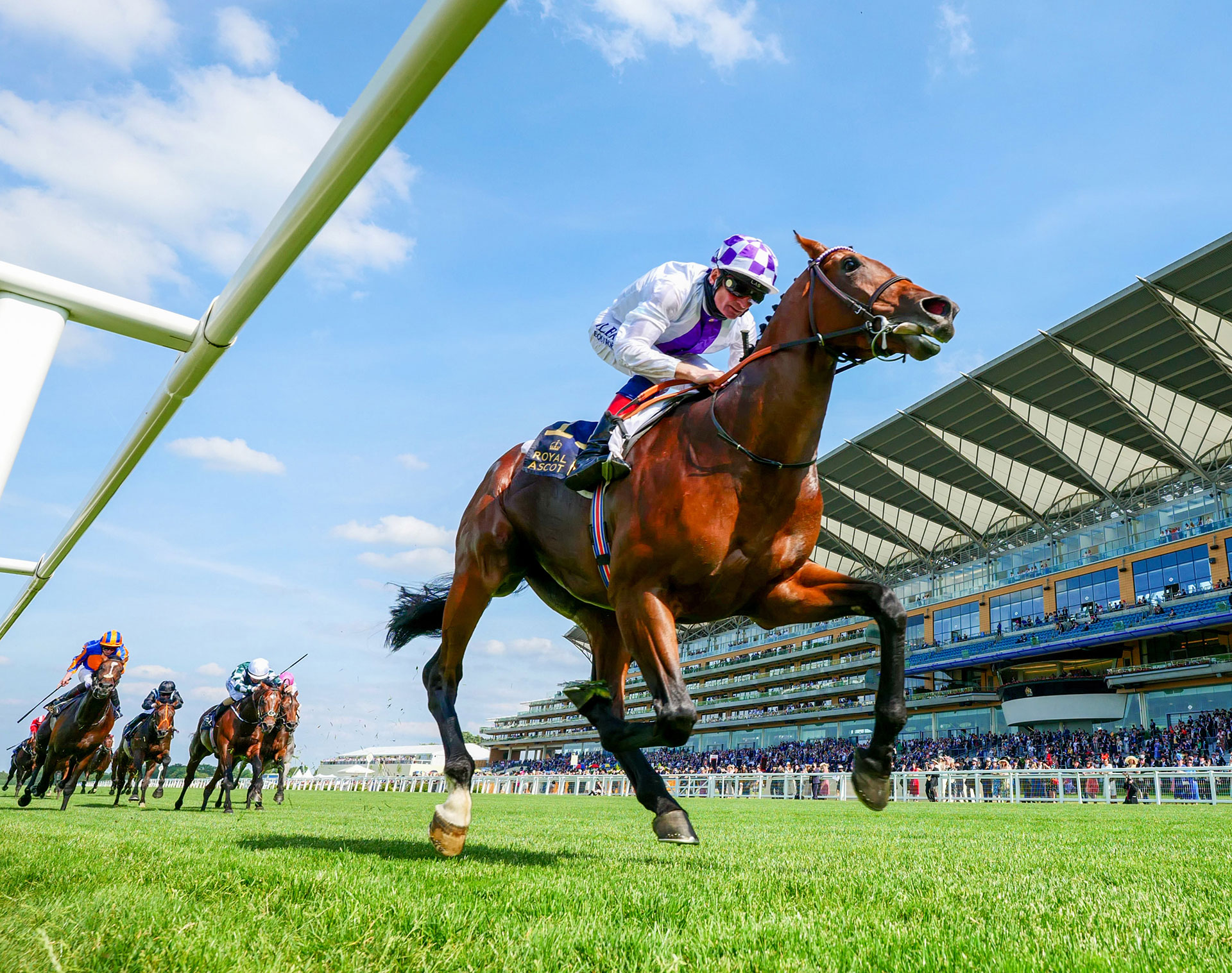 Poetic Flare and Kevin Manning were effortless victors of the St James's Palace Stakes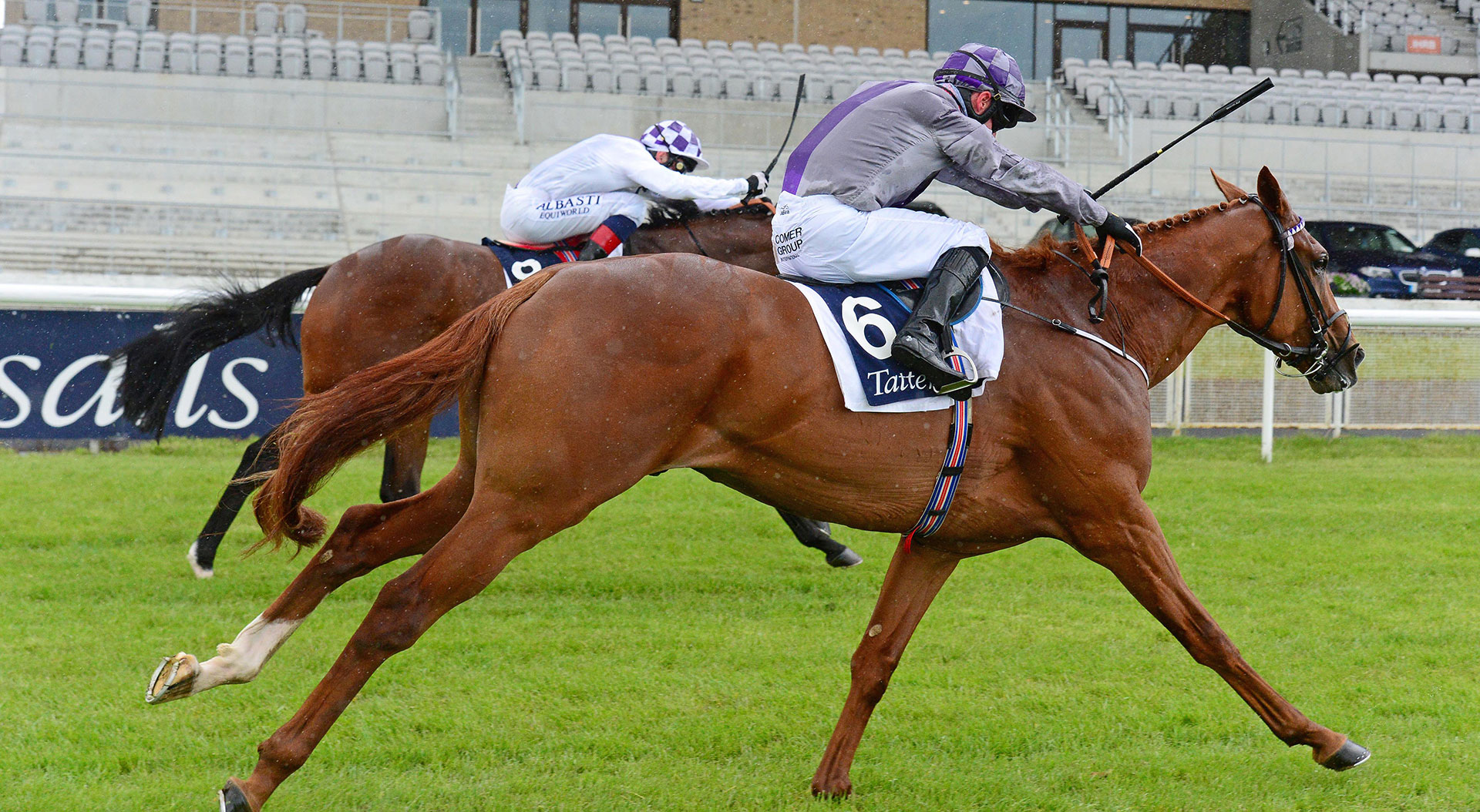 Mac Swiney's narrow success under Rory Cleary over Poetic Flare in the Irish 2000 Guineas represented a stunning imprimatur of the Bolger methodology
There would have been no Poetic Flare without that initial support of Galileo either. Again, the Newmarket 2000 Guineas and St James's Palace Stakes winner's dam and grand dam, Maria Lee and Elida, were bred and trained by Bolger, but so was his sire, who had preceded him on both those rolls of honour. And Dawn Approach, grandson of Galileo and Park Express, has come back home to where he came into the world.
There was a week in October 2020, when Bolger bred four juvenile stakes winners, two of them Group 1 winners, and he trained three of them, who ran in the colours of his wife Jackie.
When Poetic Flare prevailed in a ding-dong battle with Master Of The Seas at Newmarket in May, Bolger was the first since John Barnham Day in 1844 to breed, own and train the winner of the mile classic. It would have been eight years earlier only he sold Dawn Approach to Godolphin towards the end of the horse's juvenile campaign.
That places context on his training and breeding feats in 2021. That his 54-year-old son-in-law Kevin Manning was still in the plate, as strong as an ox in Newmarket, cool as a breeze at Royal Ascot, was surely the cherry on top of the cream. They have shared glory all over the world together. The trainer isn't the only one of them for whom age is no barrier to attacking a day and any challenge that comes with it, with vigour.
Courage, conviction and he would argue, a sense of fair play for all, were behind his decision to speak out about his suspicion that doping is a major problem in Irish racing, initially in an interview with this writer in The Irish Field at the time of his spectacular breeding success in October 2020.
He discussed the issue in greater depth in interviews with Paul Kimmage in the Sunday Independent and in other interviews, in print and podcast, though some demanded more detail.
While there was some support from trainers, most notably Ger Lyons, Johnny Murtagh and Richard O'Brien, and a handful more that expressed such support below the radar, by and large, his peers were outraged.
He decided not to accept an invitation to appear before the Joint Oireachtas Committee to look into the claims. That was prudent legally and while the Twitterati scream for names, you can know things and not be able to prove them. That failure to show or offer hard evidence has been interpreted by the majority within racing as meaning he has nothing and is engaging merely in "pub talk", as Aidan O'Brien, his former assistant put it. The leadership of the Irish Racehorse Trainers' Association, of which he is no longer a member, was more scathing.
The raid on a stud farm just outside Monasterevin is concerning however, though details remain sketchy at the time of writing, not least surrounding the identity of substances confiscated from John Warwick.
That a conversation began, that media outside racing media took an interest, that bodies outside of the Irish Horseracing Regulatory Body took an interest, that measures to beef up dope-testing were beefed up considerably albeit that such measures had been mooted for some time, that the IHRB now faces inevitable changes of governance and structure as a result of recommendations for the Joint Oireachtas Committee that arose from his comments, will have pleased him.
But if there is doping, the cheats need to be rooted out. And if there isn't, the system needs to be robust enough to ensure that there is confidence in this being the case. But Lance Armstrong passed 500 tests. Michelle Smith never failed a test. Daniel Kinihan is free to set up boxing fights. Most forms of enforcement are reactive, the cheats, the criminals lead the way.
That's where retrospective testing comes in and given the samples are kept, one hopes that this might happen. It is all for the benefit of the sport and business in the end. Bad publicity that might come from unearthing cheating is something to be proud of because it is something you can stand by. As Murtagh said, "The guns are out now… In the end, it will be good for racing."
Prior to the Irish Champion Stakes, Bolger told Johnny Ward, another contributor to this publication, in an interview in The 42 that what marked Poetic Flare out was talent and robustness. "I've trained nothing as hardy as him."
Fashioned in his maker's image, it seems. Completely durable. Suffice to say, in his four score years, the boss of Glebe House and Redmonstown Stud has left his mark and continues to do so.