FIRST RUNNERS IN 2022
Sax on the Brain
Stallions with their first runners in 2022
Words: Laura Joy
---
The world is getting smaller but the racing world continues to grow exponentially making it a forgivable offence to need reminding as to what exactly next year's crop of first-season sires achieved as racehorses. They may have changed physically, but their race records are set in stone and it helps to take a moment to remind ourselves what might be in store for 2022. It's no surprise that 2000 Guineas winner Saxon Warrior, who covered this crop for a fee of €30,000, is top of the class at this stage by virtue of being the only first-season sire to achieve a six-figure yearling average (51 sold for an average of €140,900). If ever you could say €30,000 is a bargain, his 2019 stud fee is it.
Having brushed Roaring Lion aside in a pair of Group 1s, he failed to beat him again on four subsequent occasions. In their final battle, just a neck separated them in Leopardstown's Irish Champion Stakes, a titanic battle that proved to be Saxon Warrior's final appearance. Following the premature loss of both his sire and damsire, it would be nothing short of a fairytale if Saxon Warrior emerged as the one to fill the gaping hole left by the late, great Galileo at Coolmore – he has 111 registered yearlings and the stage is set.
We could be set for another fairytale with an equally compelling storyline if Roaring Lion produces an heir from his sole crop to create a legacy, just as Dubawi did for Dubai Millennium. Human nature is such that we want what we can't have and there are only 113 Roaring Lions on the ground with no more to come after he tragically succumbed to colic after just one season at stud. Roaring Lion's top lot at this year's yearling sales was signed for by Qatar/Tweenhills frontman David Redvers for 450,000gns, a colt out of proven producer Reckoning (Danehill Dancer). He's a half-brother to this year's Ascot Gold Cup winner Subjectivist (Teofilo) and Group 2 winner Sir Ron Priestley (Australia). Bearing in mind Kitten's Joy is by El Prado, a son of the late great Sadler's Wells, breeders Mascalls Stud must have liked what they saw at home and repeated the dose.
310,000gns was the price paid for the Zoustar colt out of Rue Cambon by Demi O'Byrne and White Birch Farm. The dam is a full sister to Group 2 winner Royal Intervention by Exceed And Excel, an excellent source of two-year-olds. Zoustar presented breeders with exceptional value for money having commanded £25,000 for his first Northern Hemisphere season at Tweenhills – a figure that looks a bargain compared to his 2021 Australian fee of A$154,000.
If you follow Australian racing, this sensation needs no introduction. If not, the easiest way to describe his meteoric rise to the top of Australia's sire ranks is to compare him to one of our own. His dash to the top echoes the rapid start Dubawi made to his career with 2000 Guineas winner Makfi in his first crop. Much is said about the ability of Australian stallions to mirror their success when they shuttle between hemispheres with more high-profile failures than successes to date. So what is it about Zoustar that has the sales ring hopping?
Sending your mare to a first-season sire is akin to a very big bet, but if you're going to choose one, why not select the one who had no less than three Group 1 winners in his first Australian-bred crop? That's right, he's an 'unproven' first-season sire in Europe who is a proven Group 1 stallion Down Under. His 2021 yearling sales average in Australia of A$253,709 makes his European average of €89,592 look like value for money. Fillies, colts, geldings, it doesn't appear to matter for Zoustar and his progeny will be scrutinised with immense intrigue in 2022. With 128 registered foals in his first European crop, he's a sire anyone with a spare €89,592 might be compelled to consider.
"His profile is strikingly similar to Caravaggio who has done him a favour by moving to Kentucky"
In Australia they had Winx-mania but here Frankel-mania hit the European racing scene like a tornado in 2016. One of the greatest racehorses of the modern era and a son of the best stallion of the modern era (Galileo) who commanded a fee of £125,000, his first runners were always going to attract attention. Nothing short of a champion would suffice to fulfil expectations and Cracksman duly delivered. He made British Champions Day his own for two consecutive years, emulating his distinguished sire in winning back-to-back renewals of the Champion Stakes.
Given his profile, it would be a surprise were he to break any records with his juveniles, and a few impressive maiden winners will keep him fresh in our minds as we await their classic campaigns. Having stood for £25,000 at Dalham Hall, Cracksman has no less than 98 juveniles to represent him in 2022 – enough to ensure it won't be a lack of representation that gets in his way. Of his 55 yearlings to sell in the ring, they averaged €66,554 headed by the filly out of Coolminx (One Cool Cat). A half-sister to this year's Listed Dragon Stakes winner Fearby, she brought 410,000gns for her astute pinhooker Brendan Holland, who purchased her for 95,000gns as a foal.
Across the channel, there are a multitude of reasons why Cloth Of Stars is a notable addition to the French stallion ranks. He's out of a full sister to Oaks heroine Light Shift, the dam of promising young sire Ulysses. He's bred on the prolific Sea The Stars–Kingmambo cross that provided a 2021 highlight in the shape of unbeaten Group 1 miler Baaeed. His sire Sea The Stars' son Zelzal is already off the mark with a stakes winner in his first crop.
Cloth Of Stars didn't lack for speed, winning Group races from 8f-10.5f. He was highly tried and finally landed a much-deserved Group 1 in the Prix Ganay. He made 20 starts and placed in 17 of them, a Group 3 winner and Group 1 placed at two, he was classy, sound, consistent and adaptable to track, trip and ground. He covered 120 mares in his first crop and leads the French first crop sires in the sales ring with 26 yearlings selling for an average of €52,576 – an astonishing return from his €7,500 stud fee. Sealiway's lucrative trip to Ascot to take the Champion Stakes back to France was a timely reminder that the French know a thing or two about making a stallion.
New recruits to the Juddmonte stallion shed command respect as the operation has become globally renowned as one of the most successful stallion makers in the industry. Breeders' Cup winner Expert Eye was always going to garner support when he retired for a fee of £20,000 and he had 99 registered foals in 2020 to show for it. From a typically deep Juddmonte family featuring their homebred Poule D'Essai des Pouliches and Cheveley Park Stakes winner Special Duty, he's by sire-of-sires sensation Acclamation out of a mare by top damsire Dansili. Acclamation's current star sons Dark Angel (OR114) and Mehmas (OR115) were both talented juveniles.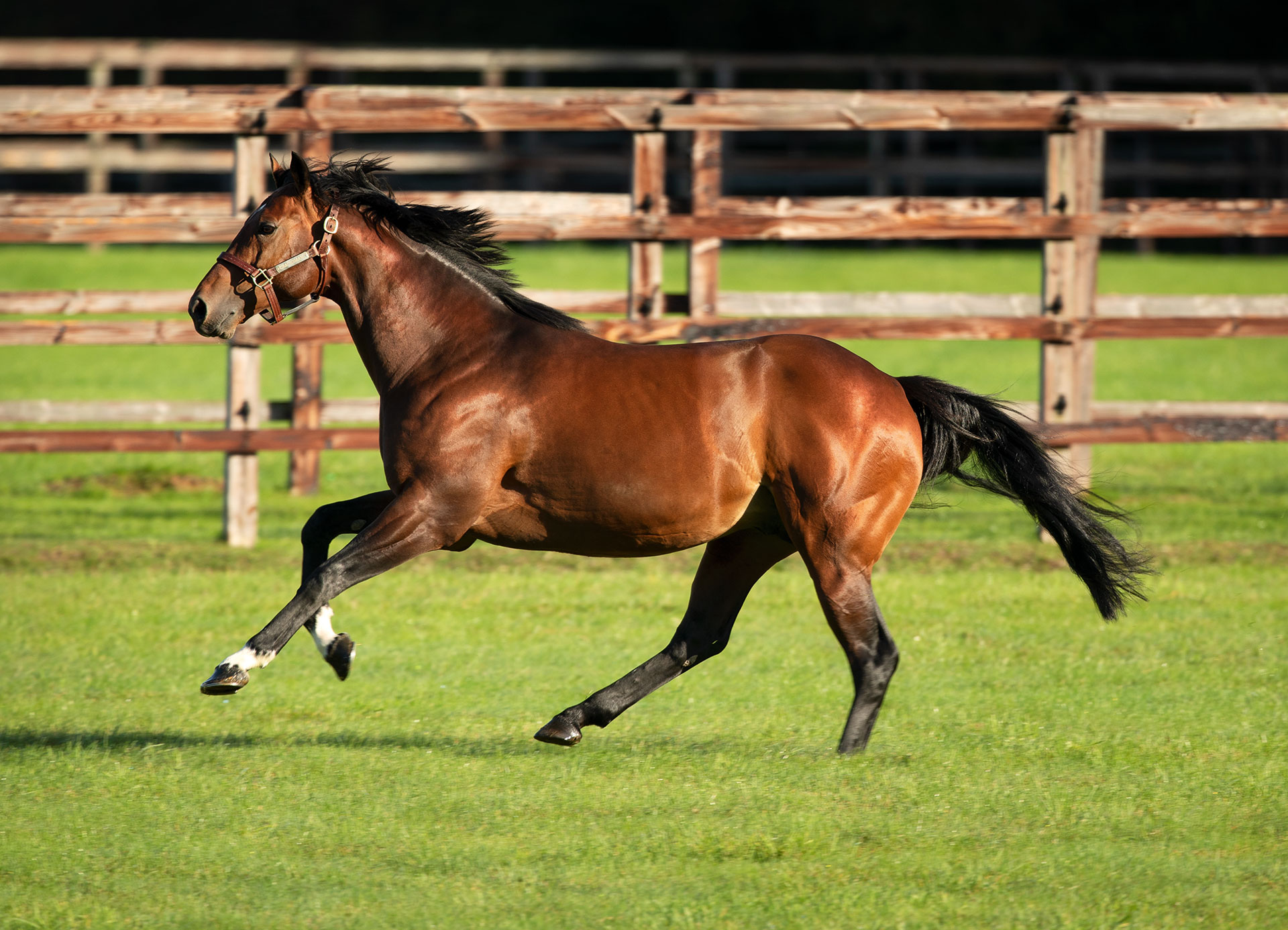 CRACKSMAN (Justin Leighton)
Put a pin in Expert Eye's racing career at the end of his two-year-old season and he has much in common with Acclamation's two flagbearers. Add in an exceptional pedigree and a G1 Breeders' Cup, and you have quite an exciting stallion prospect on your hands. Expert Eye's highest-priced yearling was a half-sister to Group 3 winners Burnt Sugar and Brown Sugar from the family of Group 2 Mill Reef Stakes winner Galeota. She made 290,000gns and will run in famous green and pink of Juddmonte – strong evidence of the faith they have in him. Expect Expert Eye's stock to be out early.
Precocity and speed are never far from anyone's lips, and as a son of emerging sire of sires Scat Daddy, out of a mare by proven damsire Oasis Dream, Sioux Nation possesses many of the traits the commercial market deems necessary to make the grade. A Royal Ascot-winning juvenile who won the Group 1 Phoenix Stakes – a race with an outstanding roll of honour including 2021 leading first crop sire Caravaggio as well as proven Group 1 sires Zoffany and Holy Roman Emperor. Though he stood for the lowest fee amongst those discussed, there is immense strength in numbers – 158 registered foals in his first crop. His profile is strikingly similar to Caravaggio who has done him a favour by moving to Kentucky and it would be no surprise to see Sioux Nation step up to the mark. An average just shy of €47,269 for 80 yearlings sold is quite a return for a €12,500 stud fee.
Sioux Nation's Coolmore barnmate, champion two-year-old U S Navy Flag, boasts an impressive pedigree and an equally impressive race record. Given his sire War Front began life at $12,500 and stood for $250,000 in his prime, €25,000 could represent immense value in years to come. Winning or placing in 12 of his 19 starts, U S Navy Flag was tested and duly delivered at the highest level three times. His tenacious attitude and natural speed secured champion two-year-old honours having completed a rare Dewhurst-Middle Park double, the first in 35 years. Beginning his three-year-old campaign with classic aspirations, it wasn't until he dropped back to sprinting that he regained his Group 1 groove when beating his elders in the July Cup, a win that secured the title of European champion three-year-old sprinter.
In an era where we often lament the lack of opportunities to test future stallion prospects who are campaigned sparingly to preserve 'unbeaten' records, U S Navy Flag's aggressive campaign at the highest level is a breath of fresh air. Breeders could send mares to him knowing he possesses War Front's characteristic hardiness that has become so synonymous with the Danzig line. Race record aside, U S Navy Flag's pedigree alone is enough to get any bloodstock enthusiast excited to see his first crop hit the track. You don't have to go very far to find class in his immediate family. He's out of champion two-year-old filly and classic winner Misty For Me and a full brother to the exceptionally tough Group 1-winning filly Roly Poly and it's that strength and depth that gives U S Navy Flag a better chance than most of achieving in his second career.
Providing the pair with a delectable boost, the U S Navy Flag half-sister to 2000 Guineas winner Poetic Flare (Dawn Approach) will race in the colours of Al Shira'aa Farm having been secured for €220,000 while the Sioux Nation half-sister to 1000 Guineas winner Mother Earth (Zoffany) realised €230,000. Out of the Green Desert mare Many Colours, she will not look out of place in next year's Queen Mary Stakes, also sporting the Al Shira'aa Farm's silks.
There's an elephant in the room when it comes to the final subject stallion, but rather than address the failures, let's look at why Harry Angel is the one to buck the trend and give Dark Angel a top-class son at stud. Harry Angel is the highest rated colt by Dark Angel and he is his sire's first Group 1 winner to retire to stud. Standing at Dalham Hall, having been trained by sprint trainer extraordinaire Clive Cox, and hailing from the McCartans' Ballyphillip Stud, the ingredients for a high class stallion are all present and correct.
Our memories can be selective, and there are a number of proven stallions in the market who missed a few darts before hitting bullseye with a son at stud – Siyouni was not Pivotal's first son to retire, and Makfi was exiled to Japan long before Night Of Thunder, New Bay and Time Test appeared on the scene for Dubawi. By far Dark Angel's most accomplished colt to retire to stud, Harry Angel has 102 registered foals in his first crop to set the record straight.
As a speedy Group 2-winning two-year-old himself, there will be little room for a slow start and he'll have to hit the ground running if he's going to overcome any prejudice against him. His yearling average at €52,836 was more than double his weanling average (approx. €22,663) so it appears as though the market is warming up to his prospects. A colt out of Red Sox topped day two of Goffs UK Premier Yearling sale bringing £220,000. From the family of Prix de Diane winner Confidential Lady, he's set to join Clive Cox and don't be surprised if he is one of his freshman sire's leading lights next season.
There's something for everybody in the audience in the class of 2022 and there's no doubt we're in for a thrill. Now we've reminded ourselves about their achievements, who's going to top the class? Pedigrees are my passion but betting is not so I will stay firmly on the fence and simply enjoy observing as the future of the breed is put to its annual test. Sales results are as of October 30, 2021, for horses sold in Europe only exchanged from USD to Euro per the exchange rate at that date. Foal crop numbers are from the Return Of Mares with the exception of Tweenhills and Coolmore stallions. The other farms represented were contacted but did not respond so Weatherbys was relied upon instead.