David Bowe
Little to no Alcohol
James Thomas caught up with David Bowe, Jeff Smith's main man managing his successful Littleton Stud, after celebrating a stellar year with Alcohol Free
Words: James Thomas
---
Given how many times she has been the source of wild celebration throughout her career, Alcohol Free must be a contender for the title of most ill-fittingly named filly in history. Admittedly her name derives from that of her sire, No Nay Never, and her dam, Plying, and was assigned long before she set foot on a racecourse.
And, in fairness, her owner Jeff Smith has been involved in racing and breeding for long enough to know that setting off with giddy expectations generally leads to disappointment. But with five wins to her name and a 2021 campaign capped by high-voltage Group 1 victories in the Coronation and Sussex Stakes, it is safe to assume that Alcohol Free has far exceeded even the most optimistic of projections.
The Sussex Stakes success was a particularly apposite outcome, as Smith, the kind of owner-breeder that has largely been lost to the game, enjoyed one of his first major results in the same race some 37 years earlier, when Chief Singer won the Group 1 prize under Ray Cochrane.
Alcohol Free's defeat of no less an adversary than Poetic Flare followed a consummate triumph over Snow Lantern at Royal Ascot, a highly creditable fifth behind Mother Earth in the 1,000 Guineas and a successful reappearance in the Fred Darling Stakes.
However, having already landed the previous year's Cheveley Park Stakes, David Bowe, long-serving general manager of Smith's Littleton Stud, explains that the team felt no weight of expectation heading into 2021.
"Having got a Group 1 win in the bag in the Cheveley Park Stakes, the job was done as far as we were concerned," says Bowe. "Winning the Fred Darling when she was only half cooked gave us the belief she could get a mile and the Guineas had always been the plan, but in the event she was drawn on the wrong side at Newmarket and got no cover.
"She was still only beaten two lengths, so we came out of that race thinking we were in good shape, but to go and win the Coronation Stakes in the way she did, it was just out of this world. That performance blew us away and I'd have said that was the highlight of her career, until we got to the Sussex Stakes.
"To come and beat Poetic Flare at Goodwood was a real high. When all is said and done, the history of the Sussex Stakes, with Jeff having won it 37 years earlier, probably makes that race the highlight for us. She just rolled along that day and the stars aligned."
The Sussex Stakes was not the first time the stars have aligned for Alcohol Free and her connections, either.
"We have a yearling parade here each year when the trainers come and we have a bit of lunch," says Bowe when asked about the decision to send Alcohol Free into training with Andrew Balding. "Often families dictate which trainer a yearling goes to but Andrew said to me, of all the horses he'd seen, and we had some pretty special animals that year, he'd love to have the No Nay Never filly. He pitched for her from day one and that's why she went to him.
"He liked her from the off and, although there was never any rush, she went from pleasing us to doing some very nice pieces of work in quite a short space of time. Once she was ready to run she basically just went stratospheric from there."
The exciting news for her connections and followers alike is that Alcohol Free is not done yet, as Bowe has an unequivocal response when asked about the filly's future.
"She stays in training next year," he says. "She's always been scopey and has really grown into her frame; she's a very good-looking filly now. She's home now and will have a winter break and we'll send her back to Andrew next year.
"The obvious target is another tilt at the Sussex Stakes, we'll probably go for the Prix de la Foret and maybe even something like the Breeders' Cup Mile, who knows. Next year we can look to do a bit of globetrotting with her because she's a lot more relaxed mentally now and that opens up a lot of doors. We also wouldn't totally discount coming back in trip for something like the July Cup too, because she still shows loads of boot."
While many of Smith's most famous colour bearers, names such as top-class sprinter Lochsong, the redoubtable Barshiba and her Group 1-winning daughter Arabian Queen, were homebred at Littleton Stud in Hampshire, Alcohol Free comes from a select group of youngstock purchased at public auction.
The third-crop daughter of No Nay Never was bred by the Gaffney family of Churchtown House Stud in North Cork and sold at the Goffs November Foal Sale in 2018.
Just a few days earlier Coolmore had announced that No Nay Never's fee had soared to €100,000 on the back of his debut crop containing the likes of unbeaten Middle Park Stakes hero Ten Sovereigns and Richmond Stakes victor Land Force.
Bowe earmarked the filly early on in his inspections but, given her sire's upwardly mobile trajectory, says he thought her price was likely to far exceed what he was prepared to pay.
"Jeff is primarily an owner-breeder but we sometimes supplement the numbers at the sales," says Bowe, who underbid Ghaiyyath when the world champion was offered in 2015. "If I go to the sales and like something, I'll buy it, but we don't go with a brief. I went to the sales at Goffs as I always do, and saw her early on so penciled her in.
"There was something about her that I really liked so I hung around to see her sell, although I thought she'd be too expensive. I followed her into the ring, more to see what she'd make as opposed to thinking I'd be buying her, but I put my hand up and got her for €40,000. I looked around and kind of wondered how I'd got her at that price!"
When asked which of Alcohol Free's attributes had most struck him during the sales, Bowe says compartmentalising her appeal is not straightforward, rather that something about the filly called to his stockman's intuition.
"She was very straightforward from the word go," he says. "She possibly lacked a bit of walk at the sales but, for me, there was plenty of improvement in her and she just needed to be left alone to come to hand in her own time. And that's exactly what she got when she came back here.
"that was the highlight of her career, until we got to the Sussex Stakes"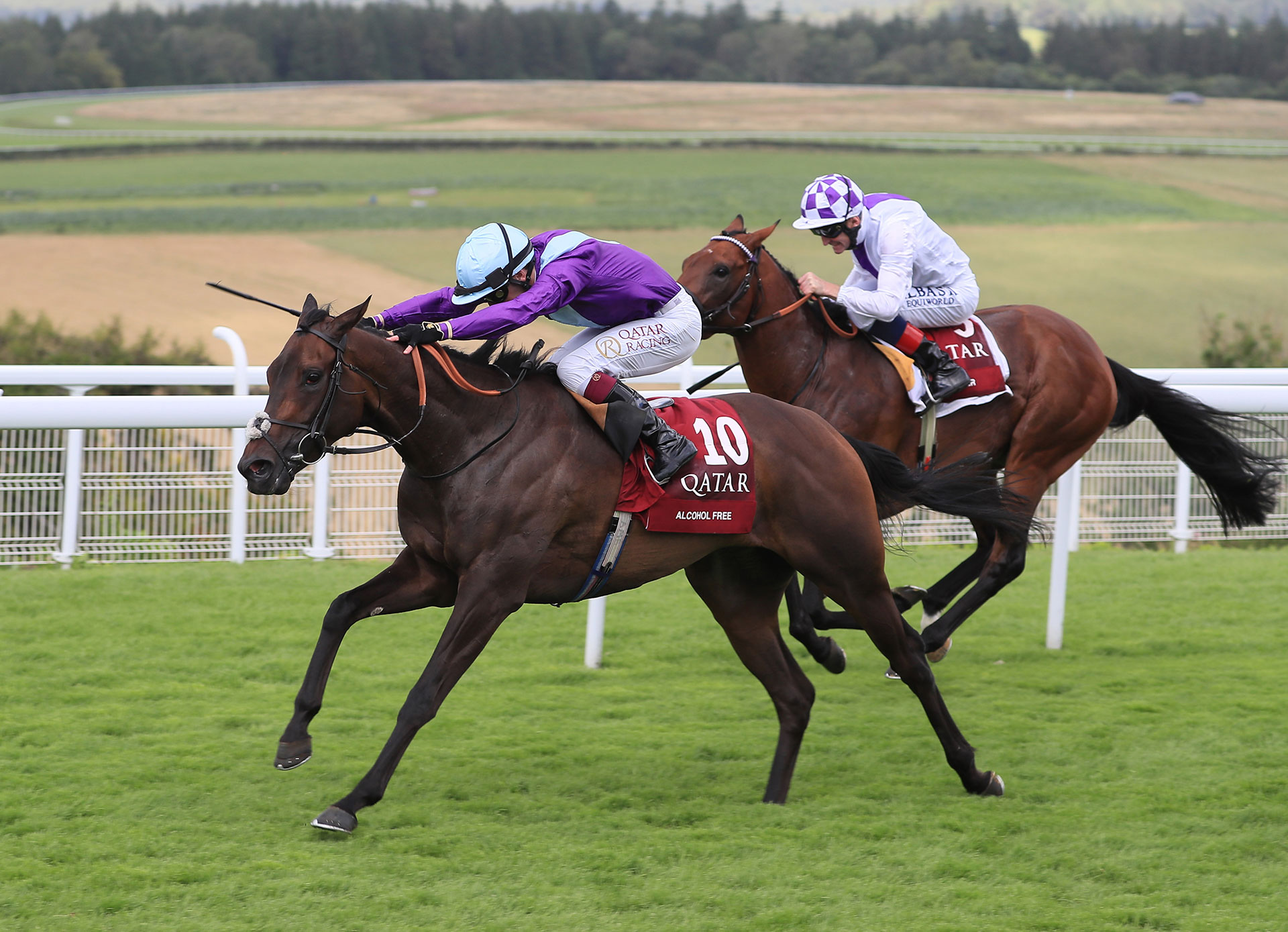 Alcohol Free
"she just needed to be left alone to come to hand in her own time. And that's exactly what she got"
"There's a huge amount of luck involved in it as well, let's not get carried away thinking there's any special recipe, because I couldn't tell you exactly what it was about her. It was just a gut feeling."
Bowe says his annual trips to the foal sales are an integral part of his year, not only giving him the opportunity to make the occasional purchase but also ensuring his finger remains firmly on the pulse of the breeding industry.
"Going to the sales is imperative from my point of view," he says. "It's all about keeping your eye in. I have to do the matings each year so it's very important to go to the sales and see what the progeny look like, especially from first- and second-year stallions, and see what the market is saying about them. You can read everything on a spreadsheet but there's nothing like going and seeing why a foal made what it did, or why cheaper pinhooks are walking into profit as yearlings."
Bowe, a native of Waterford, has been at the helm of Littleton Stud for 19 years. His journey through the thoroughbred business started when he took a job at Coolmore upon leaving school. He recalls how the bloodstock behemoth was a very different place to the operation that exists in Fethard now, and has been home to the champion sire of Britain and Ireland for each of the previous 31 years.
"I went into Coolmore straight from school and was absolutely mad keen on racing," he says. "I didn't have any direction or specific aspirations at that stage, other than being into hunting and racing, anything to do with horses. I went to Coolmore to see what it was all about and basically never came home. I kind of found a hobby and turned it into a job by default.
"I was in Coolmore when Phonsie O'Brien was walking the farm and laying the whole thing out. It was a totally different place back then and everyone did a bit of everything. I was working with mares and foals, yearlings in the off season. It was one of those jobs where you turned your hand to everything and you did what you were told. It was a great learning ground and an awful lot of the people I deal with now are also graduates of Coolmore in some shape or form."
Coolmore sent Bowe across the Atlantic to further his education, where he worked with Walmac International among others, albeit he says the whole experience felt like another lifetime ago. Having returned from America he was taken on as manager of Longholes Stud in Newmarket and remained in that role until the vacancy to manage Smith's stud arose.
"I went to see Jeff about the role and fundamentally walked out with the job," he says. "We have been together ever since. It's an extraordinary place and Jeff is as enthusiastic today as he was the day I arrived. Everything is geared towards racing, and that's a lovely thing to be involved in, so Littleton Stud is essentially the breeding arm of the racing operation."
When Bowe first arrived at Littleton the stud's stallion barn was home to Robellino, who was later joined by Norse Dancer. The remarkable Lochsong, winner of the Nunthorpe and two runnings of the Prix de l'Abbaye, was out in the paddock and popular stayer Persian Punch was still in training.
The stud's residents may have changed in the intervening 19 years, while Littleton no longer stands its own stallions, but Bowe says the ethos and the outlook of the place remains much the same.
"We breed from a nucleus of 30 mares," he says. "Of course it changes as fillies retire to the stud and we're always trying to make room, we sell a few periodically, but ordinarily we're breeding from 30 mares then putting their progeny into training.
"At the end of the day it's a sport and we try to do the best we can by our mares. We've got yearlings here by Kingman, Frankel, Sea The Stars, we've even got a few Galileos. Arabian Queen has a Sea The Stars and is in foal to Lope De Vega, Barshiba has a Too Darn Hot filly and a Dubawi colt yearling, Cocktail Queen has a yearling by Exceed And Excel. We use all of the top stallions and everything in between.
"We try to inject as much science as we can into it but often it comes down to liking the horse and thinking he'll suit the mare from a performance and pedigree point of view. The physical aspect is hugely important too. It's a game of touch and feel and you can get as scientific about it as you like, but while sending the best to the best doesn't always work, when it does it's spectacular.
"As Jeff has said before, the lovely thing about being an owner-breeder is the unknown," adds Bowe. "When you look out into the paddock you just don't know whether you have an Oaks or Derby winner out there - or whether they're all useless!"
While Bowe, Smith and the rest of the Littleton Stud team will be left to wonder about what the future holds, they can reflect on the events of 2021 with no small amount of pride.
"Looking back at 2021, for Jeff to finish fifth in the owners' table, being flanked by the likes of Shadwell and messrs Magnier and Tabor, is quite extraordinary," says Bowe. "Obviously a lot of that is down to Alcohol Free. We always have some nice horses but this year has been sterling throughout."